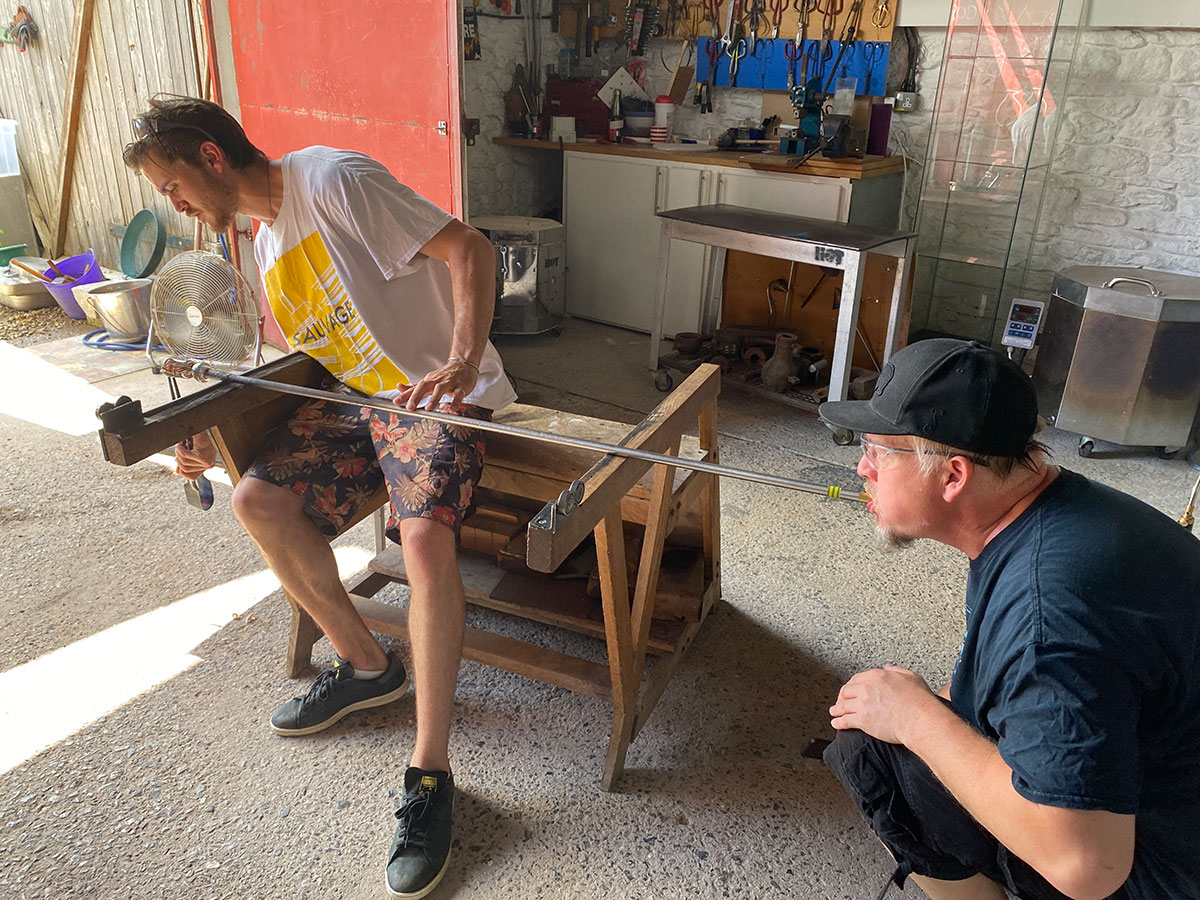 Over one very hot week in July Ian Chadwick joined the team to explore how his intricate fused designs could translate into blown glass.
Known for his intricate kiln-formed glass designs inspired by sacred geometry, Ian has rapidly become one of the UK's leading glass artists. His op-art kaleidoscopic creations are in high demand and his courses rapidly sell out wherever he teaches. We have had the privilege of Ian's teaching with us at the Glass Hub on many occasions, so we invited Ian to become our summer 2021 Artist in Residence. For one week in July, Ian was able to join us. This was only really made possible due to cancellations in his extremely busy calendar and his teaching slots in the US impossible to attend because of the COVID pandemic. We seized the opportunity, as did he, and although we both had little time to prepare, Ian arrived with fused panels and enthusiasm a plenty!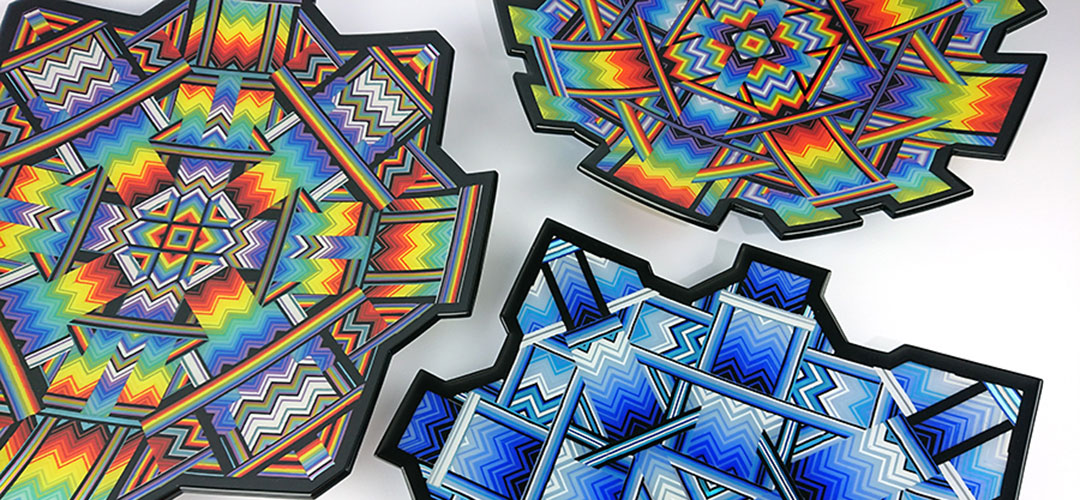 The impromptu nature of the residency allowed for ideas to be discussed in an efficient and uncluttered way. With an open canvas of possibilities to explore, we began the week. We had discussed previously the exciting potential of combining techniques, crossing from the warm shop to hot shop, from kiln forming to glass blowing. We just knew his intricate designs and signature pieces were begging for the chance to be picked up, rolled over and inflated into beautiful 3D works of art. Taking this step was unnerving and only possible thanks to the leap of faith Ian was willing to take, as we fired up his intricate panels, and prepared to take them into the hot shop. We had five days to host an environment that gave Ian the opportunity to develop skills outside the realms of his normal practice. We were unsure what the week would hold, but we knew that his incredibly intricate panels could somehow be transformed. He aligned with this belief and his dedication to our shared vision drew out of the team great determination, excitement, and some amazing results.
Day 1
Ian arrived in the morning from Manchester, armed with boxes of Bullseye glass panels from his hoard that he'd only had a short time to put together. We quickly separated out the best and biggest to be saved for last. After a quick brainstorm, coffee and some sketches on the A1 pad, we moved through to the hot shop. The glassblowing studio or 'hot shop' can be quite scary for the uninitiated, all that super-heated molten glass, so we took Ian through the basic principles of working with hot glass to give him a bit of a grounding. Despite it being the hottest day of the year and Ian admitting he wasn't good in the heat, we had a constructive few hours of intensive but fun instruction. Ian soon learned what a 'punty' or a 'bit' was and how to pick up colour bar from the top loader. For the more tech savvy glassmakers …we made colour stringers in Kugler 96, to use with Spectrum, and discussed fusing blocks of Bullseye stacks to pull stringers should we need them. Using our smallest furnace, the 'nanomelt' we spent the rest of the day gathering glass on the irons, manipulating and forming the glass and finished with both Ian and Helga having had a fun and relaxed introduction to the hot shop. Before we left that day and before a tired and hot journey home, we arranged a few of Ian's pieces in the kiln to heat up overnight, ready to pick up in the morning.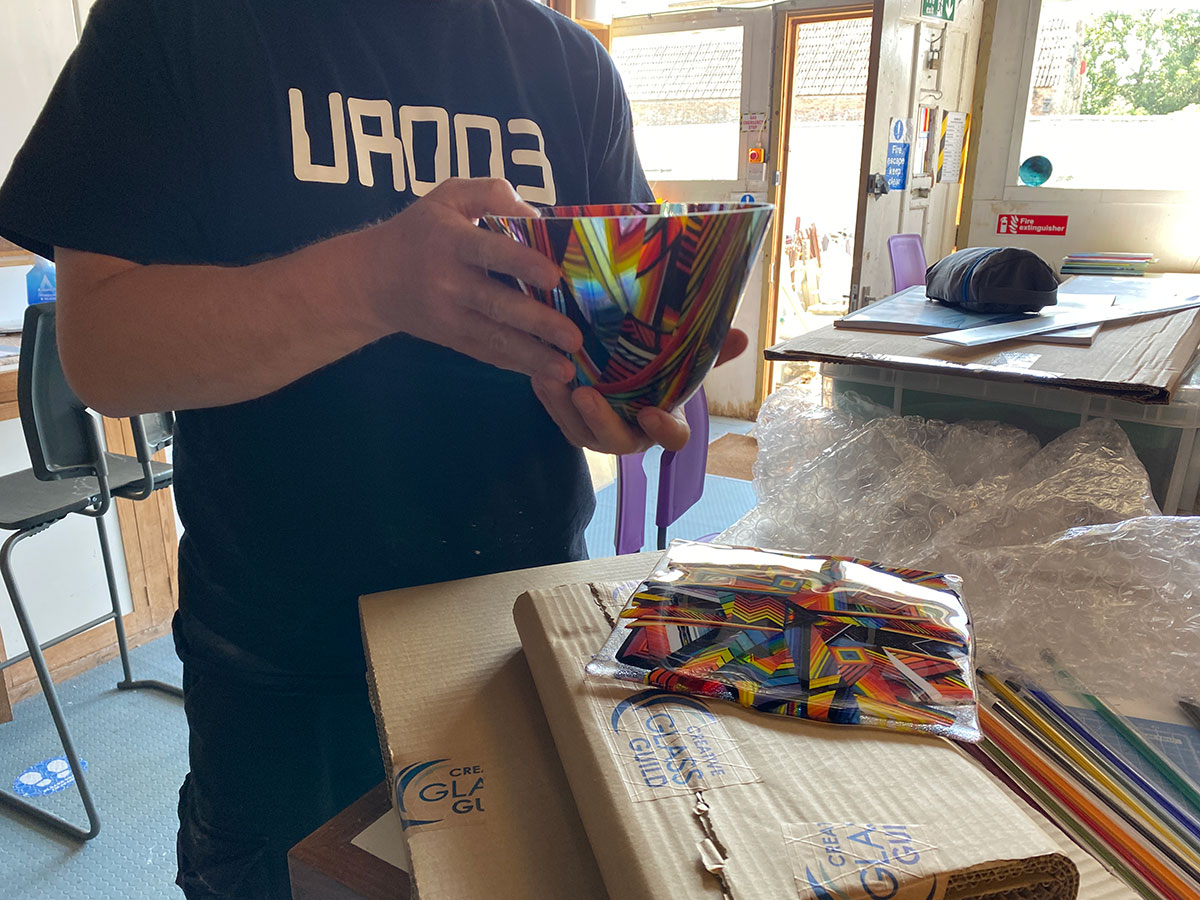 Day 2
Day two was our first day of experimentation with Ian's pre-made tiles. Each tile was made up of sections of pre-fused stringer sheets, intricately laid out, fused, cut and polished to create unique geometric patterns. Those of you that have been lucky enough to attend an Ian Chadwick class can appreciate the level of time, skill and precision involved in one of these. So, this was no ordinary pick up, no ordinary panel that had been quickly assembled and fused. The pressure was greater, knowing the history and expert skill that had been imbued into the tile thus far. The feeling that we were about to pick up and experiment something so intricately crafted felt wrong …but also exciting!
This first panel was a slice from a larger one, to reduce size, but it also allowed our gaffer, Sacha Delabre, an opportunity to test the process and temperatures. He made a collar by blowing through a gather and using pie dividers to get the right circumference from the exact length, he then rolled the solid but sticky collar onto the edge of the tile and curled it up into a cylinder. The tile was picked up beforehand on a Pastorelli, a large fork that holds the panel in the heat. It was heated in the Minimelt furnace then flipped around on the turntable to enable an even 'soak' at a temperature where the glass is mobile (around 750°C – 800°C). Too cold and it won't pick up – too hot and it will deform. We practiced a new choreography, heating, rolling, dusting, marvering and sealing the end so that the panel became a closed cylinder, and possible to inflate. We have now moved from 2D to 3D!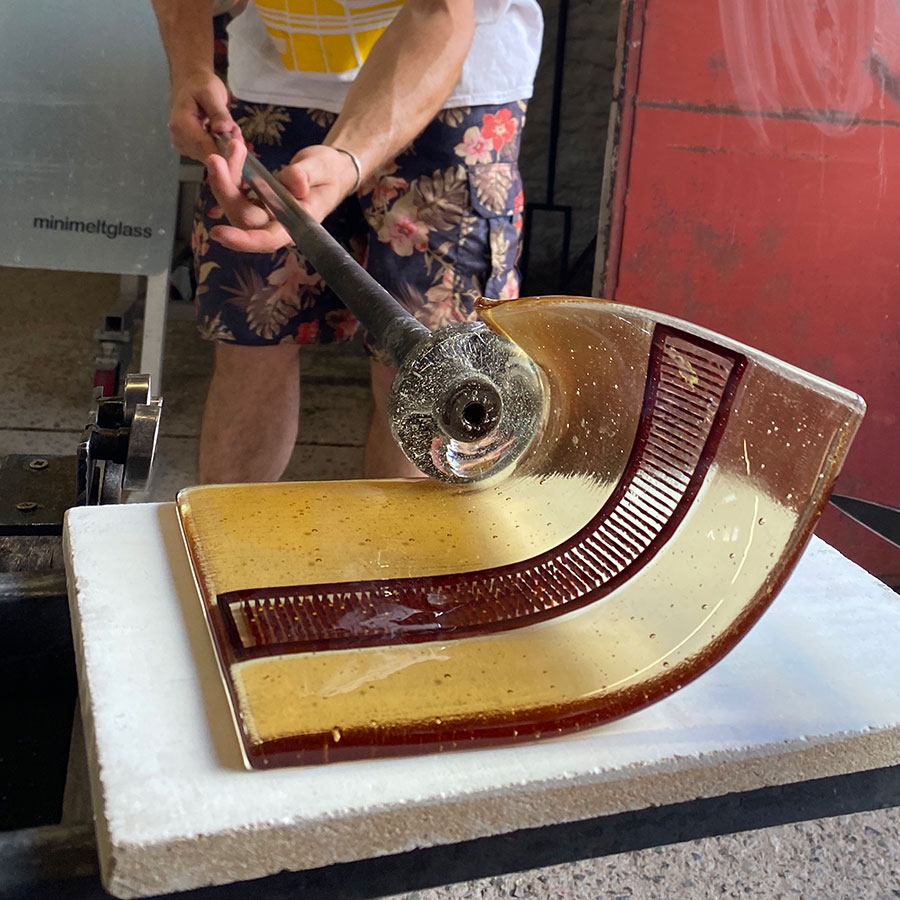 The rest of the day was spent leaning the choreography of rolling up and sealing and blowing the various tiles, each one slightly bigger and more intricate than before. Ian started to get his head around forms that were possible, while still remaining flexible and open to creative openings, some of which would happen by accident as well as design. More tiles were chosen at the end of the day to be put in the kiln ready for day three. By now we had become familiar with our roles, we had a great team and felt ready for the next day. Following the extreme heat of the day, we retired to the local river armed with beer and our best summer holiday vibe!
Day 3
As we travelled through the week, each panel we experimented with was more precious that the last. Ian started his day by finishing up some Spectrum glass tiles so that he could test the difference in this type of glass for blowing. It also has a 96 COE glass and has the potential to be gathered over and used for large scale projects, should that be something Ian wants to do. We could sense he was feeling a bit hurried with this quick assemble, he would normally take two weeks making one of these tiles, but while Rosie rolled up one of his panels to make a tumbler, he got it ground and assembled ready to pick up for the next day.
The rest of the day was spent exploring new shapes and forms, twisting up straight stringers on the marver, rolling up cylinders and trying to keep the cylindrical forms when blown up and thinned out. Ian was also learning how thin we could actually go. We also made cones or spikes for a particular design he had arrived with. The sun was intense, but dripping with sweat we continued and soon had the oxy-propane torch out, ready to manipulate, sculpt and stretch the patterns. It was awesome to watch the patterns change as they were twisted and blown, formed and deformed in a magical transformation from fusion into blown. A lovely surprise later as Jo Garret from Northlands turned up for a quick visit …so nice to see her at our barns. She enjoyed this unique performance of cross pollination from Ian's warm glass practice into hot glass.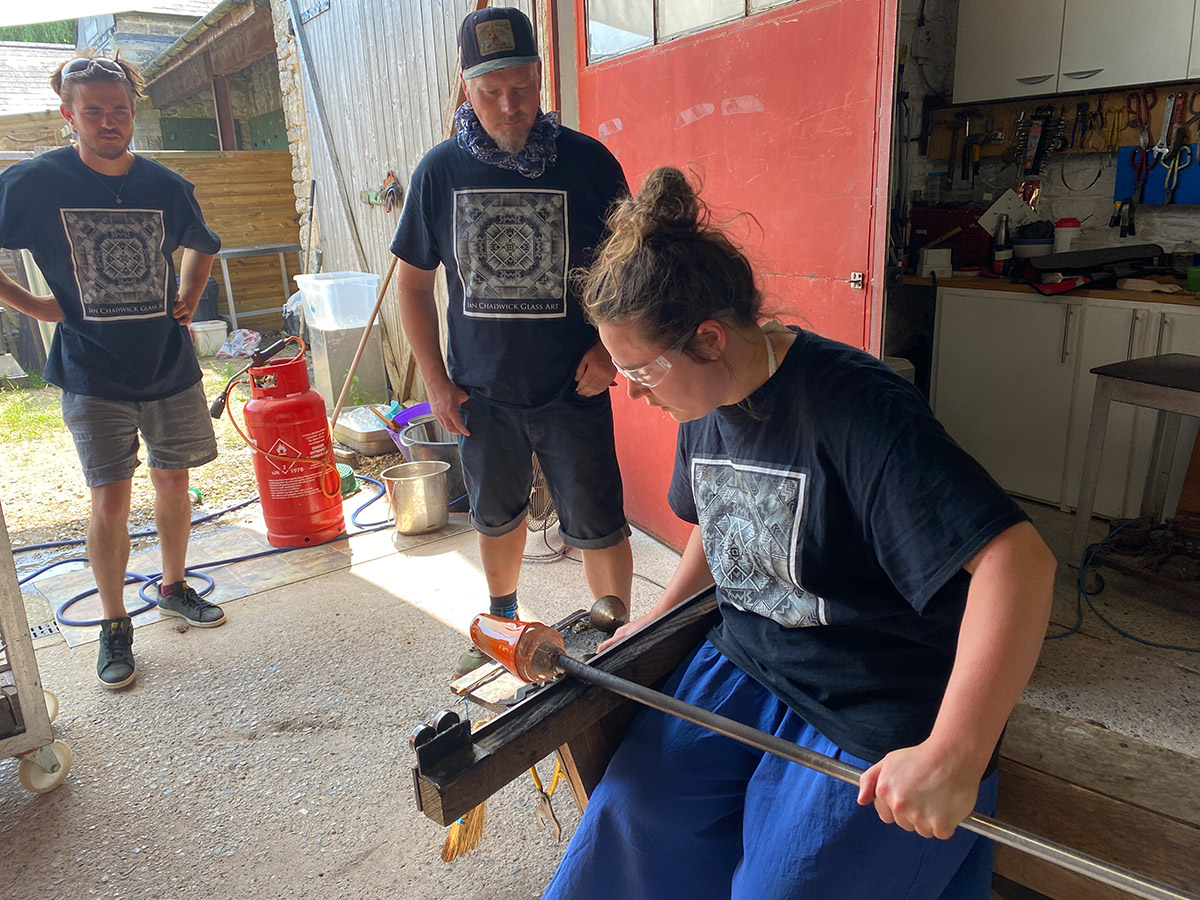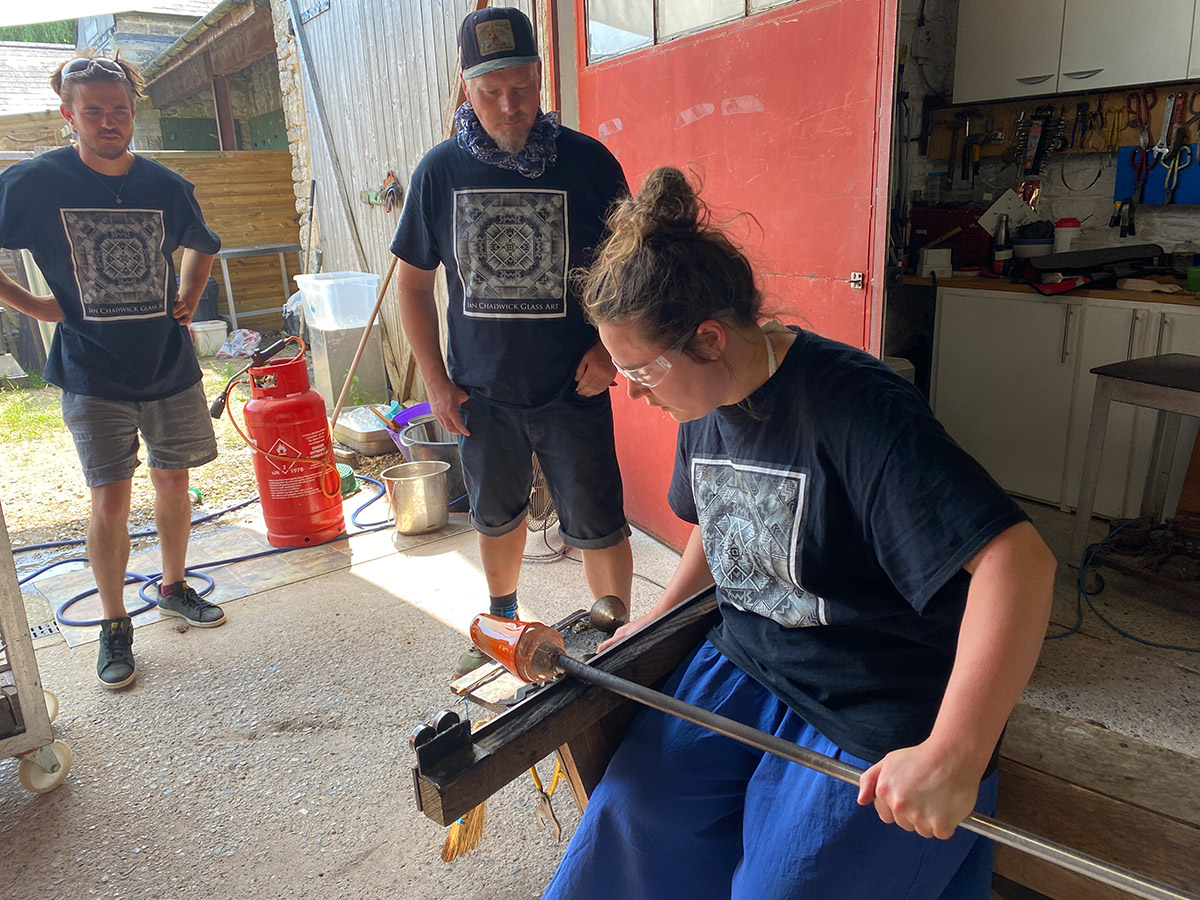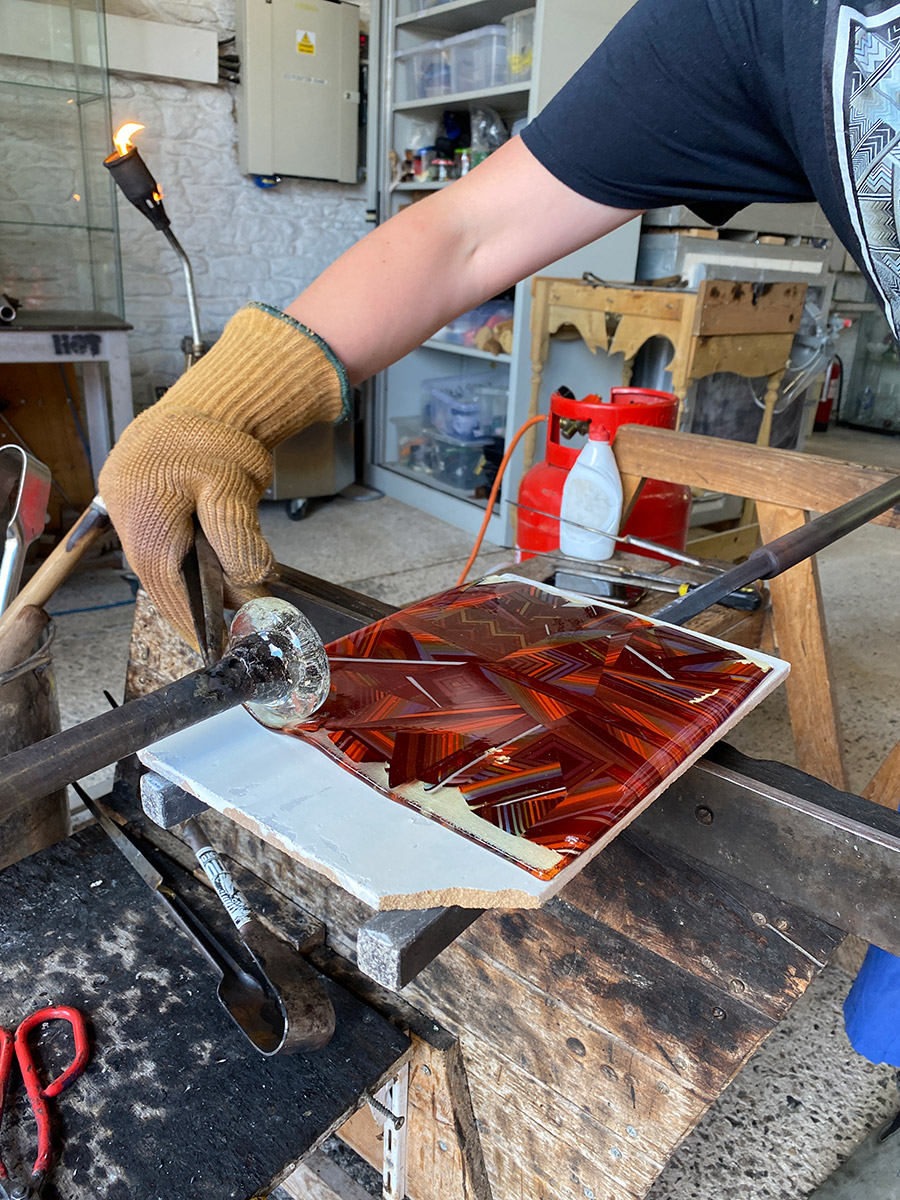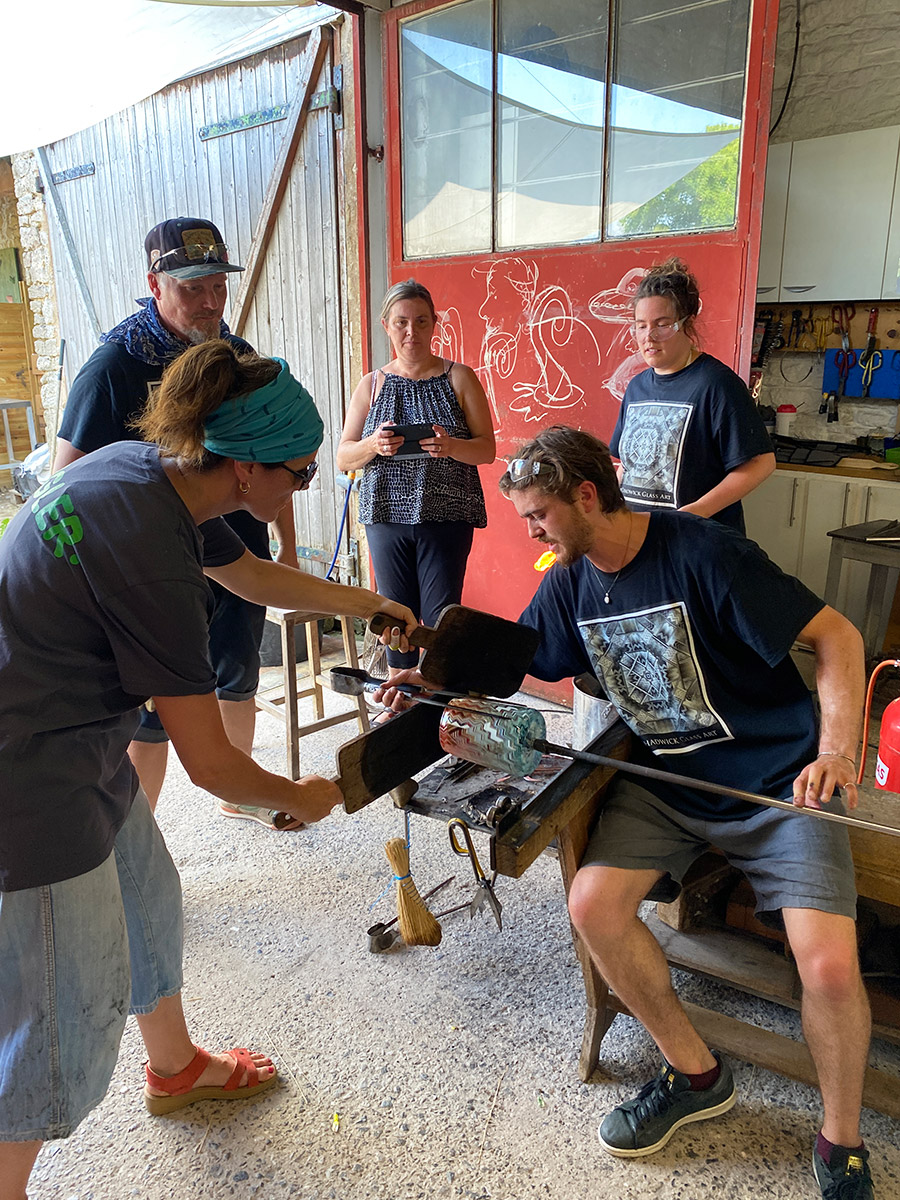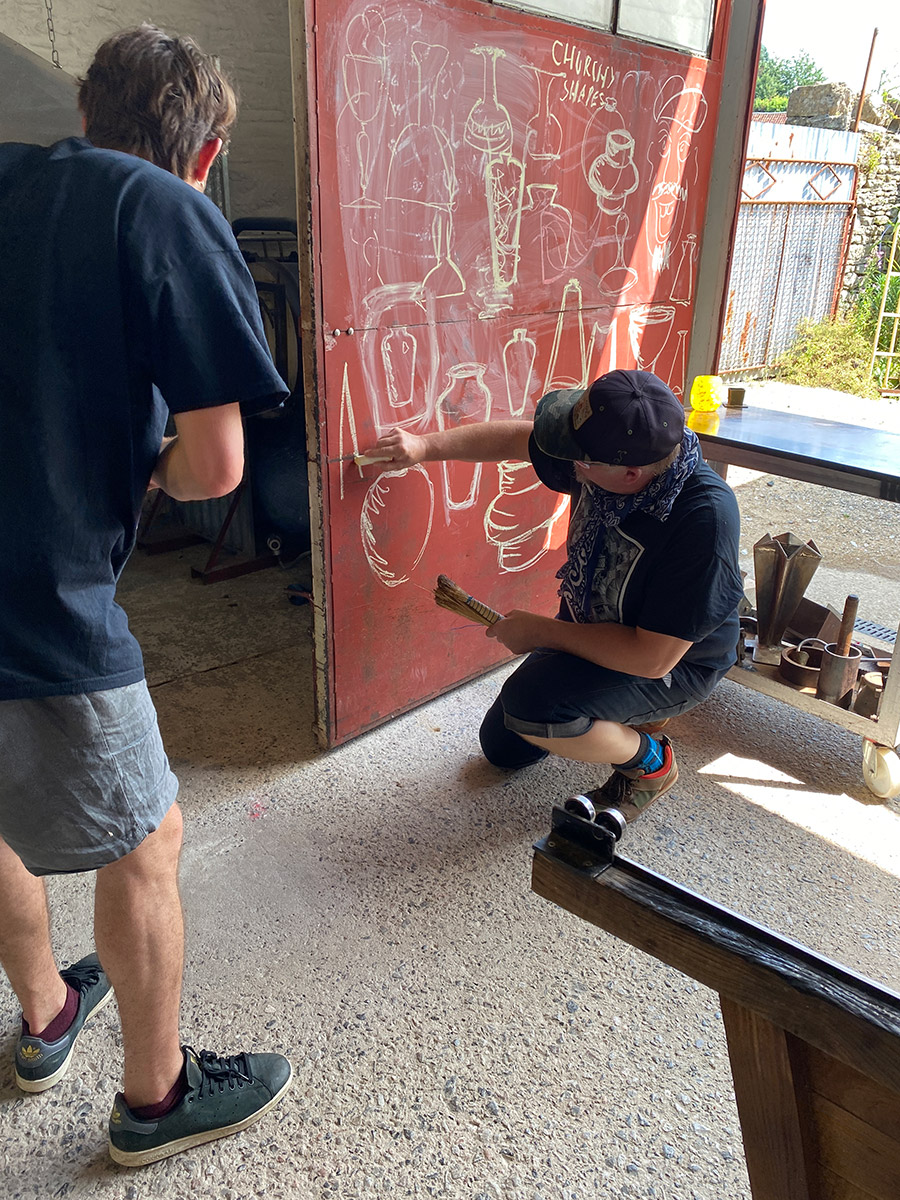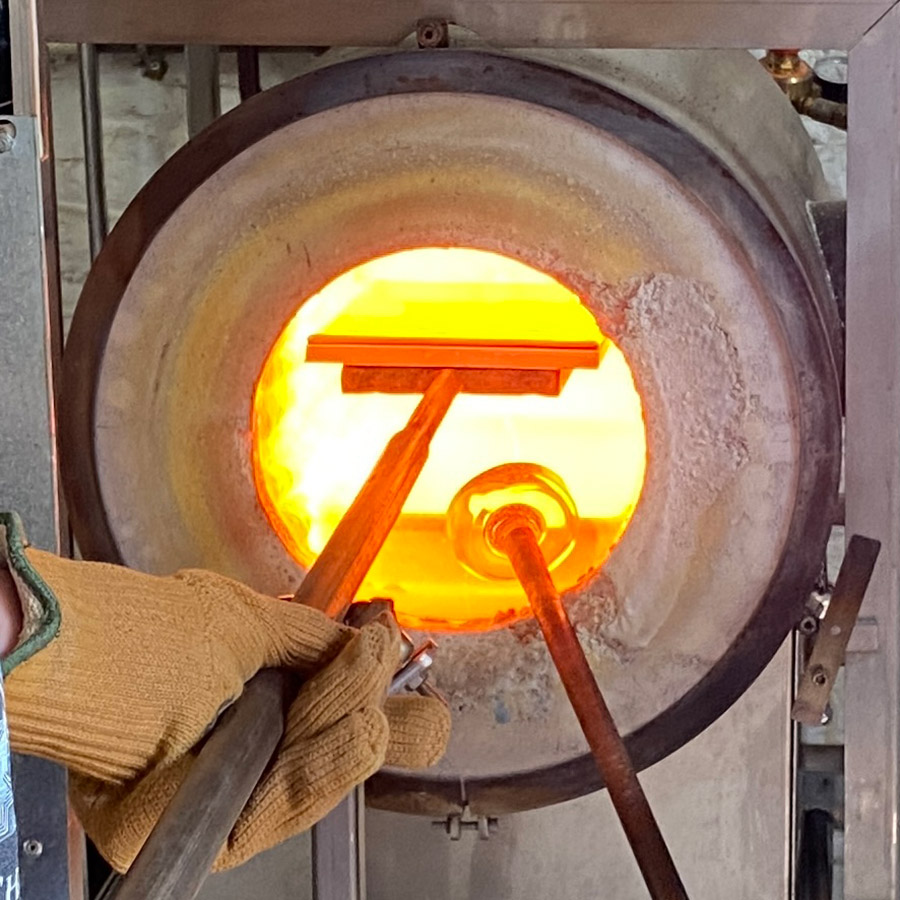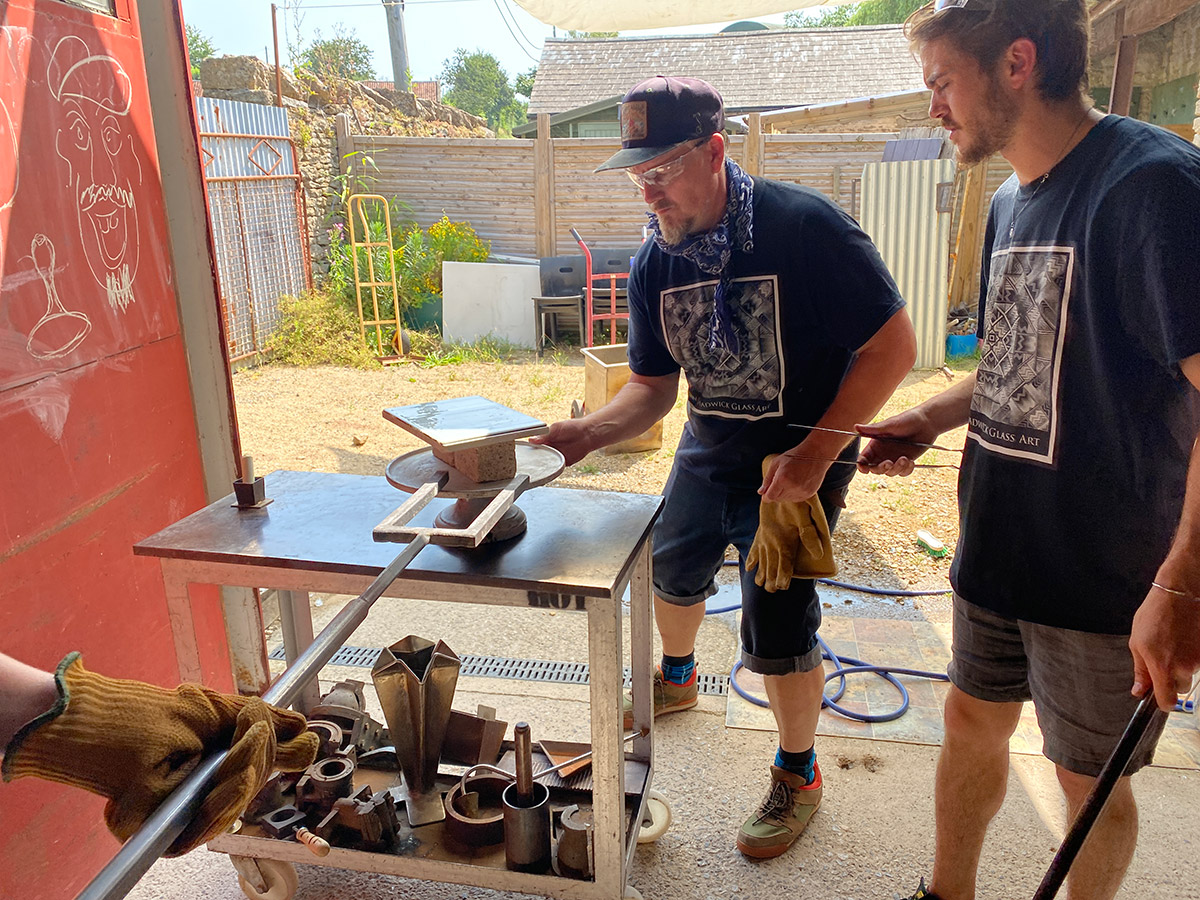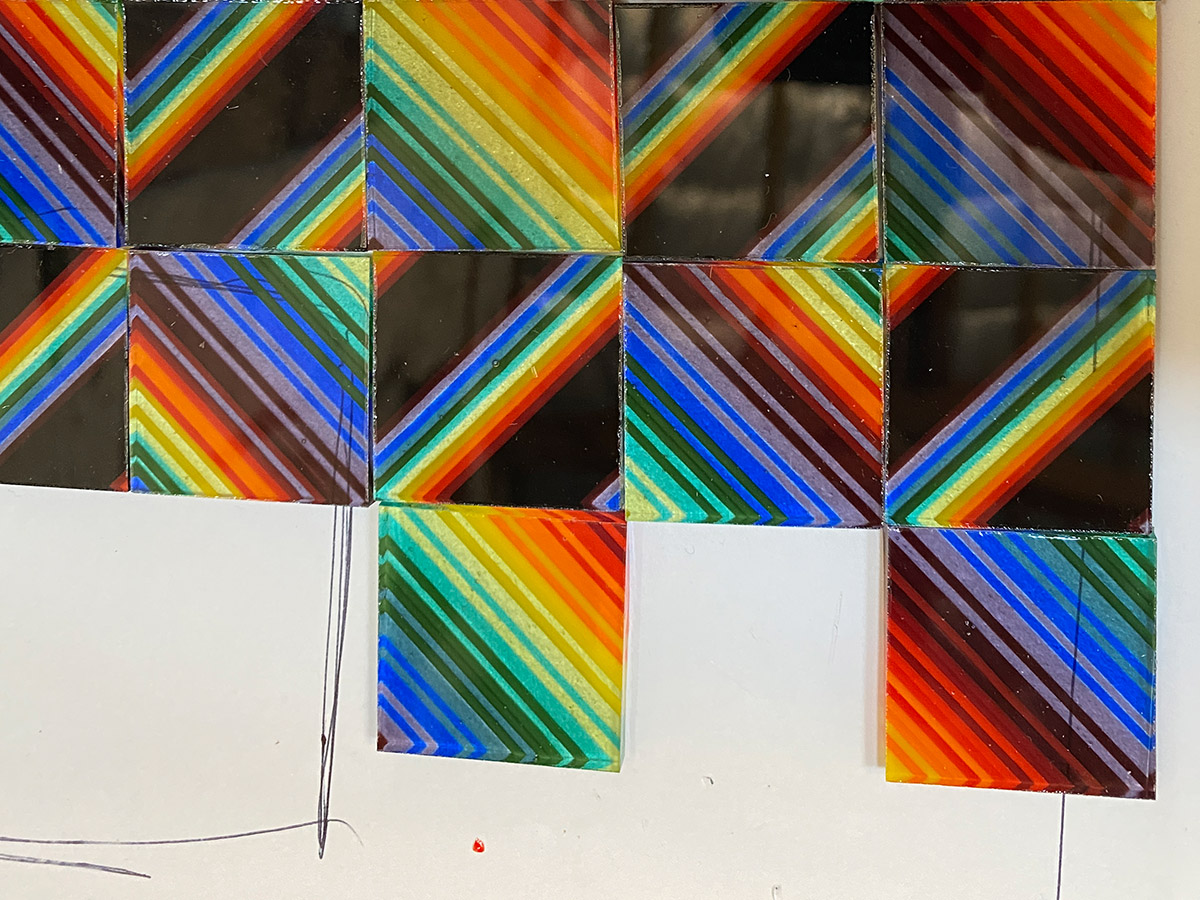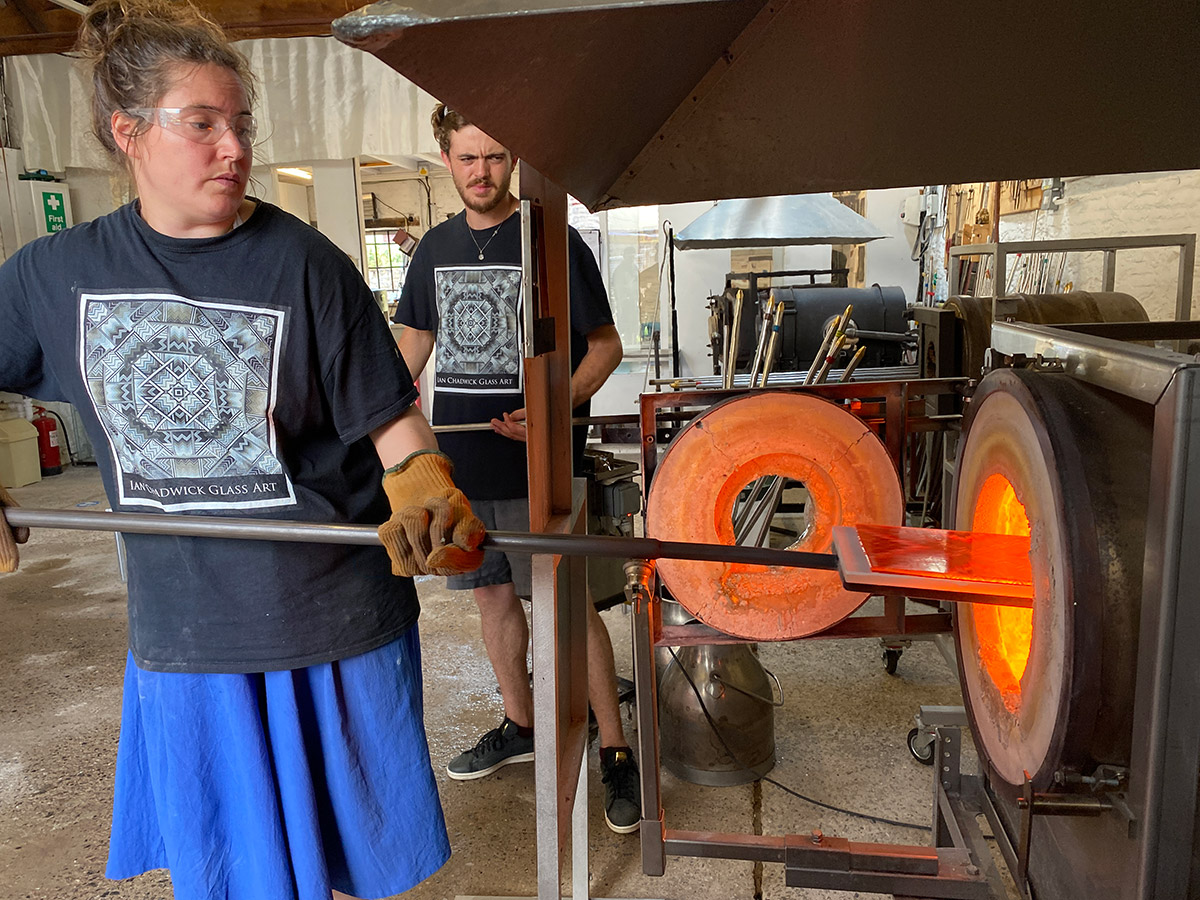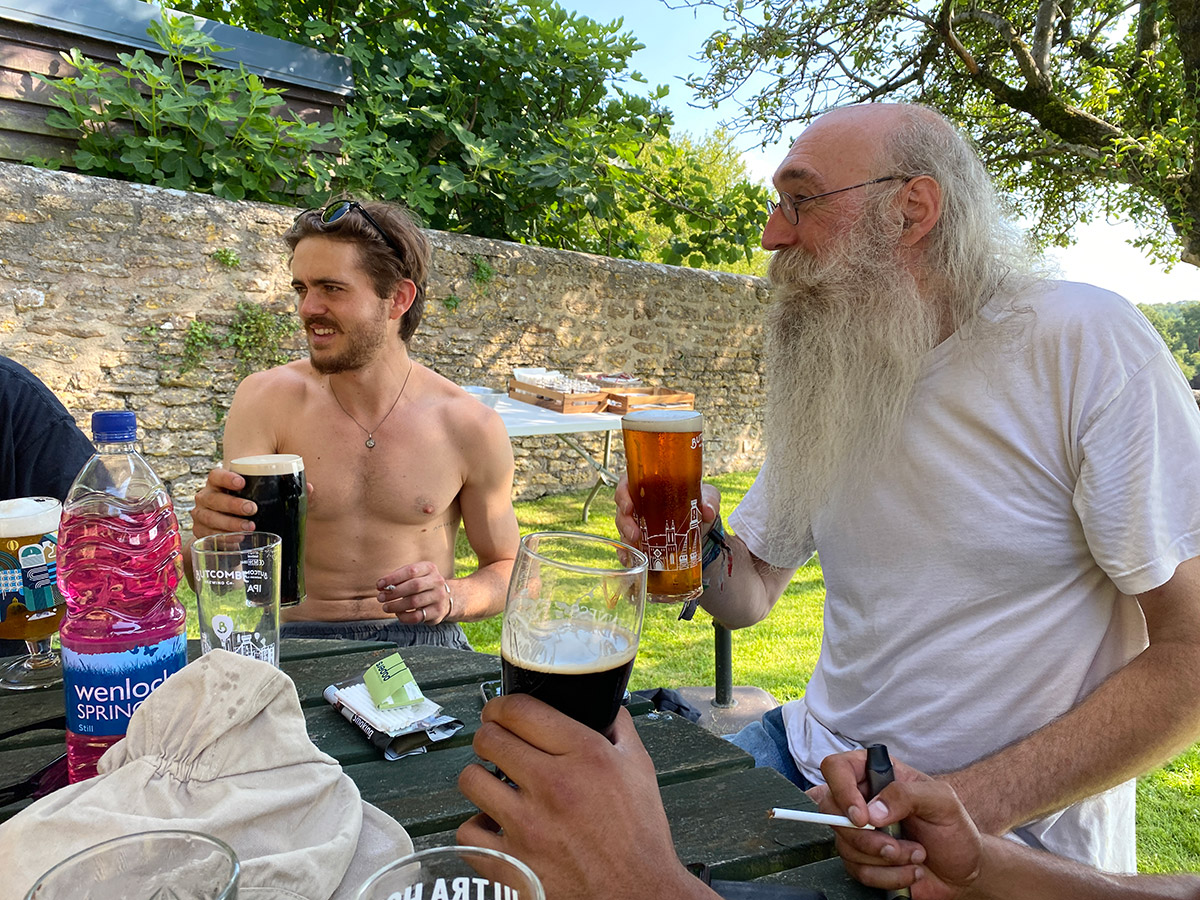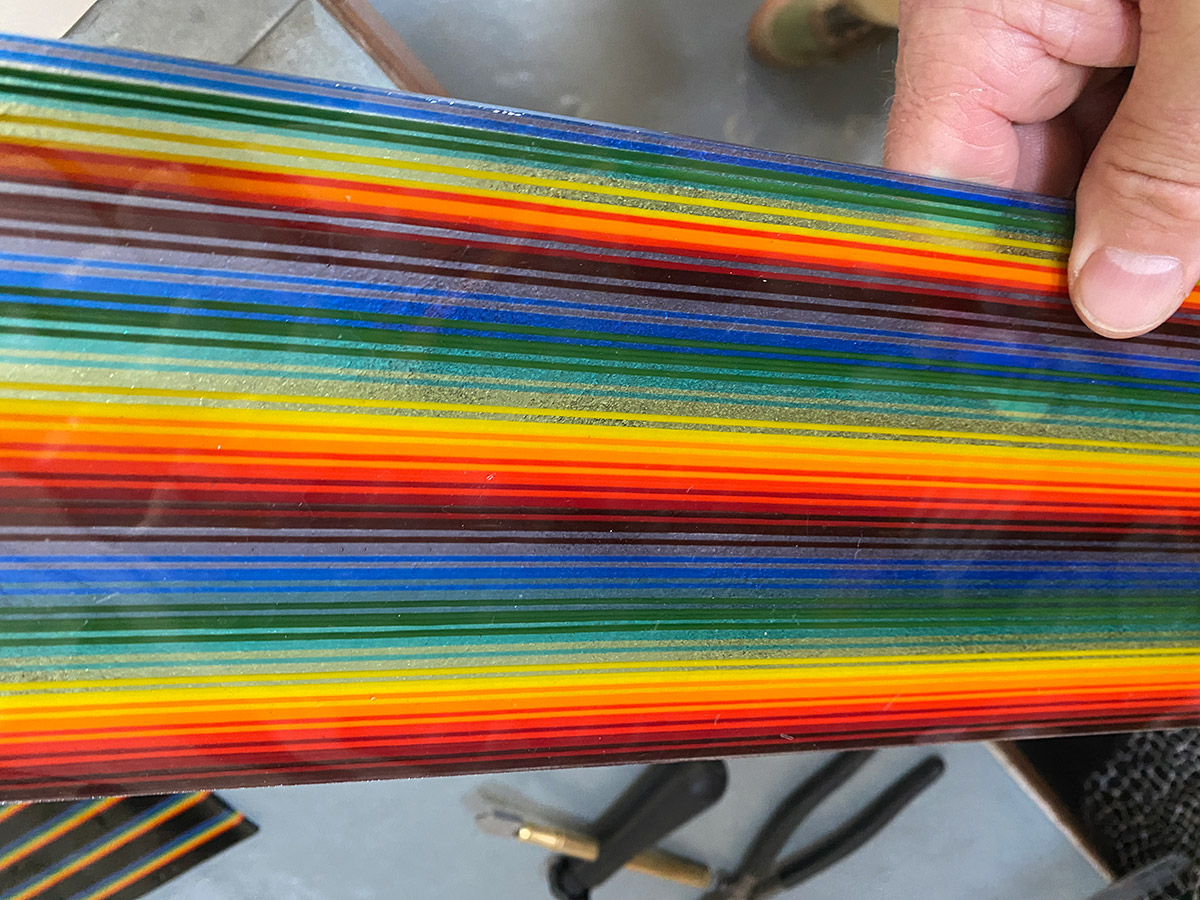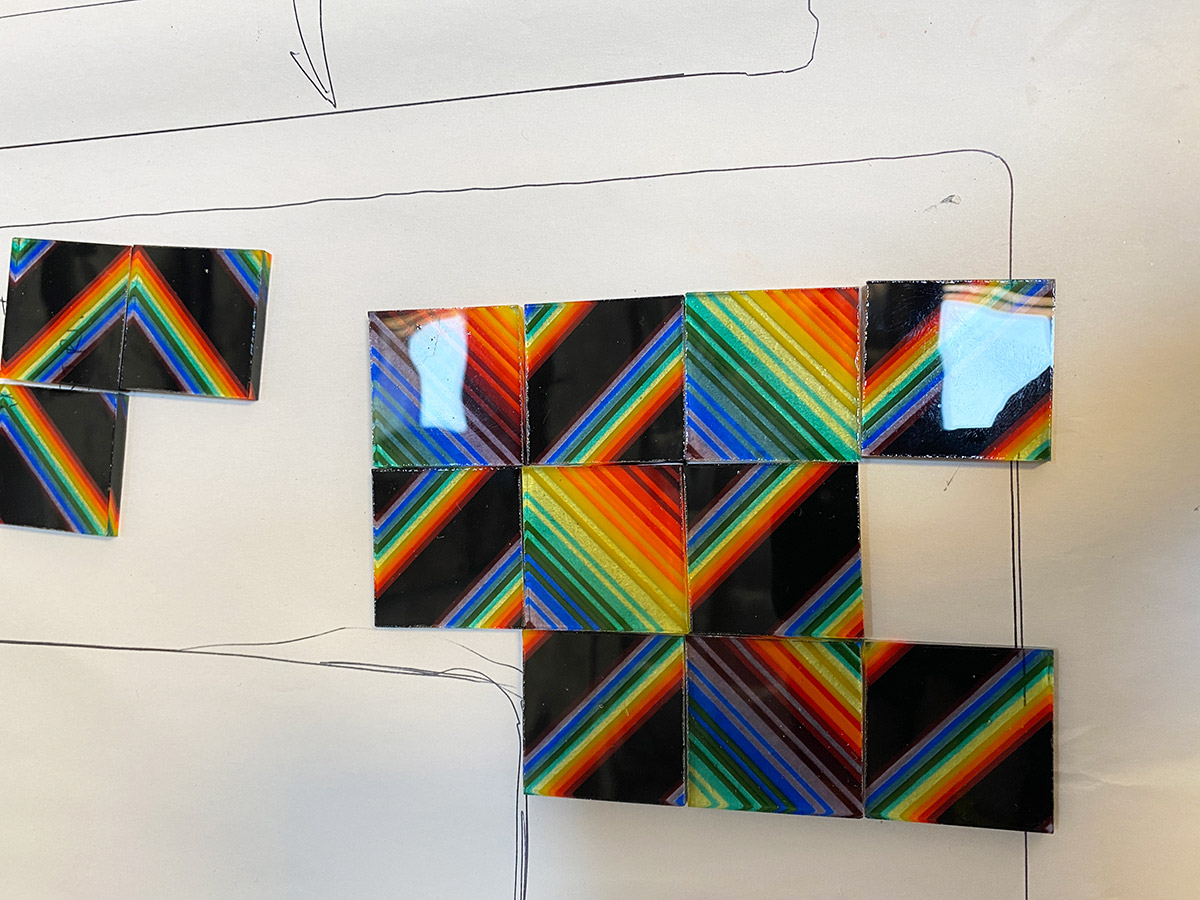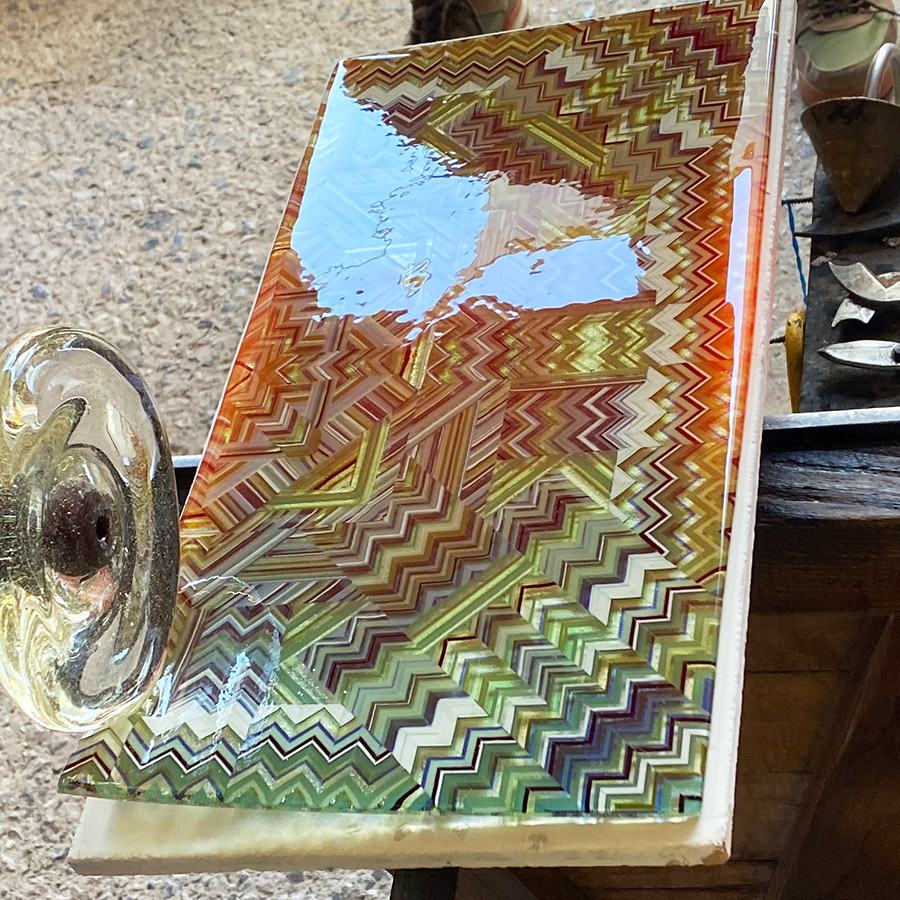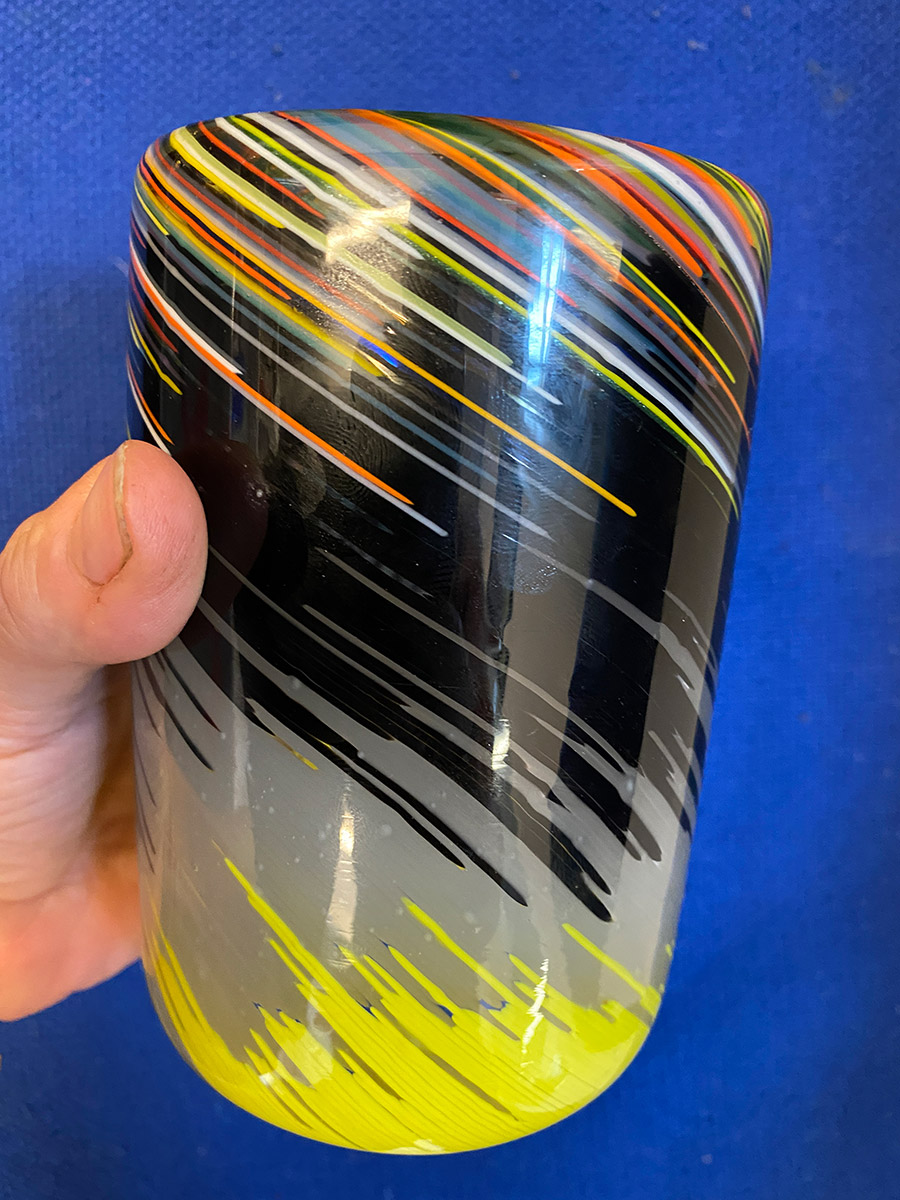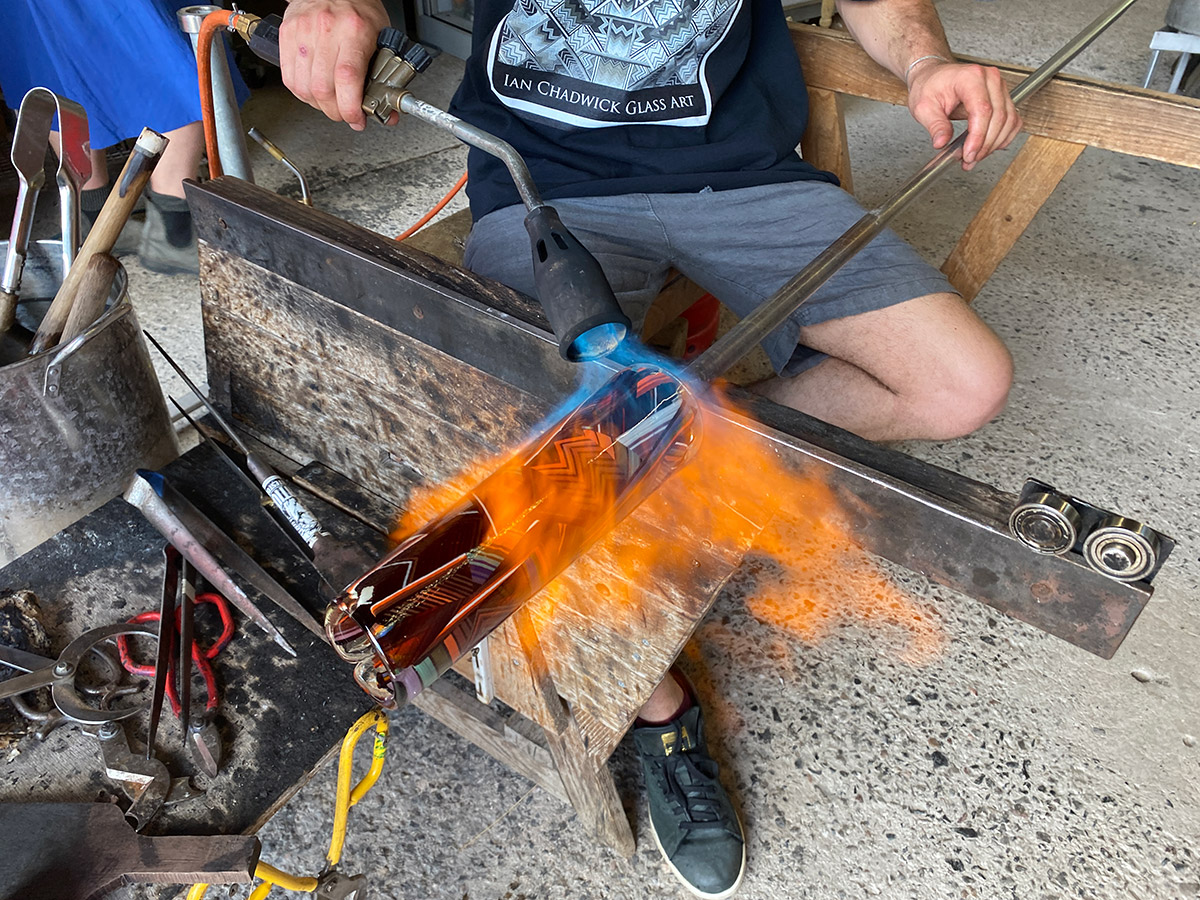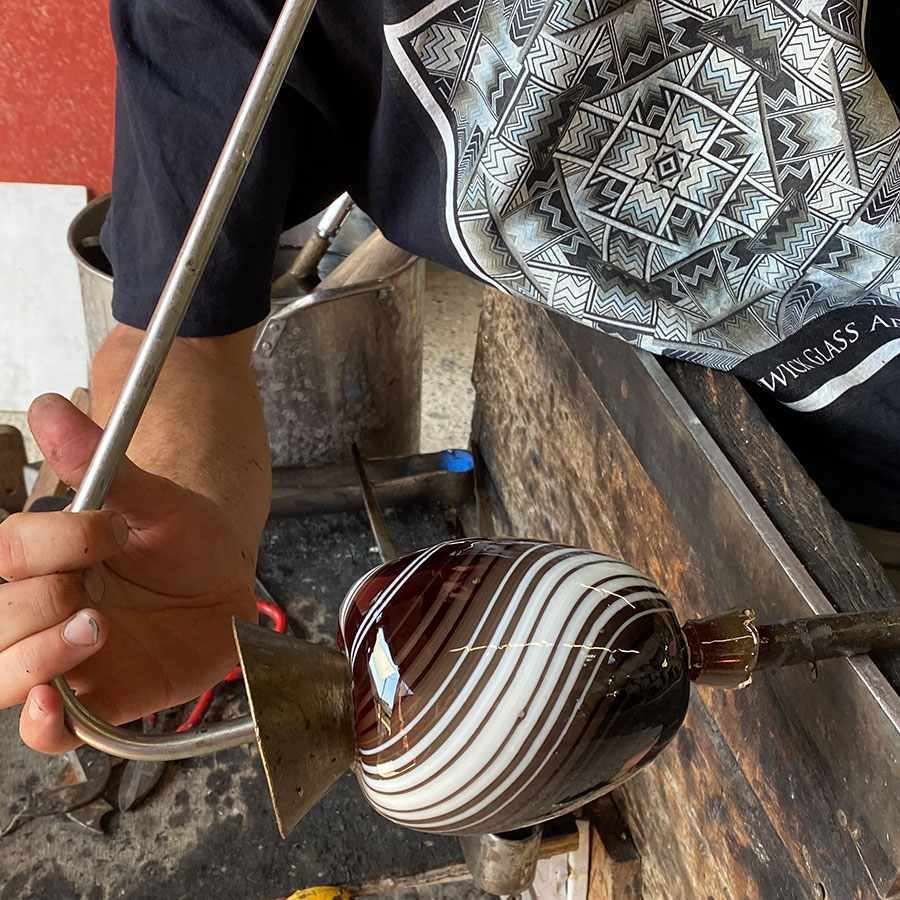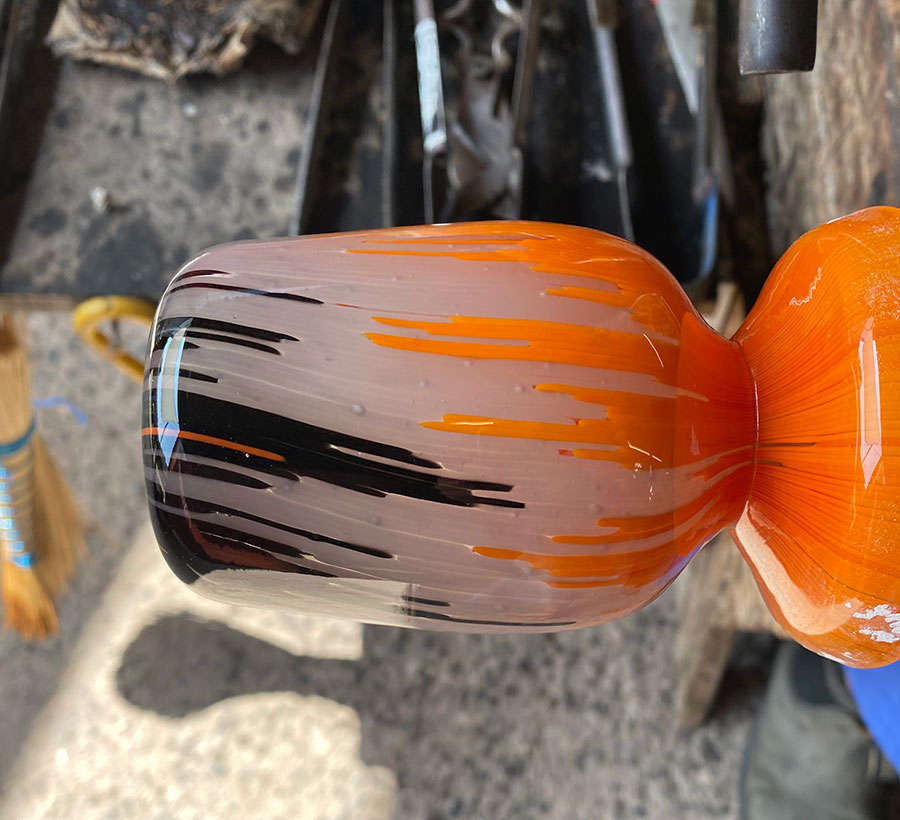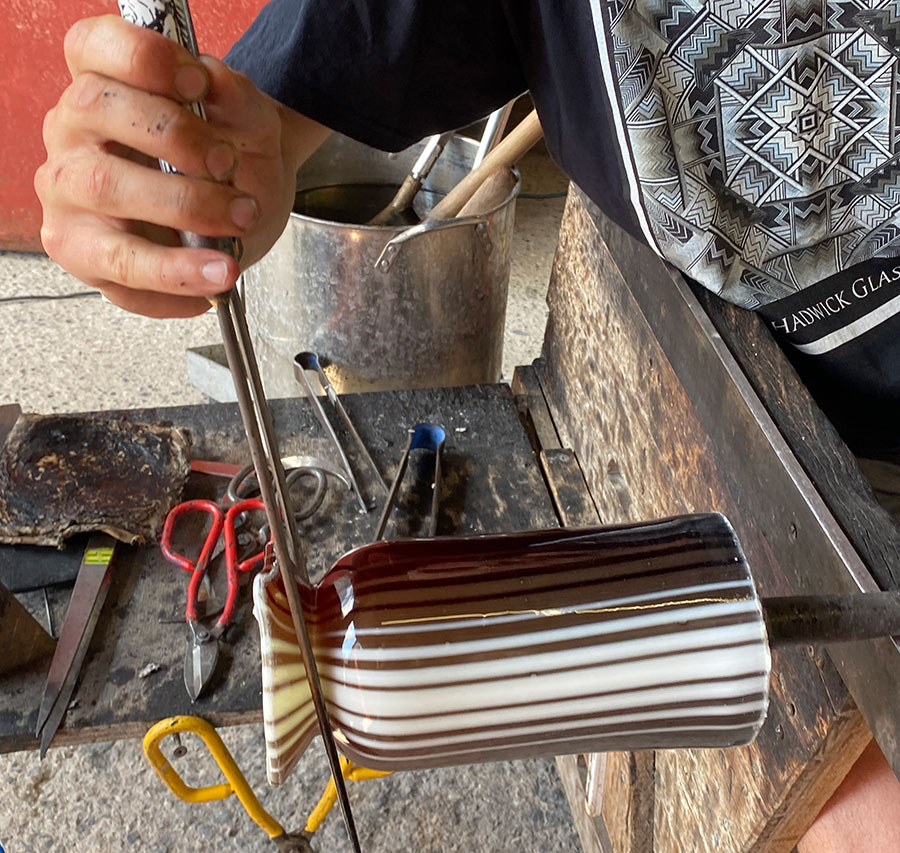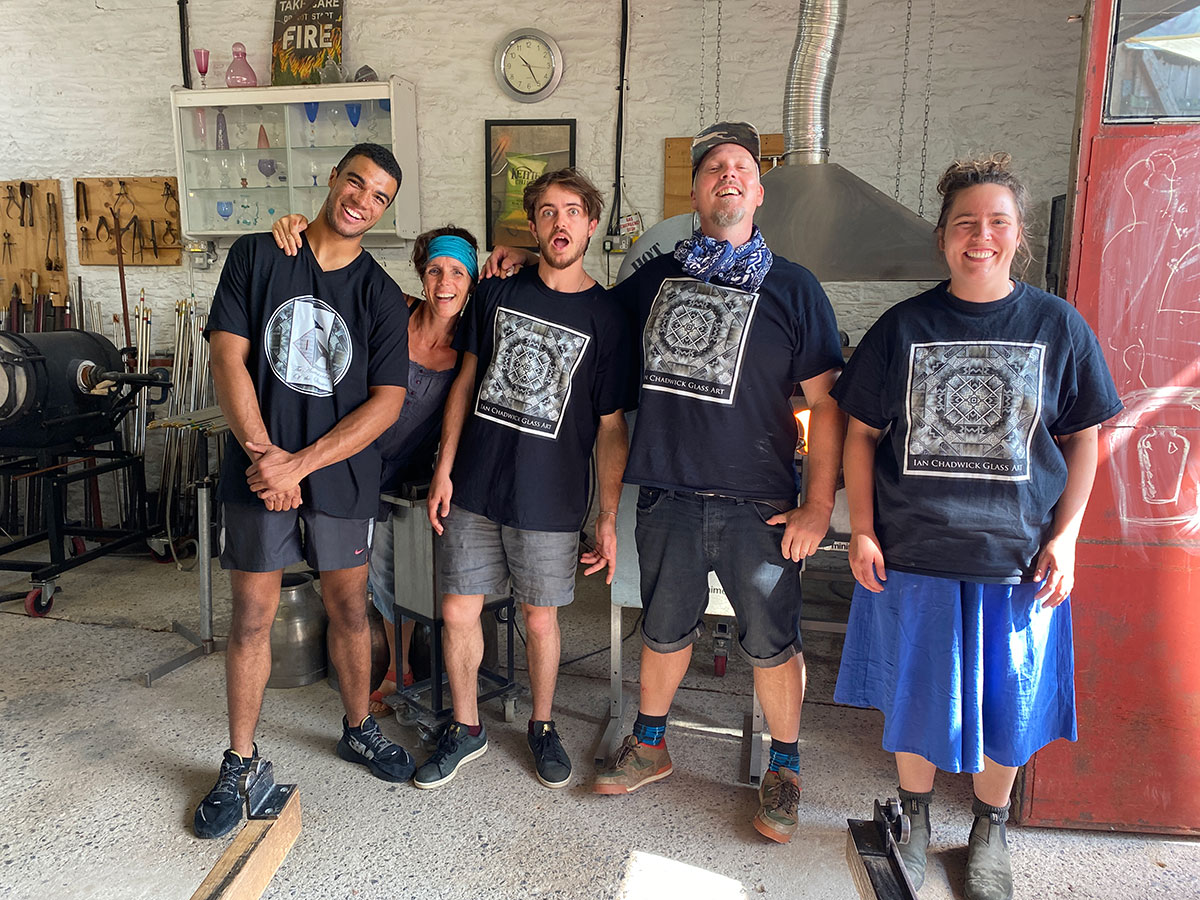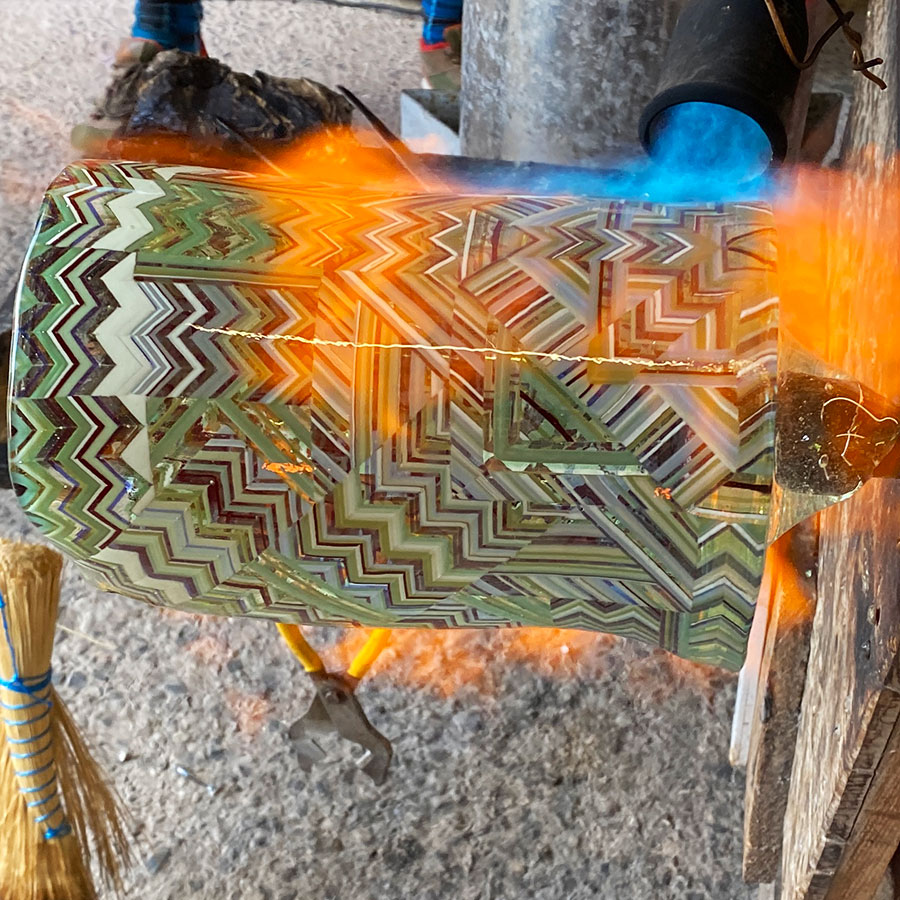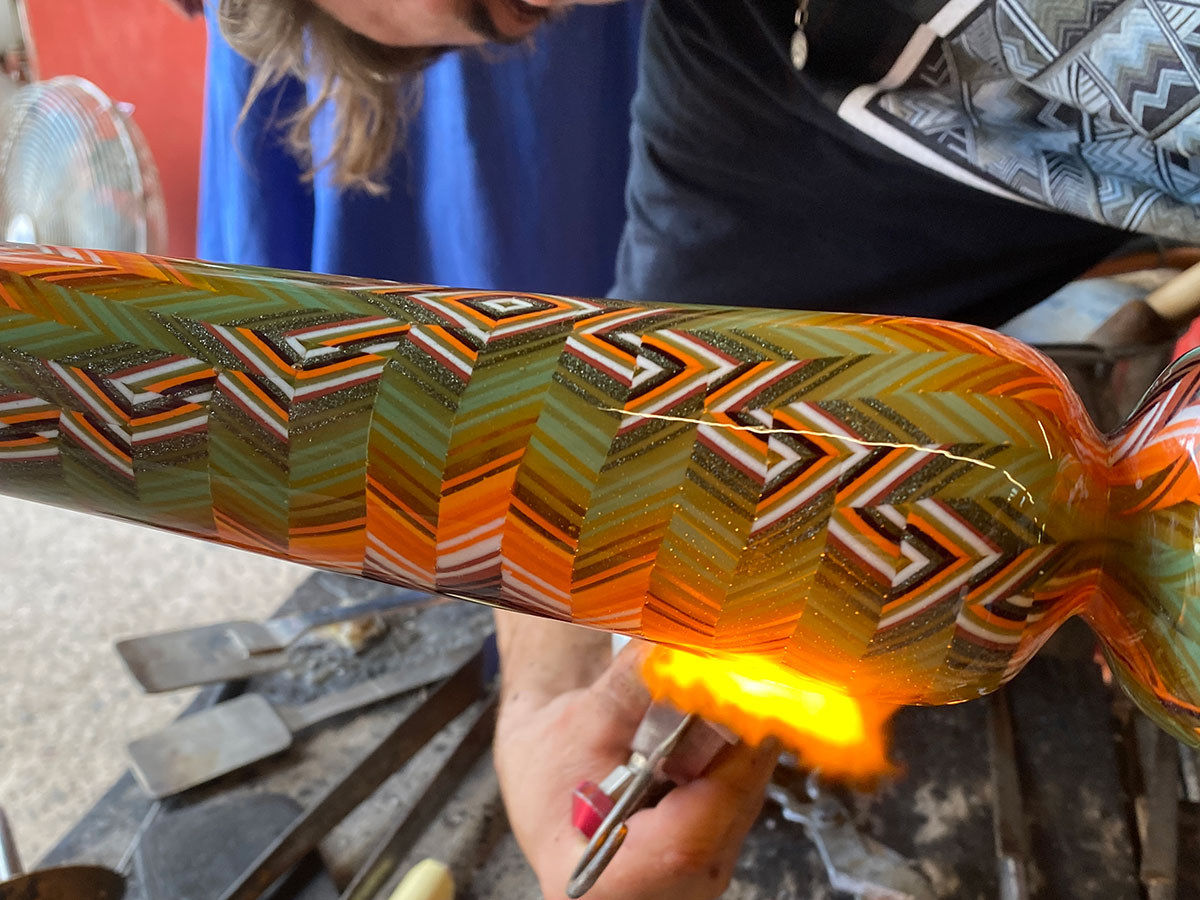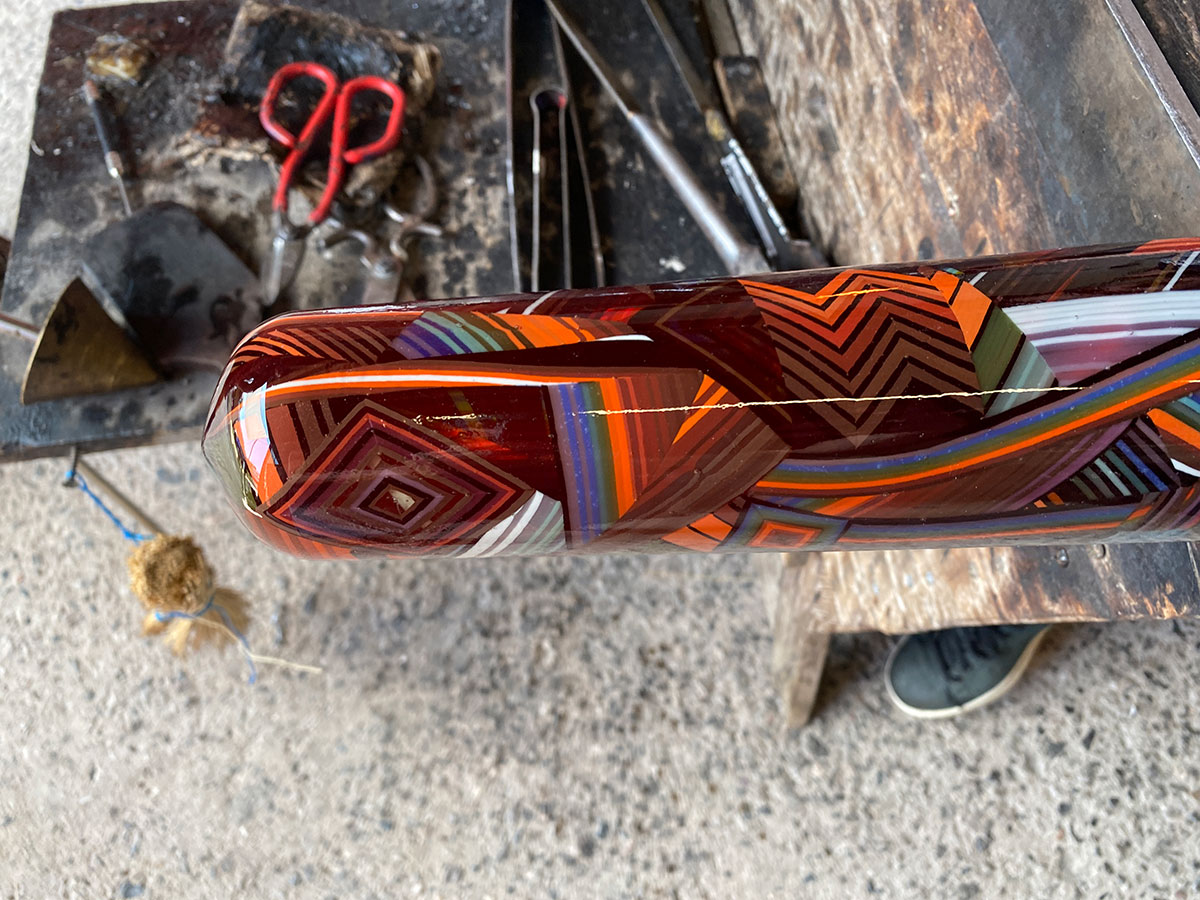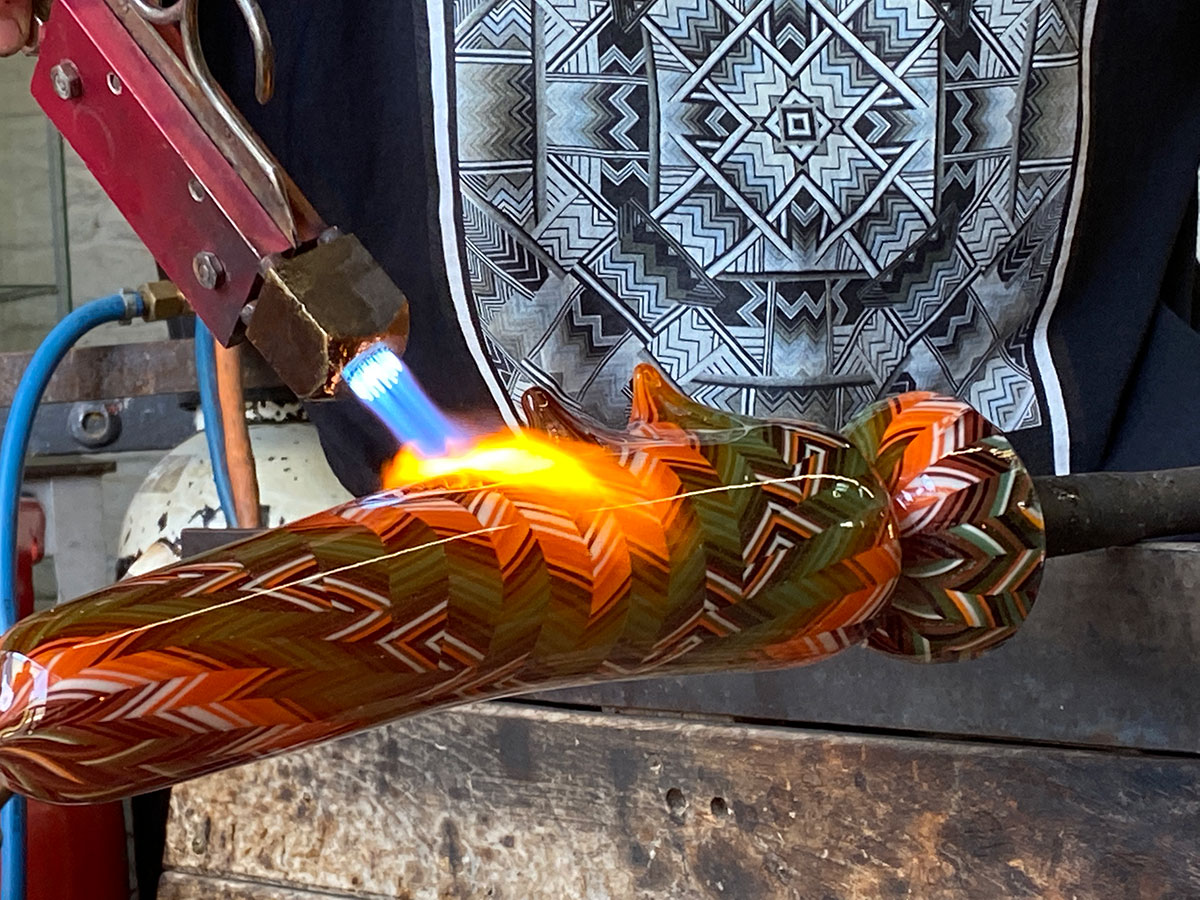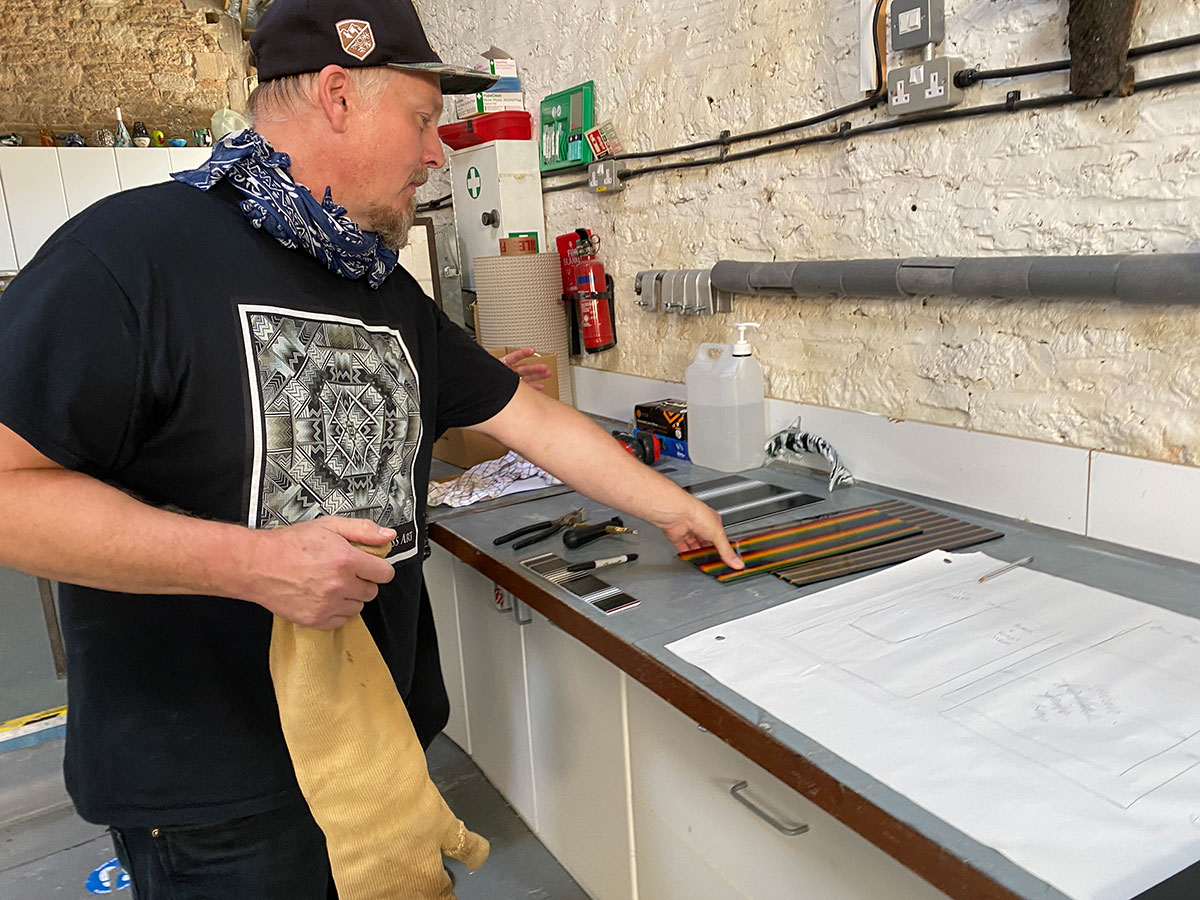 Day 4
The Minimelt furnace was lit, and on this day we also loaded up the Nanomelt, its smaller cousin, which we filled with 7kg Bullseye clear Tekta glass scraps. Taking only 1.5 hrs to melt, the Nanomelt provided us with a vat of clear glass to use in gathers, to add and mix with the fused tiles.
First, we explored using Bullseye frit and stringers, rolling the glass into lines of powder on the marver, picking up stringers straight and picking up random stringers to melt and twist. The delight of having a pot of Bullseye glass was so liberating, we just gathered and then decided to do a small roll up and try some stemware, as this way we could bring bits, feet, trails etc, all to add to the blown up Bullseye tiles with no problems of contamination. Bullseye glass is an amazing glass to blow and work with and we were so excited to be gathering it hot instead of just heating up as sheet glass. We also rolled up and blew the System 96 (Spectrum glass) tiles, a whole different feel compared to Bullseye.
Sacha, our new studio assistant made some great trials of blown bowls and feet in Chadwick designs. He was awesome and proved himself invaluable many times over …and it was only his second week with us, fresh from Sunderland Uni.
That afternoon, Helga and Ian took the biggest and best tiles of Ian's pre-formed panels to the professional studio of 'Devereux & Huskie Glassworks' (just a few miles up the road) in preparation for the final day there. We finished off with a wonderful meal out in Frome for the whole team and an evening of sketching and planning for the following day. This is what we had been training for all week. Ian had absorbed the glassmaking process, understood hot shop language and saw the possibilities of how to transform his incredible panels into fantastic blown pieces.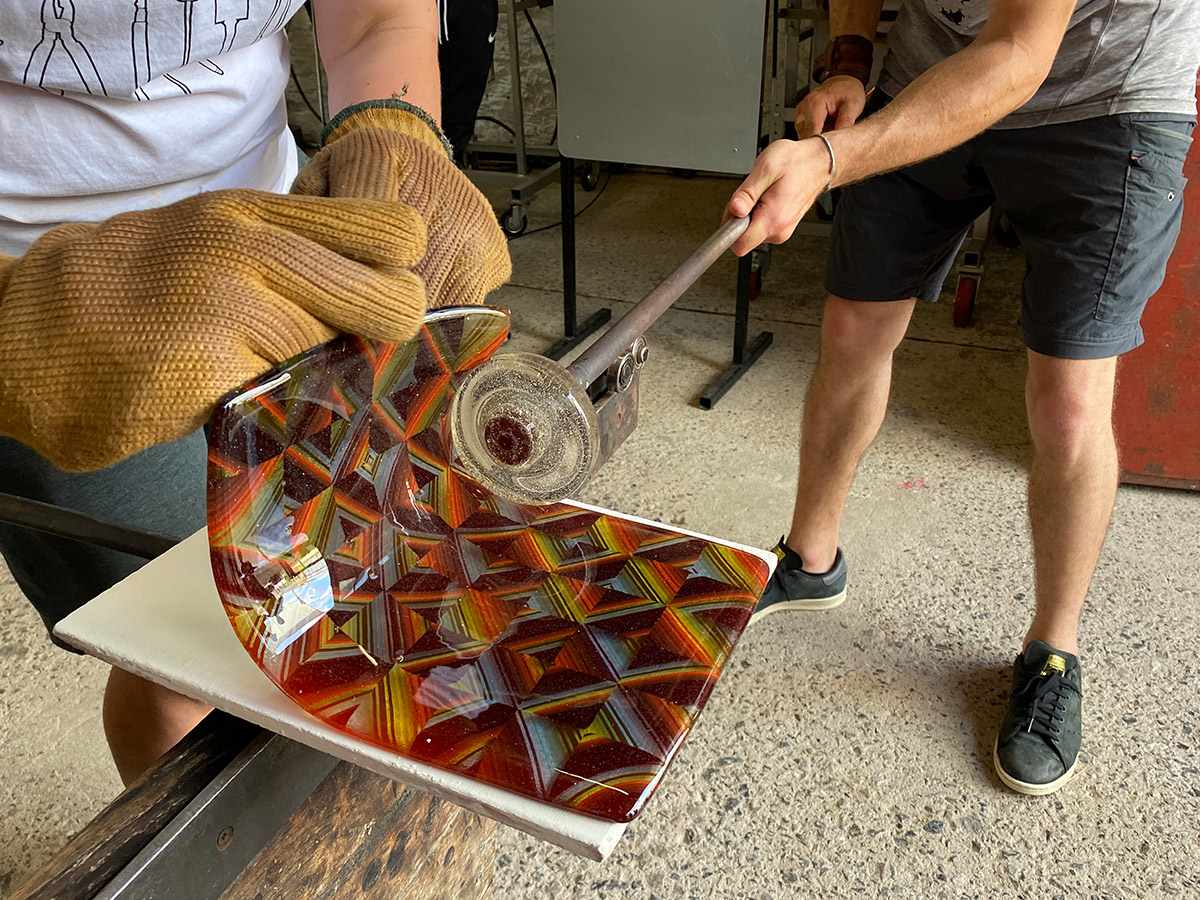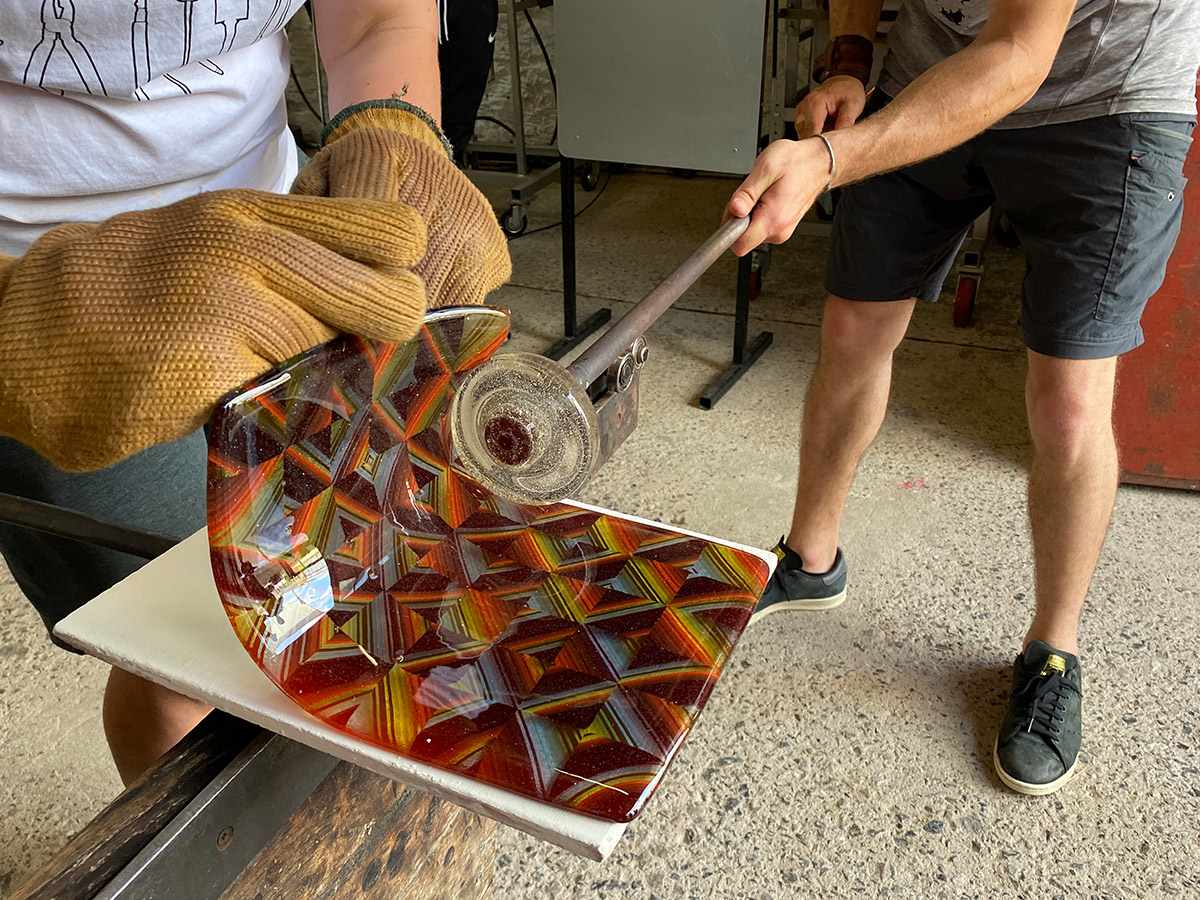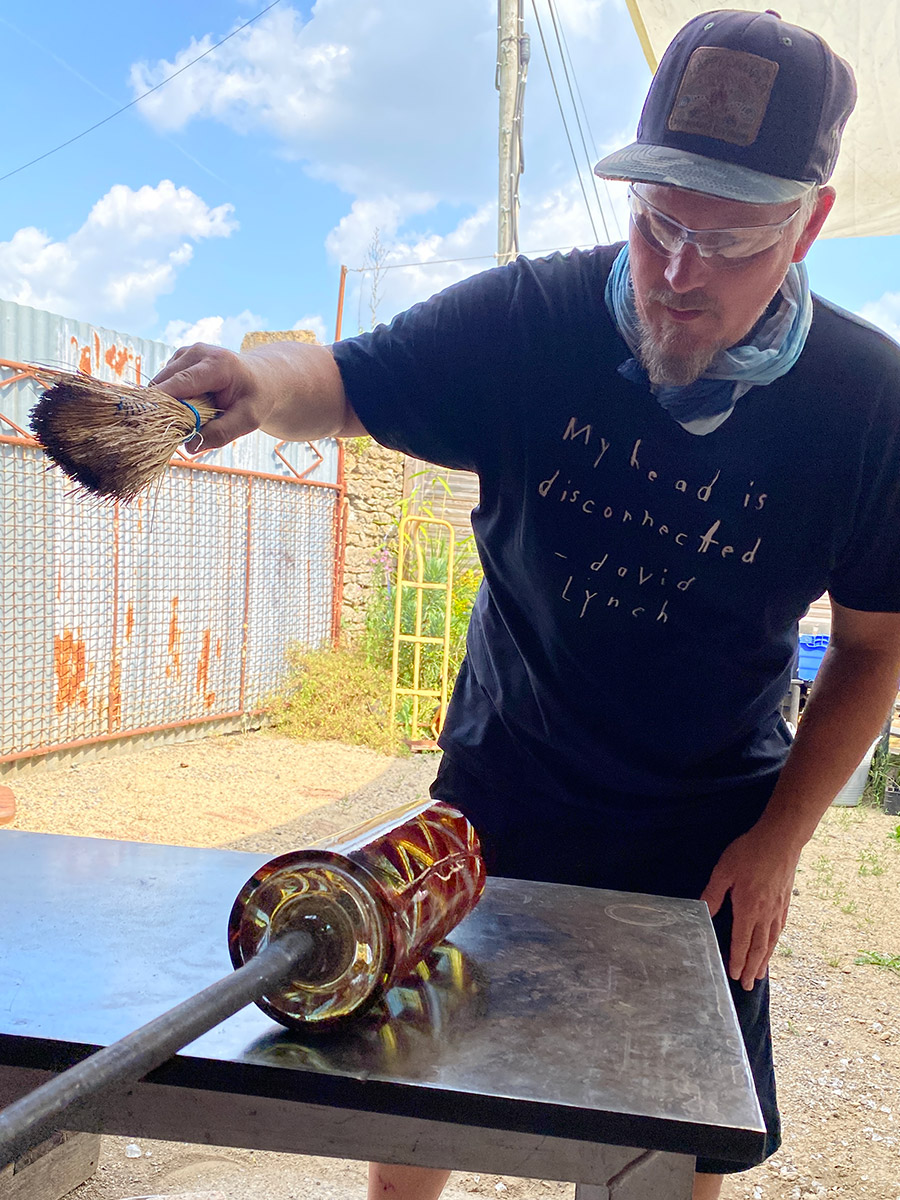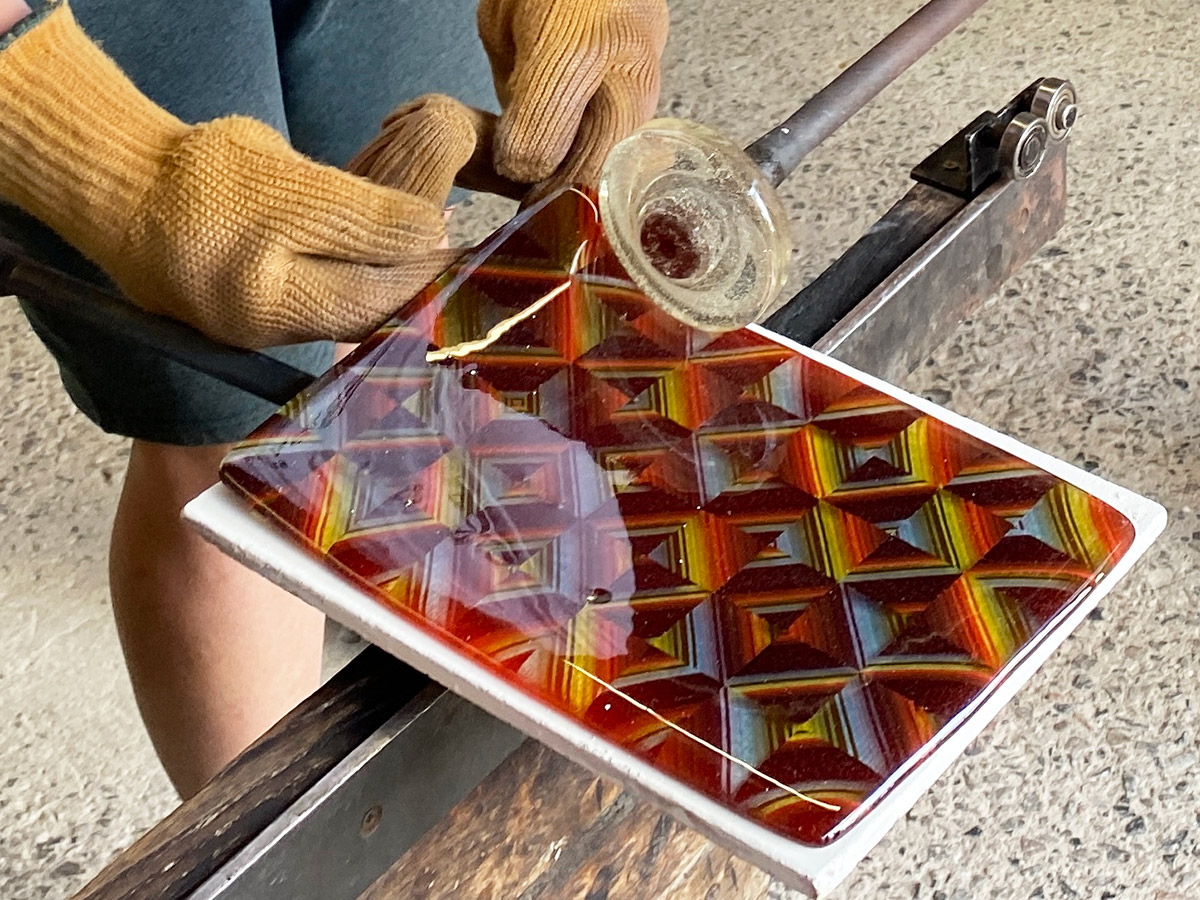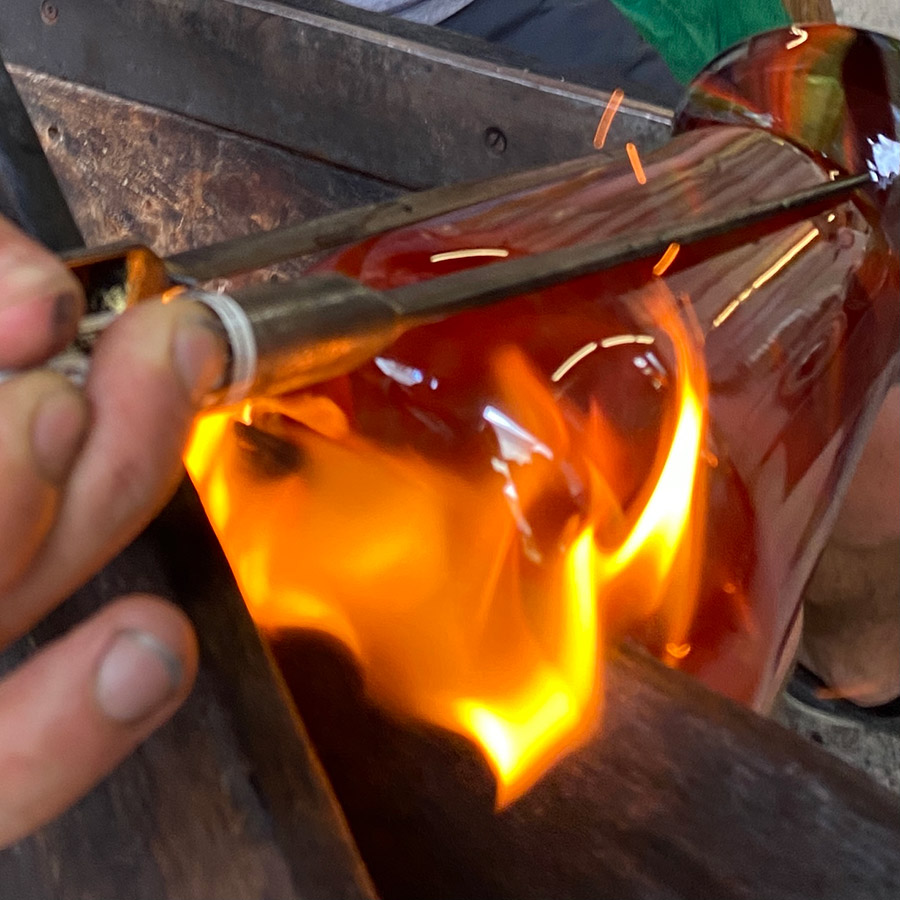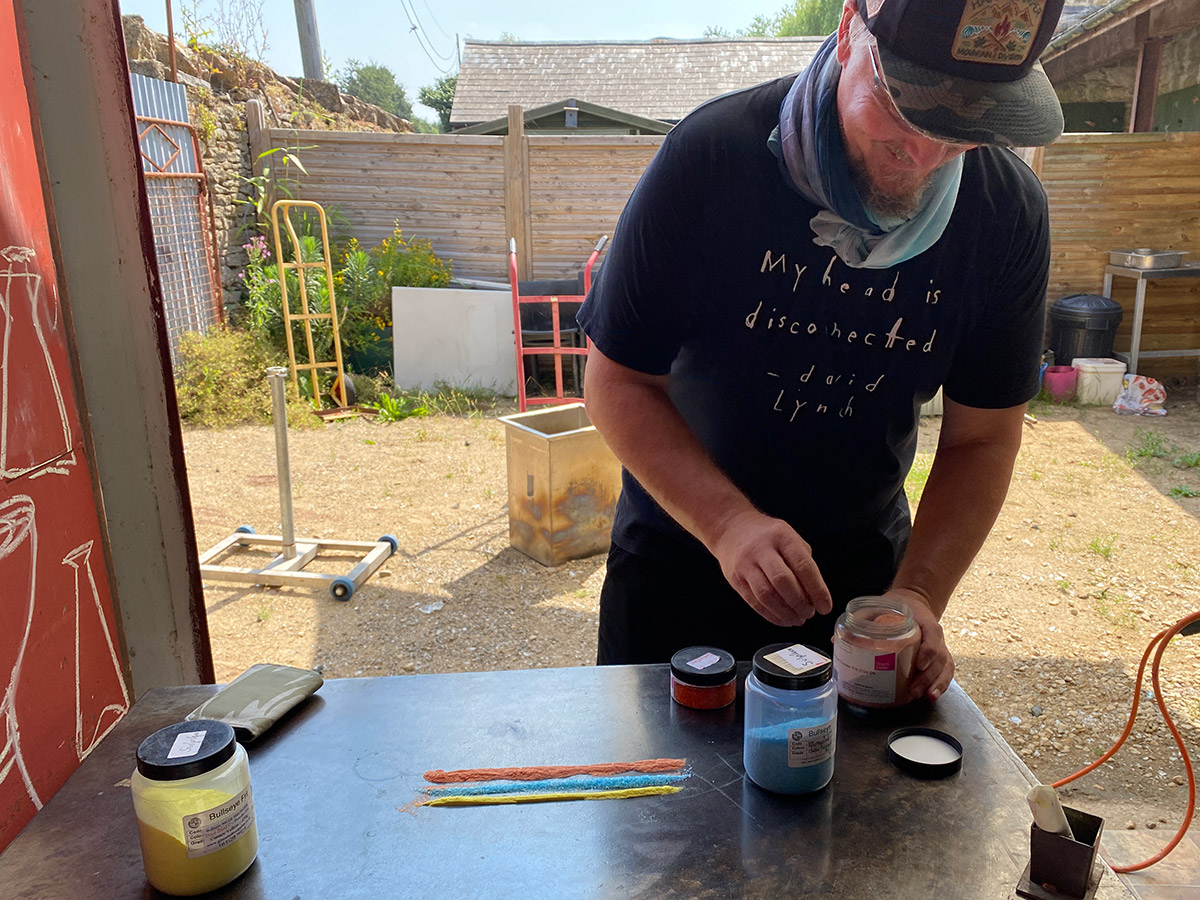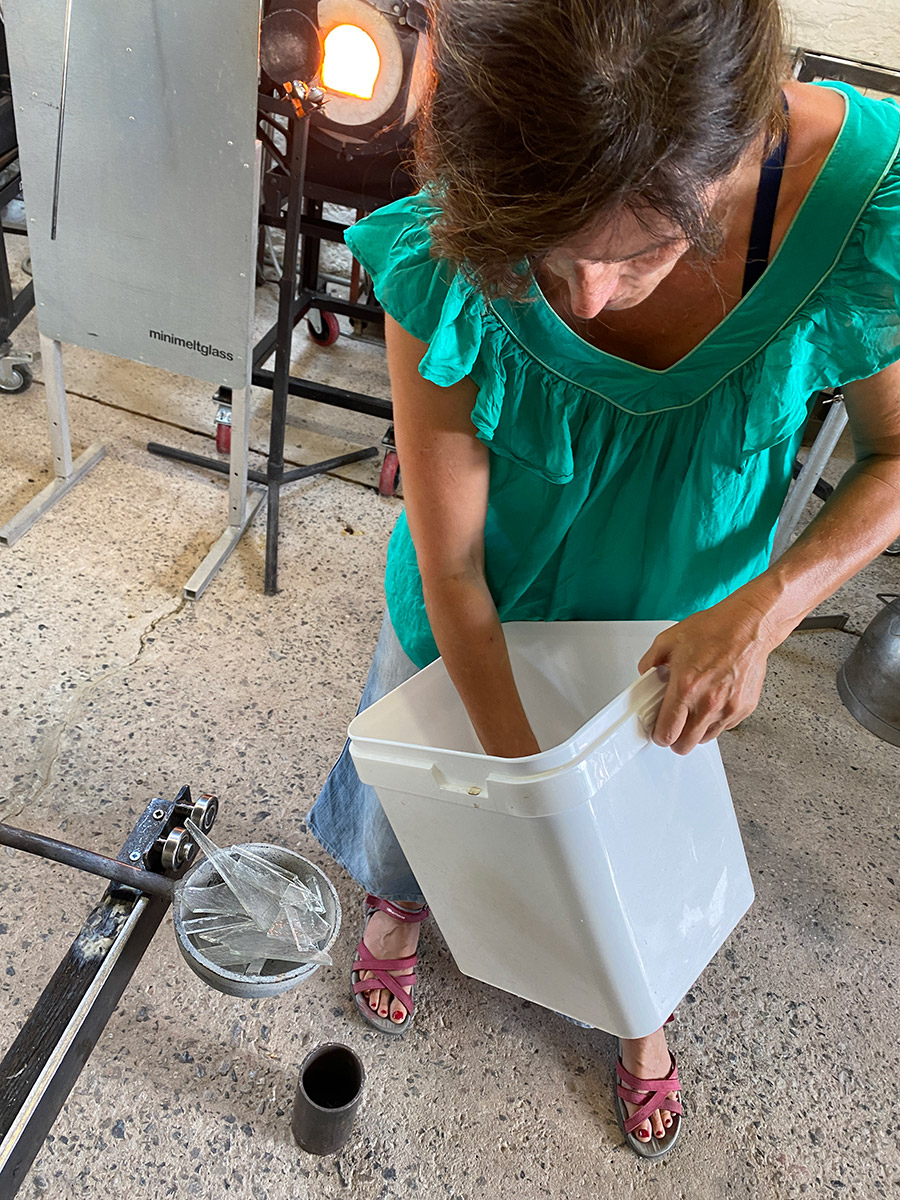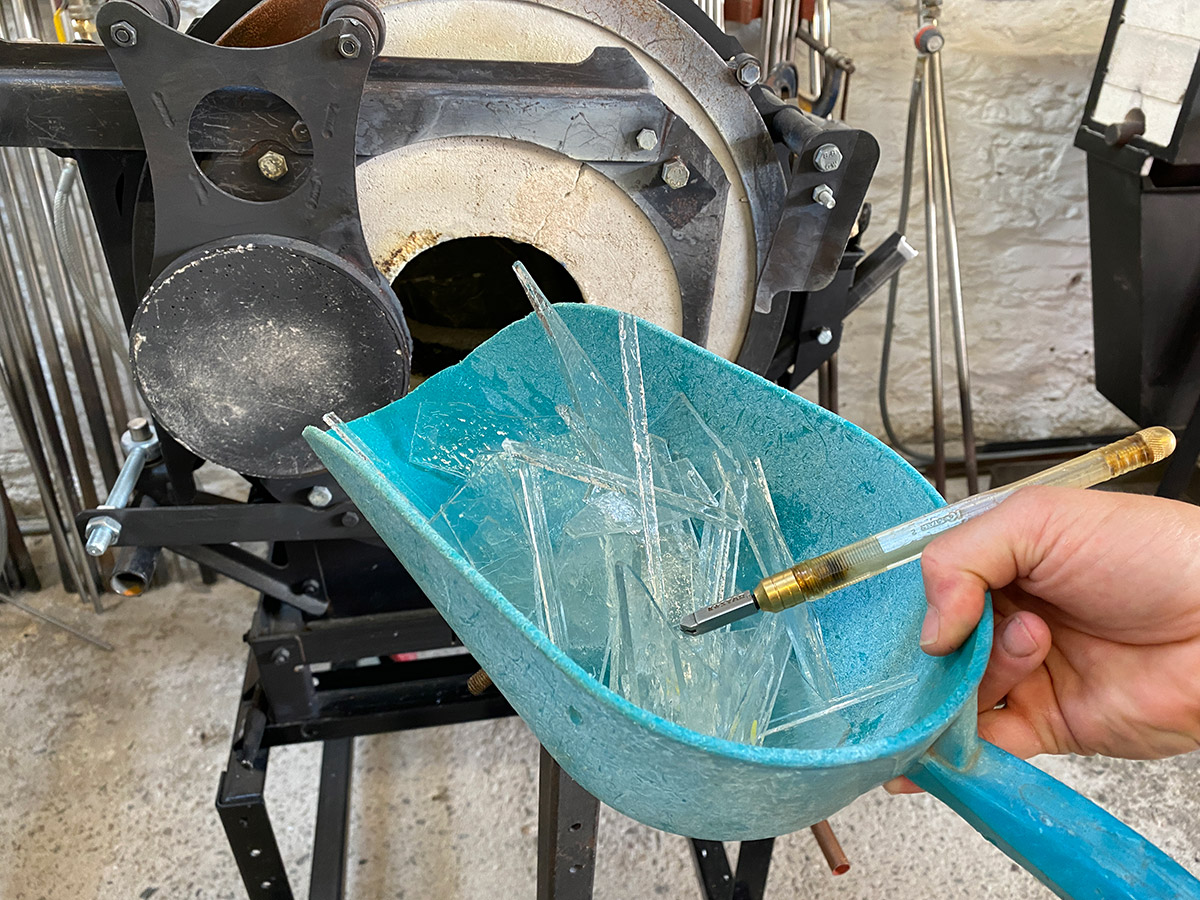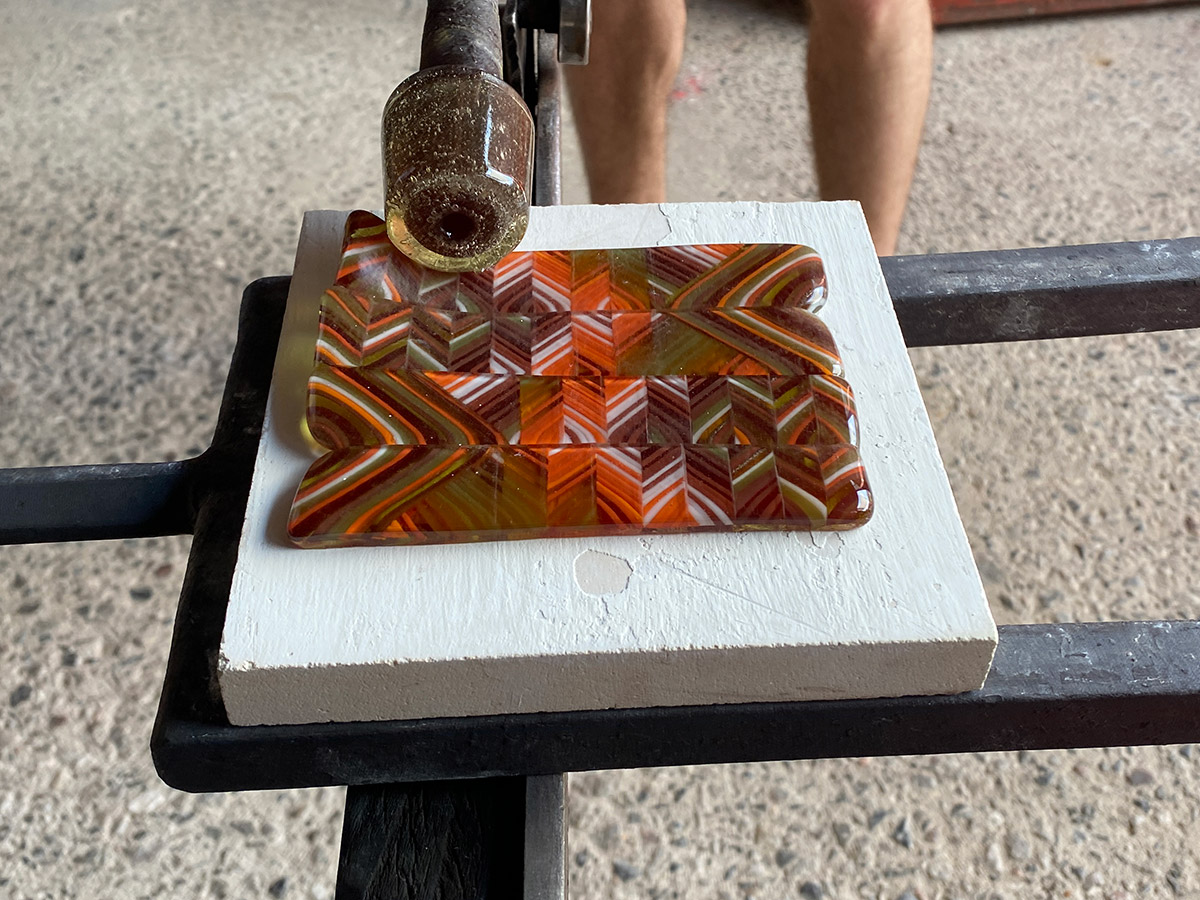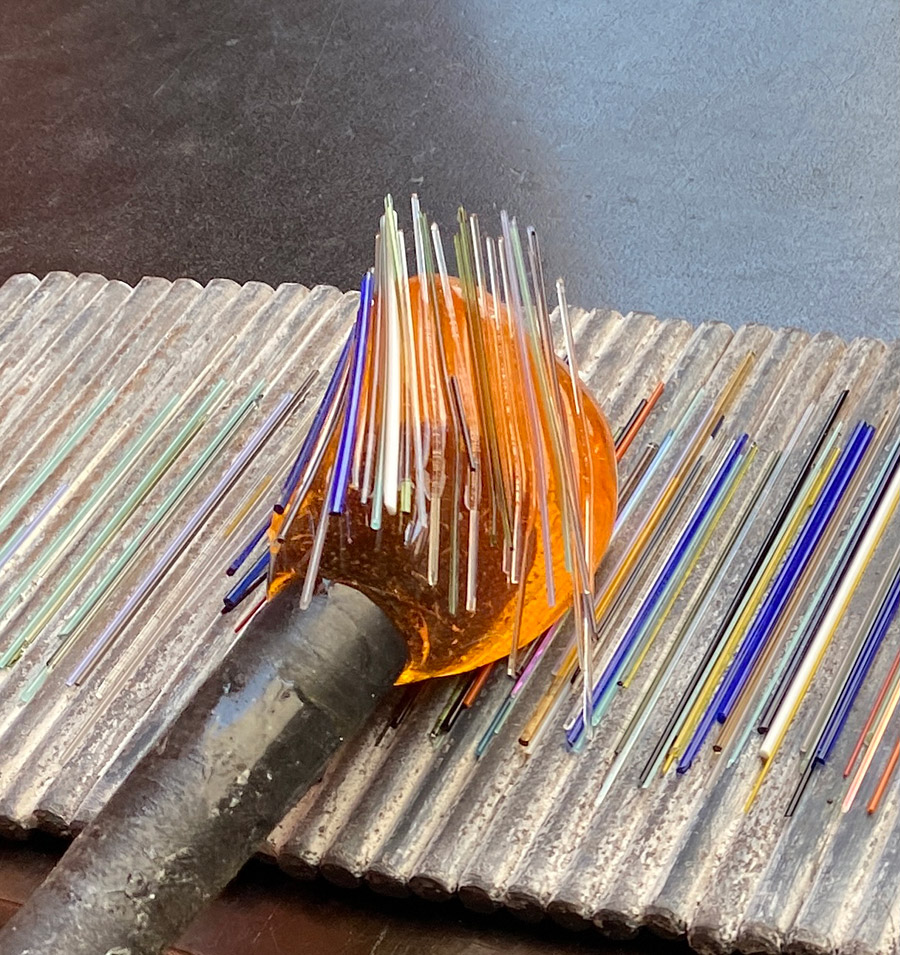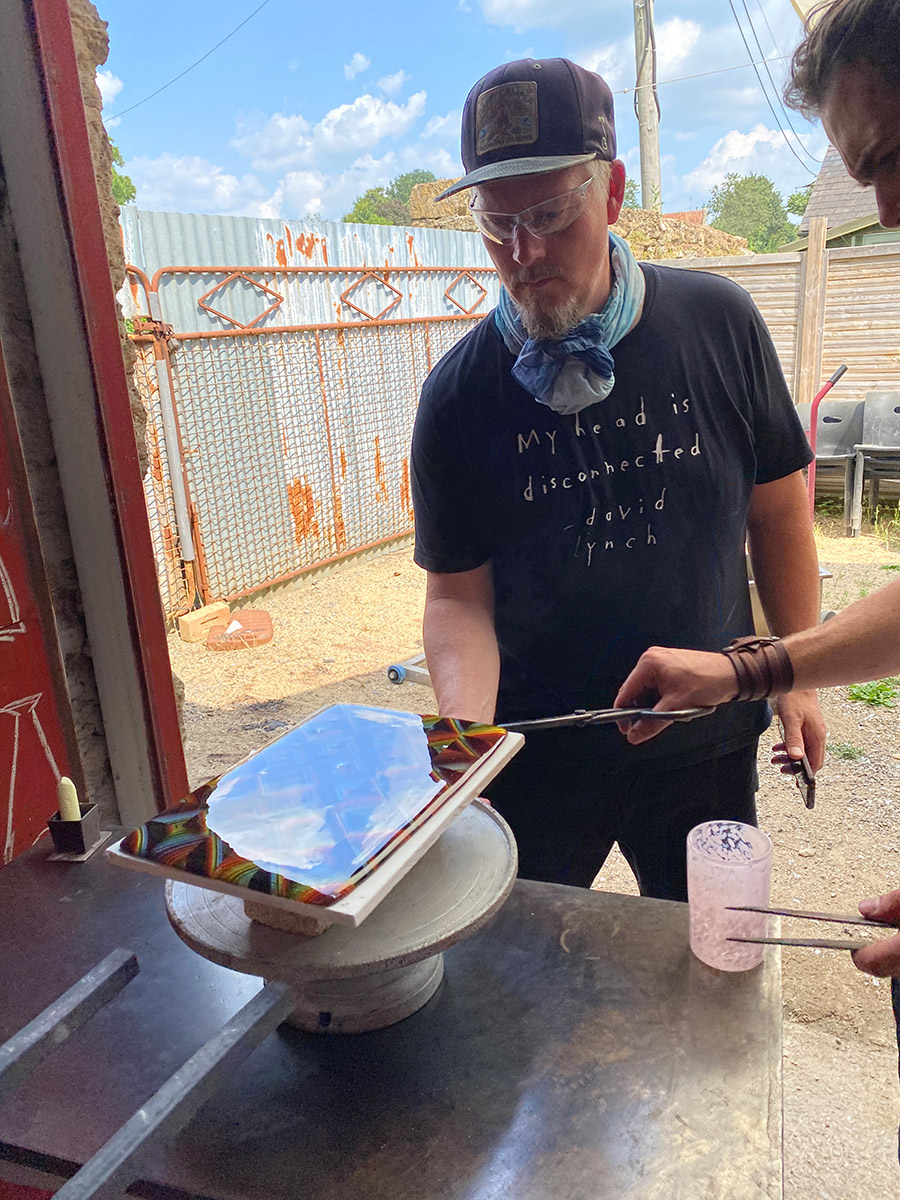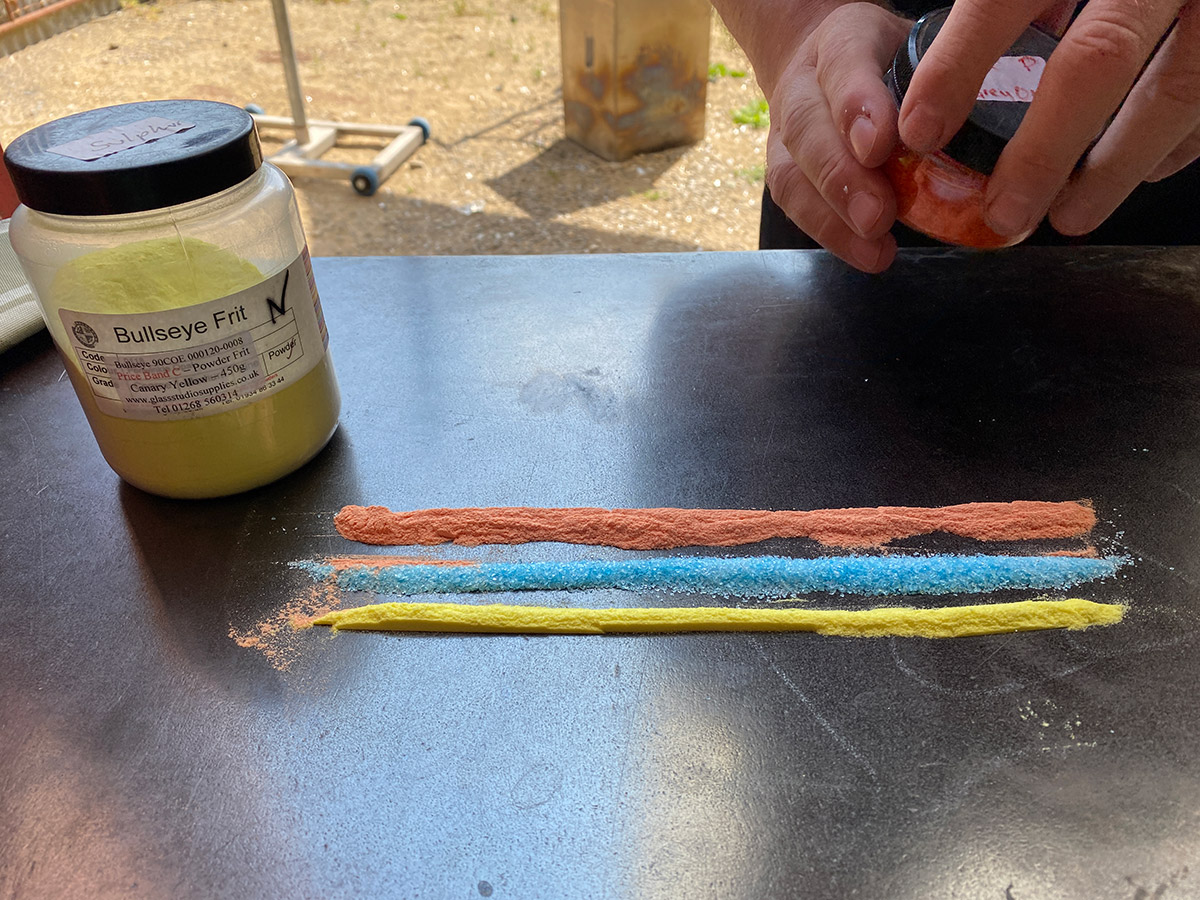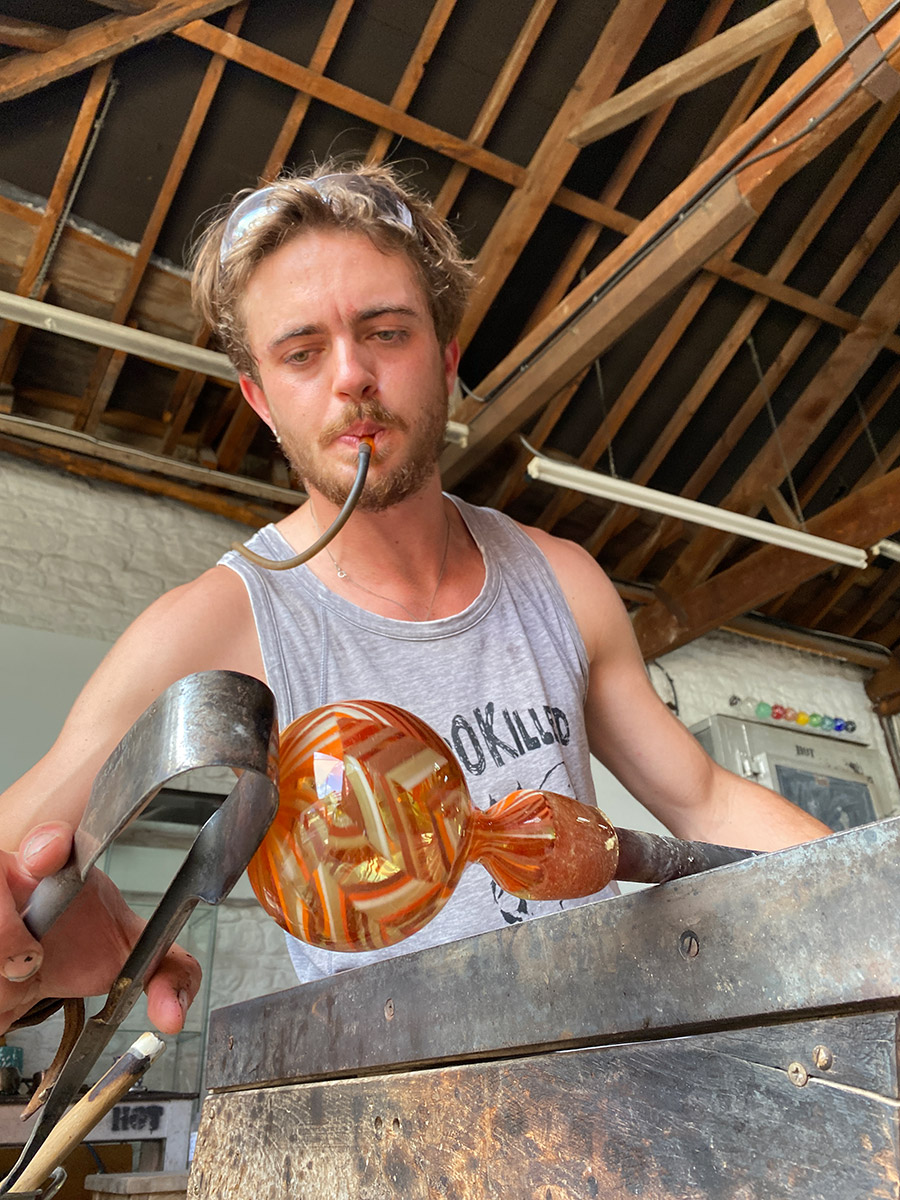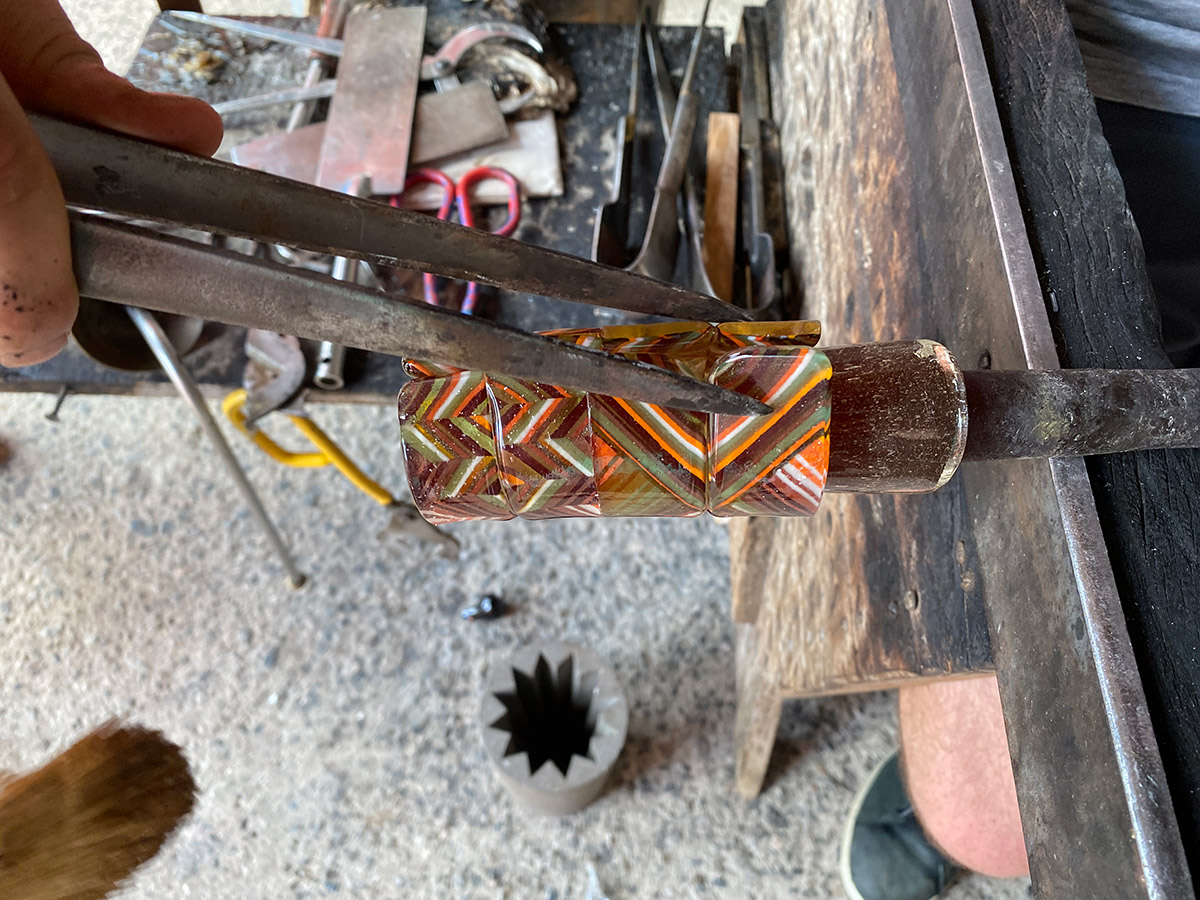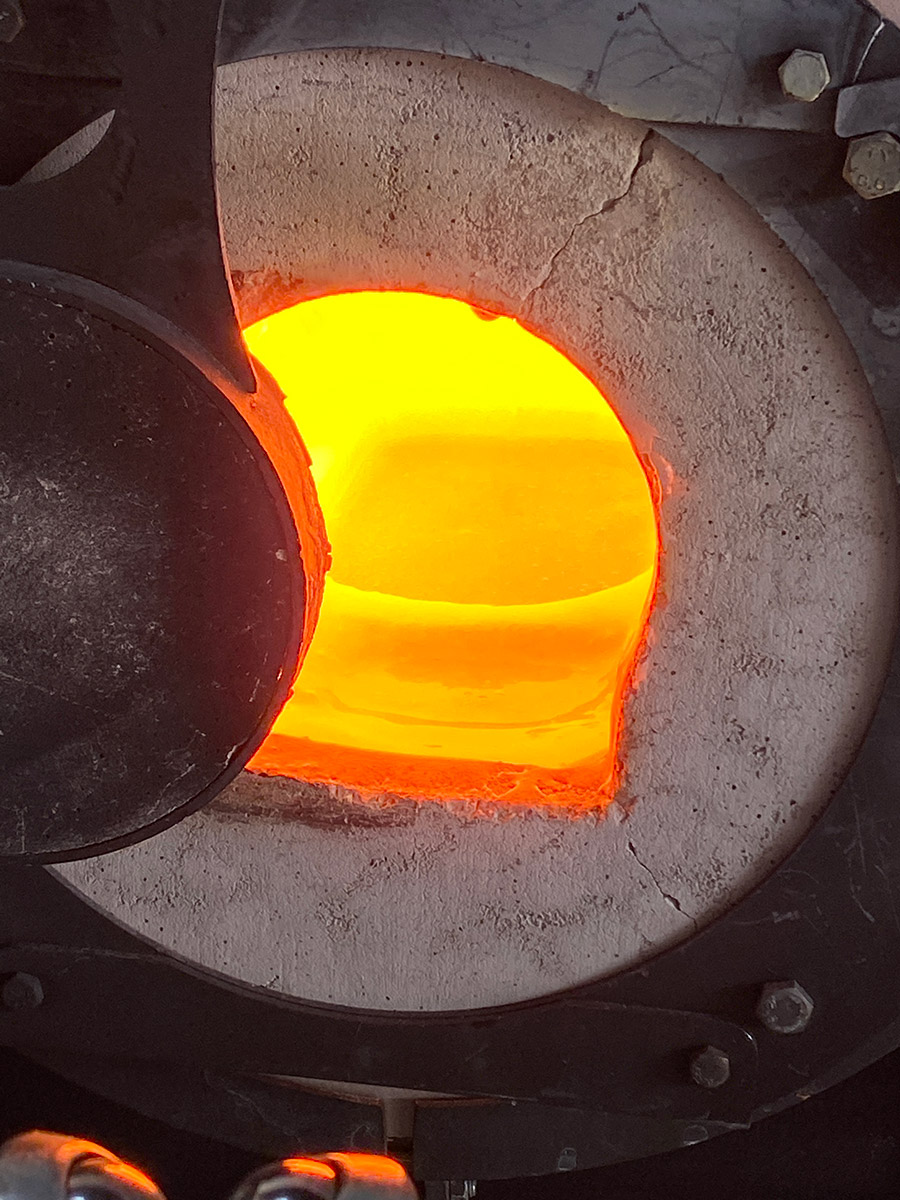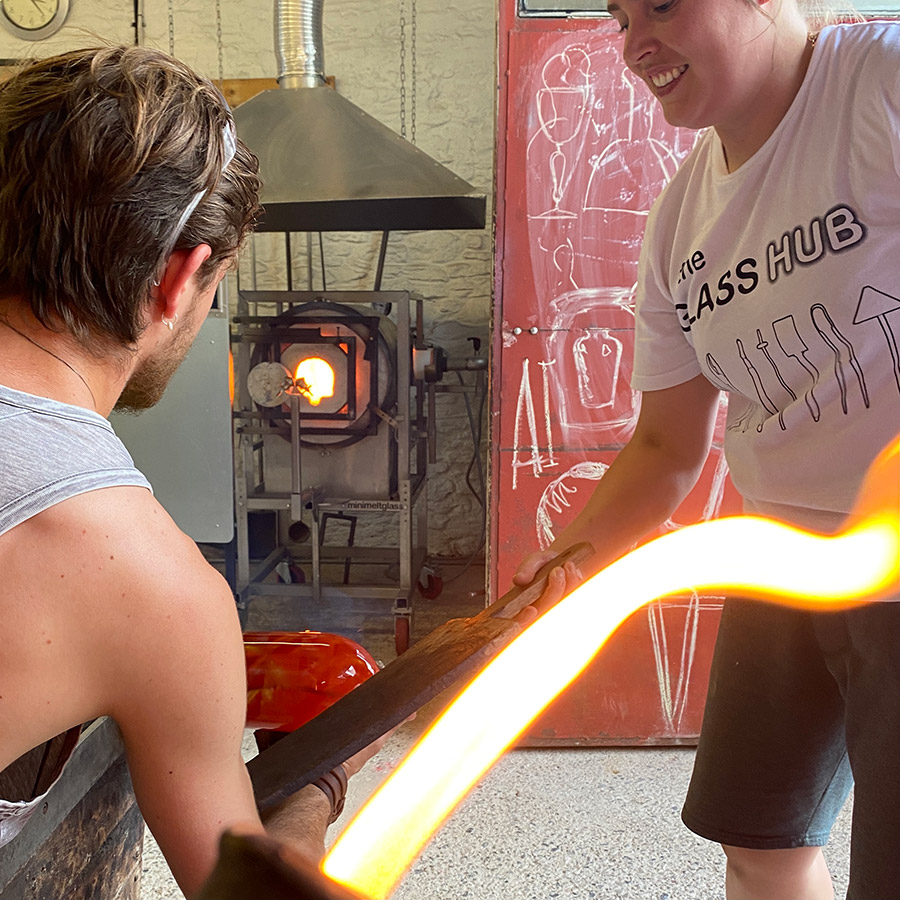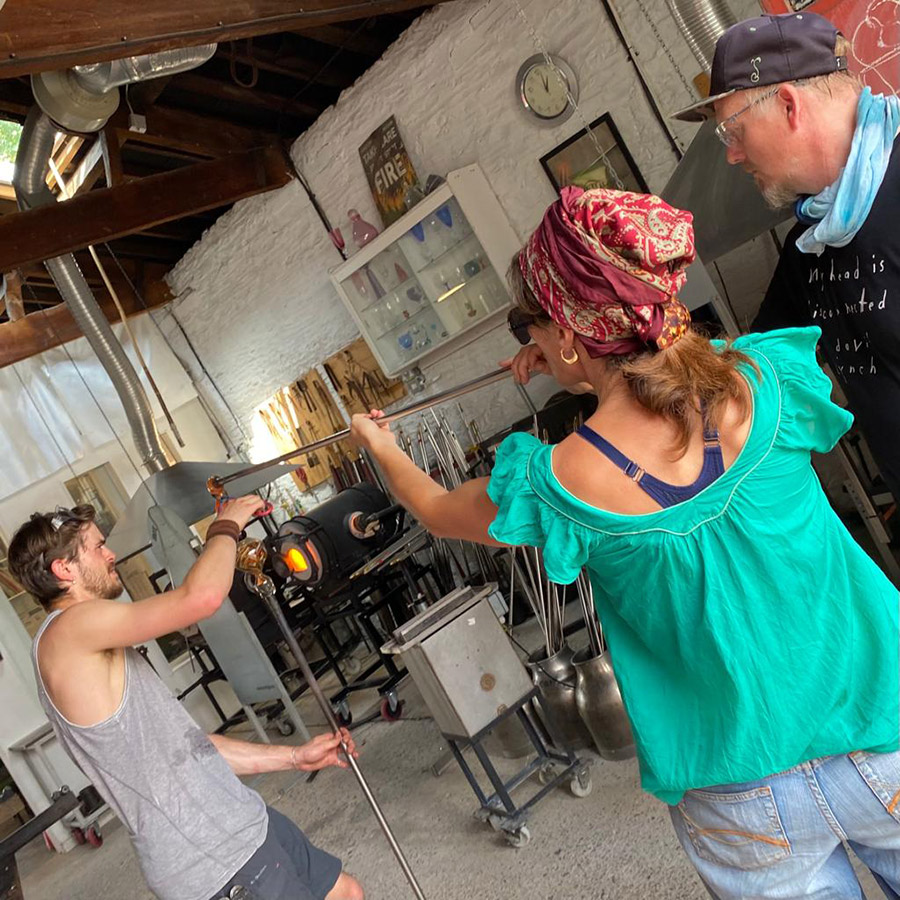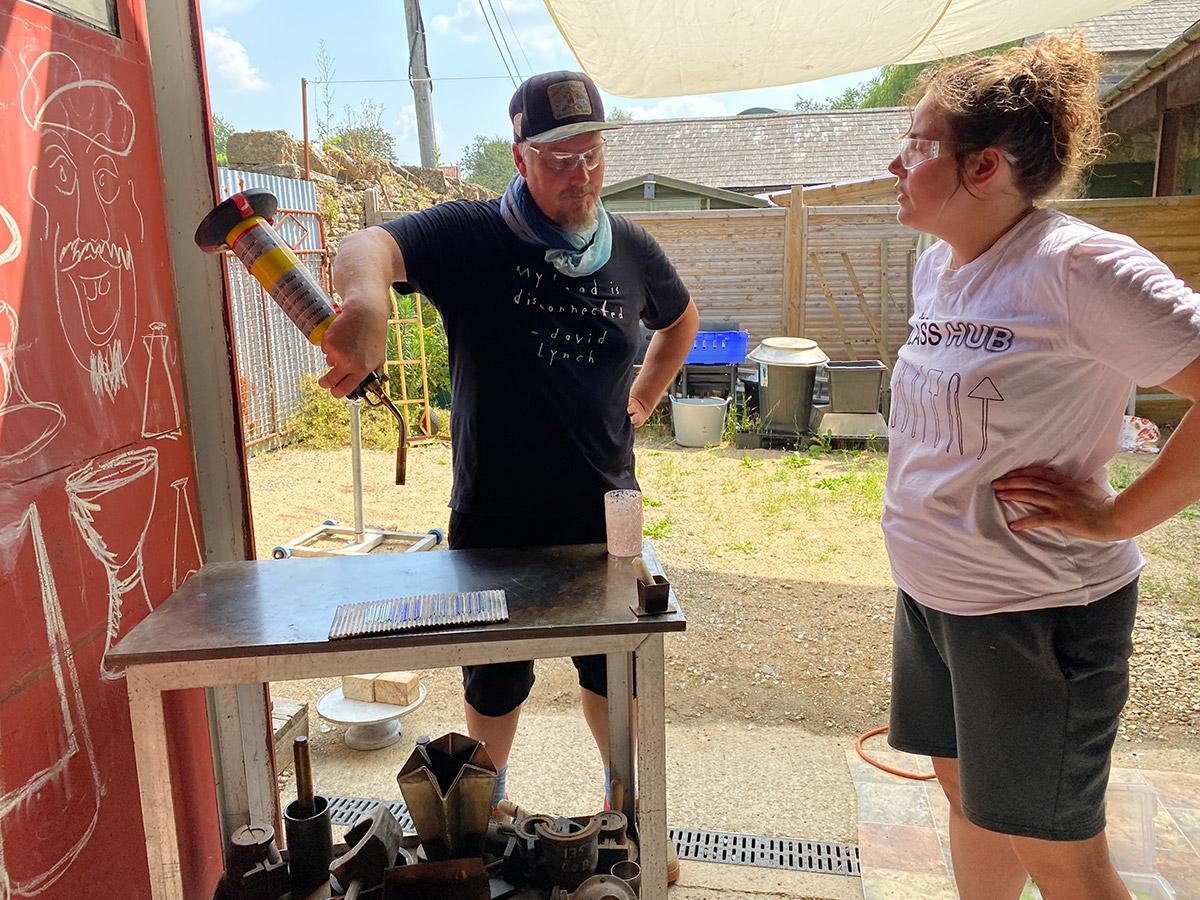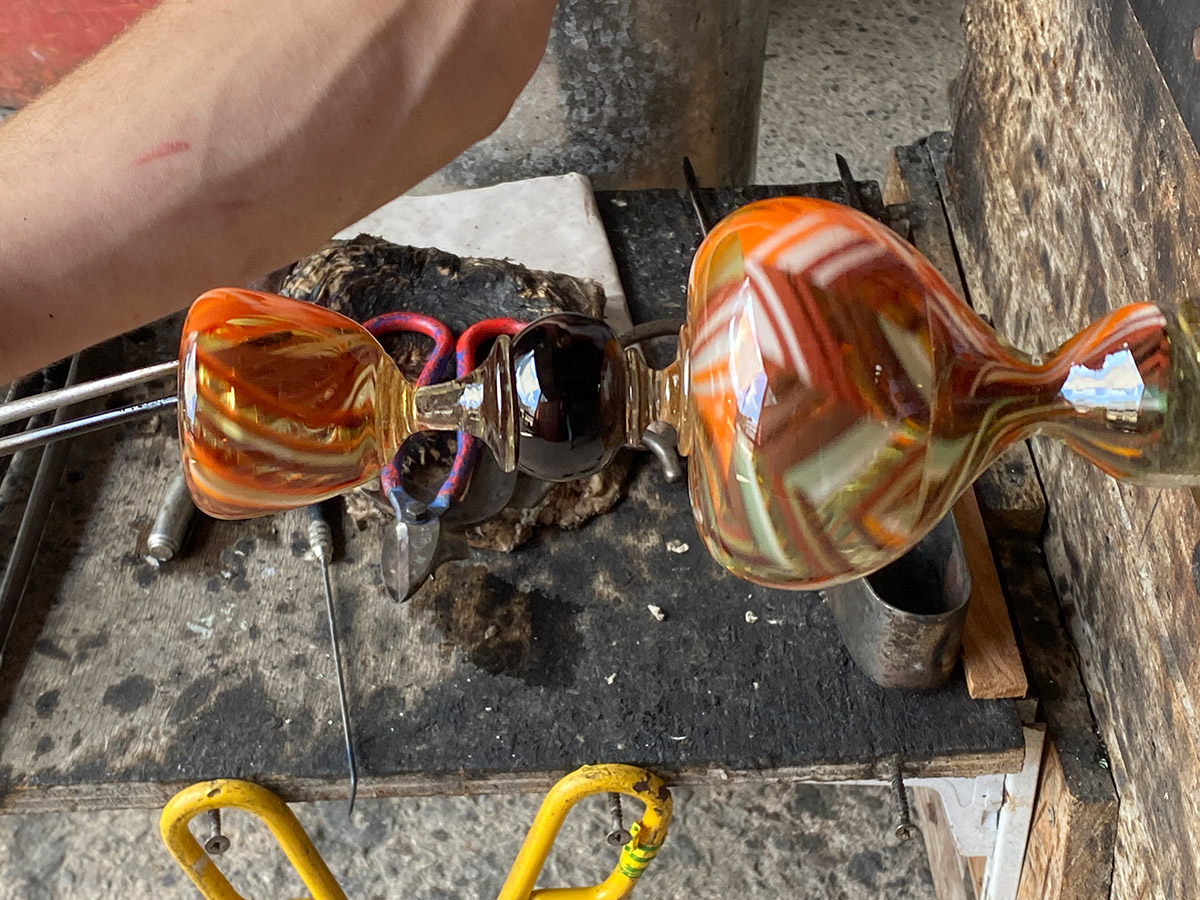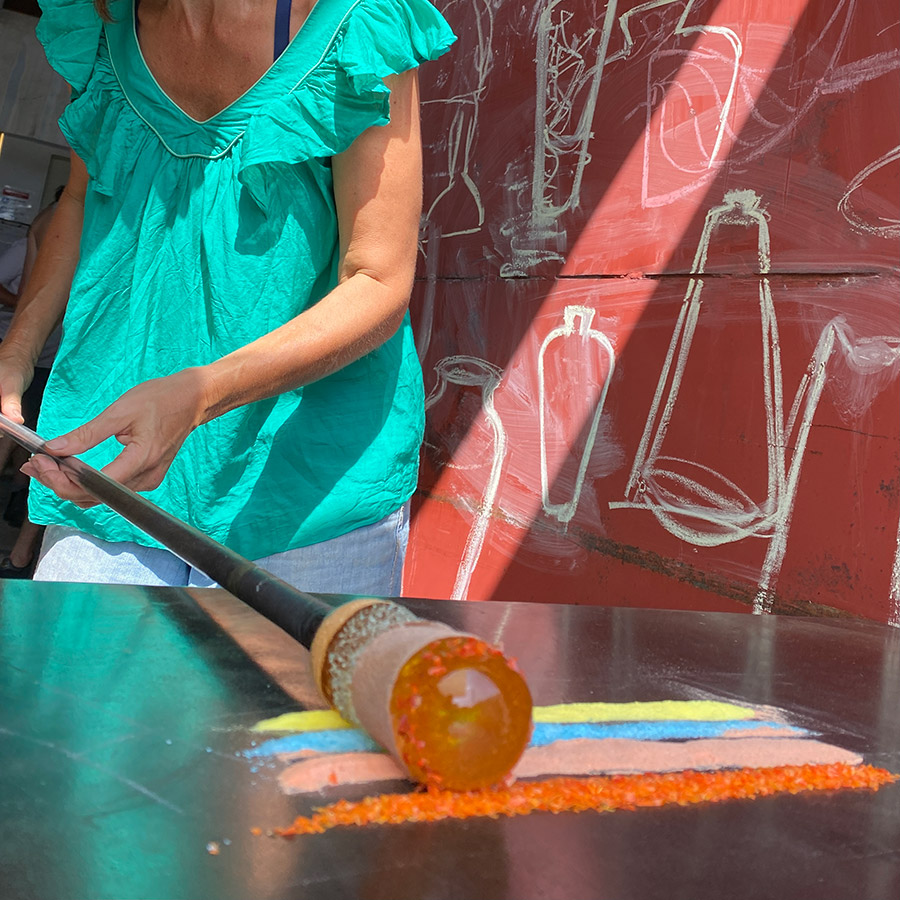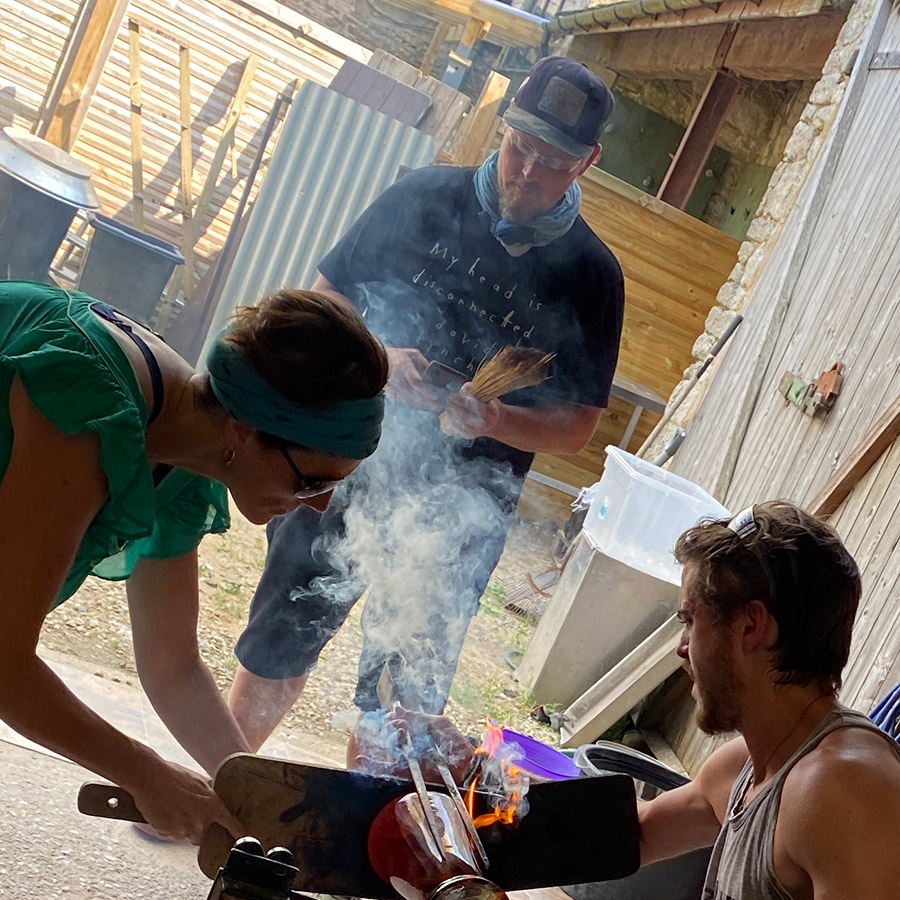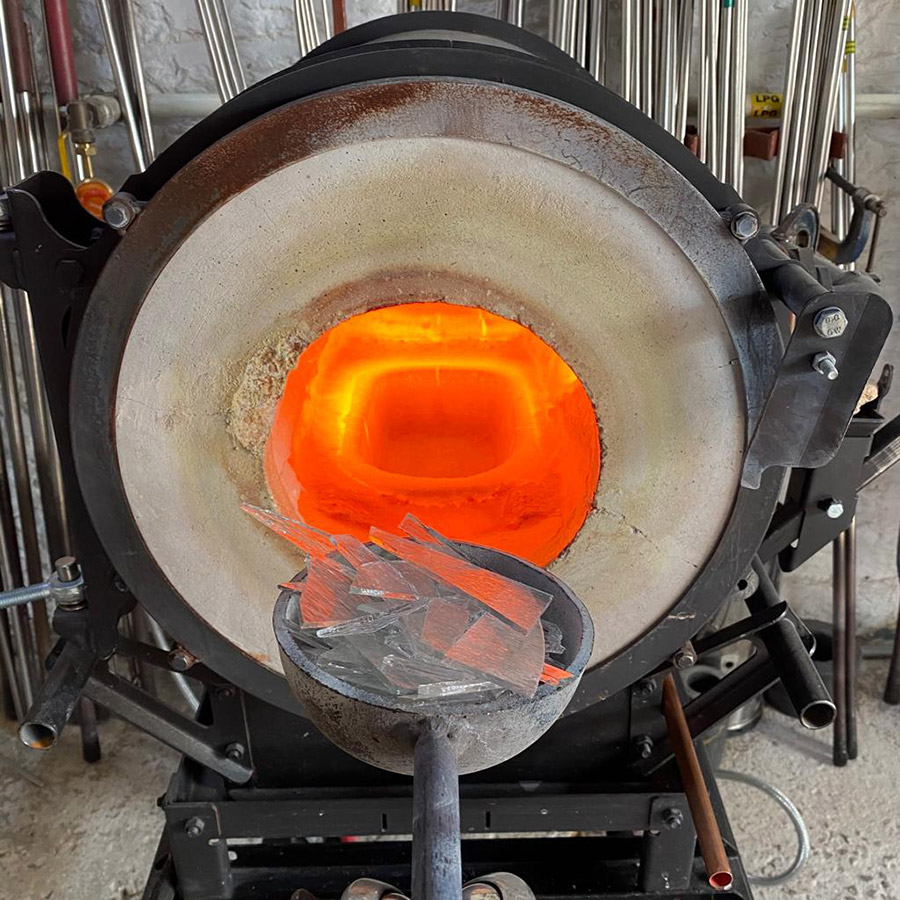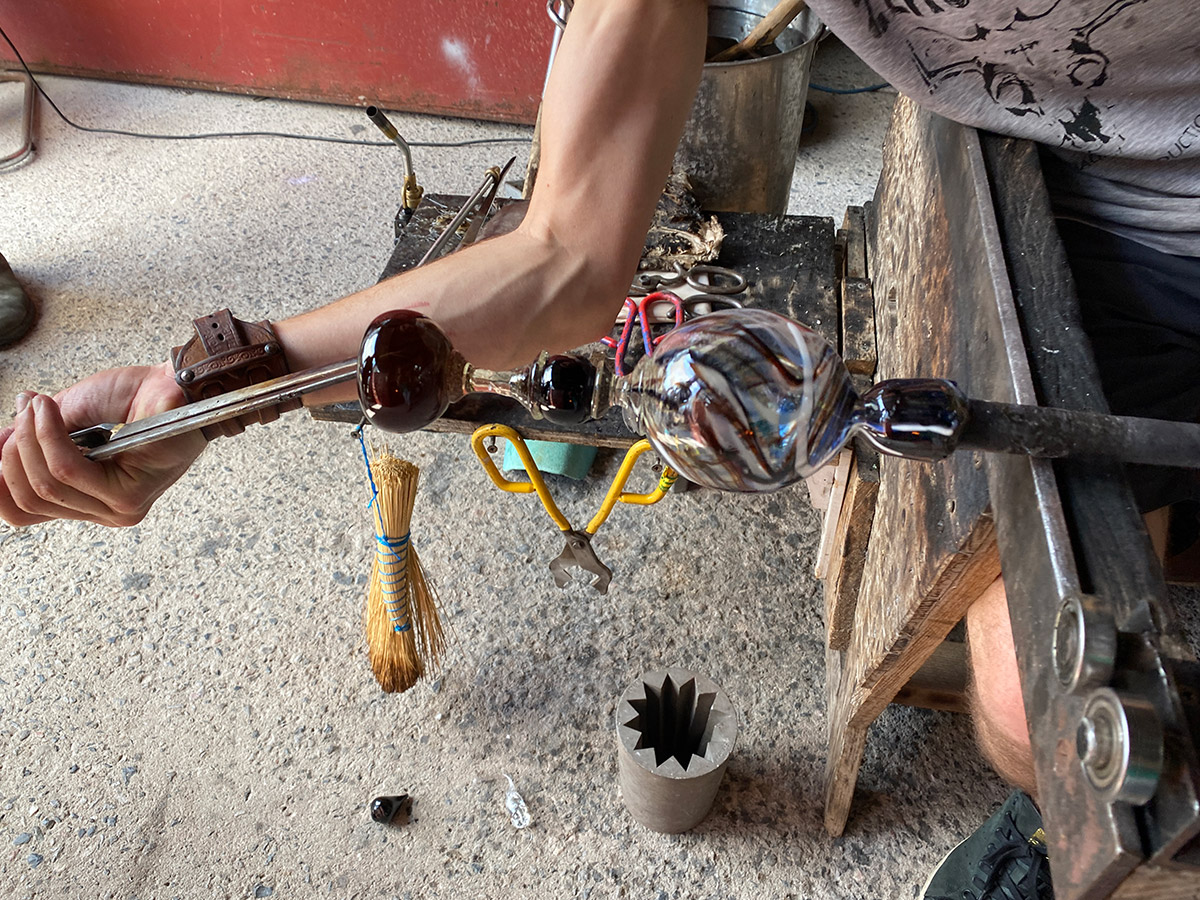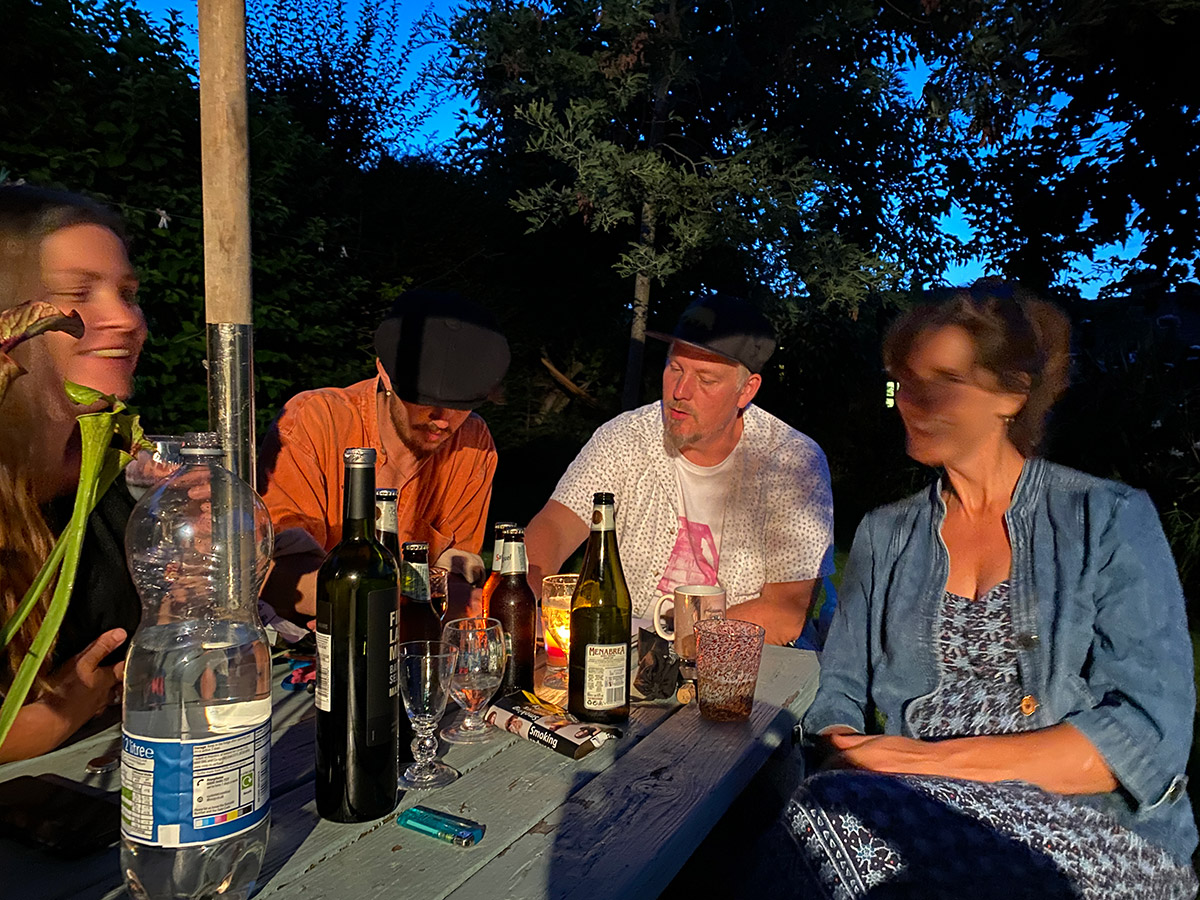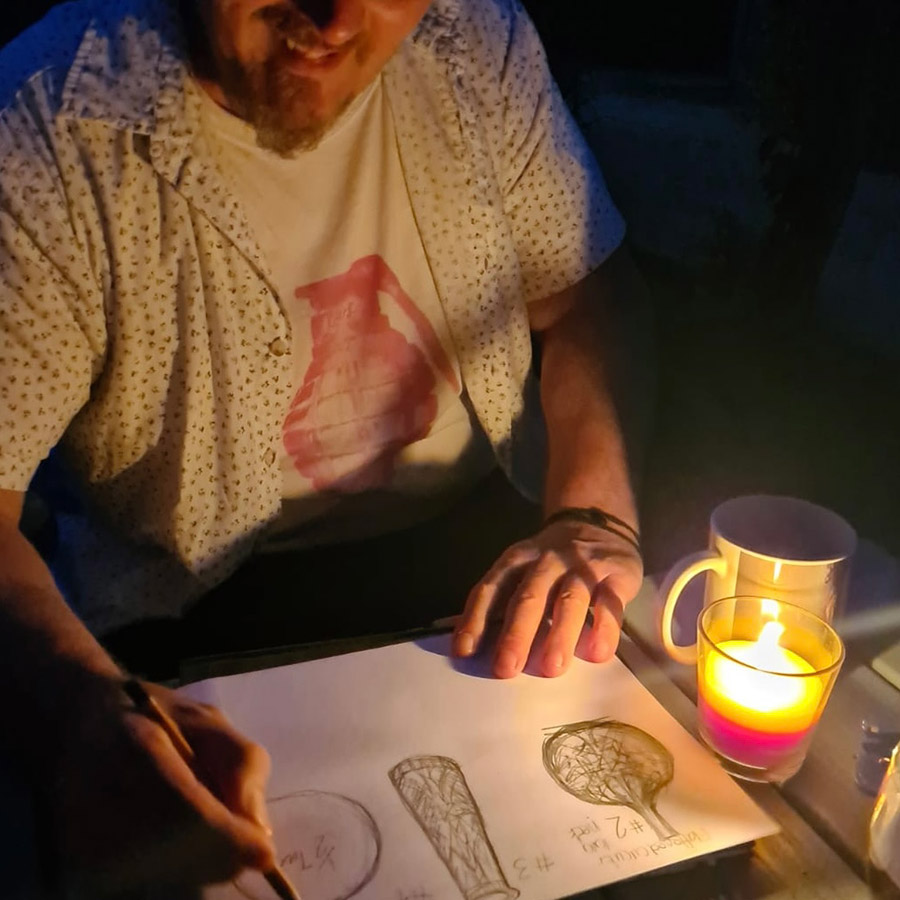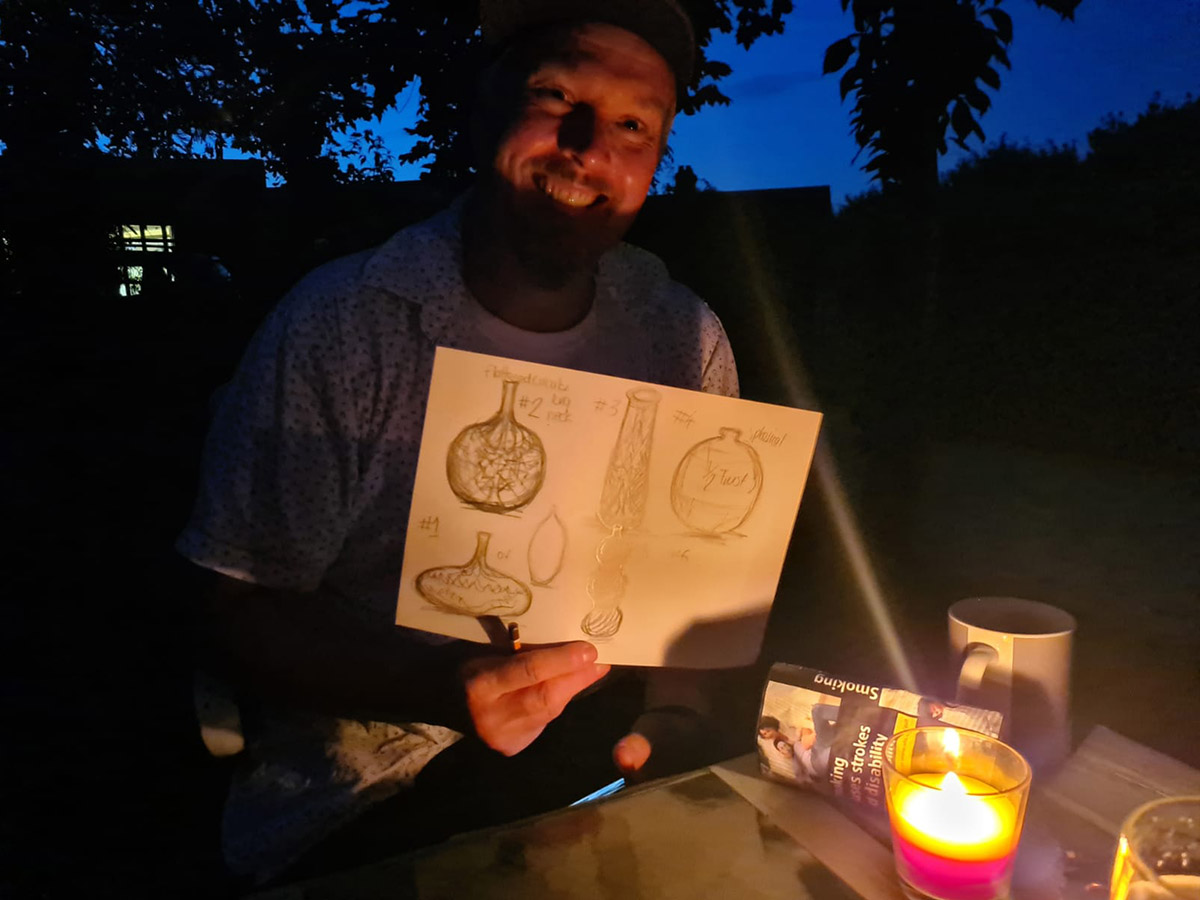 Day 5
This last and final day of Ian's residency saw us migrate from our smaller teaching furnaces to the full-scale studio of Devereux & Huskie. The tiles brought the previous afternoon had been heated up to workable temperature and after a coffee we were all set to start the first. A nervous but excited atmosphere ran around the studio as the first panel was blown with the expert craftsmanship of James Devereux and Katherine Huskie. James and Katie are a phenomenal duo and we all enjoyed the choreography of their moves and how they worked in union. The tiles were rolled up, sealed, blown and formed into shapes and designs that Ian had drawn out the night before.
The day continued with intense excitement as we watched these highly intricate and expensive tiles being transformed from flat sheets to large blown vessels. Glass being glass, not every one of the tiles lasted or survived the blowing process. It felt more devastating to lose these pieces, as the reality of the amount of work that had gone into them was apparent. It was difficult to watch as a tile was expanded, becoming a beautiful Islamic looking vessels only to see it fall to the floor because of the smallest alteration of temperature of the punty for example. This is the reality in any hotshop and Ian managed to sweep his feelings up with the pile of broken glass on the floor and focus on the next at hand. Of course, some breakage is inevitable, and part of Ian's learning was to understand the fragility of blown glass and the absolute risk inherent in the material.
All in all it was a fantastic final day working with supreme glass blowers and it allowed Ian a glimpse of the potential and what can be possible to achieve when transforming his two dimensional designs into three dimensional art works.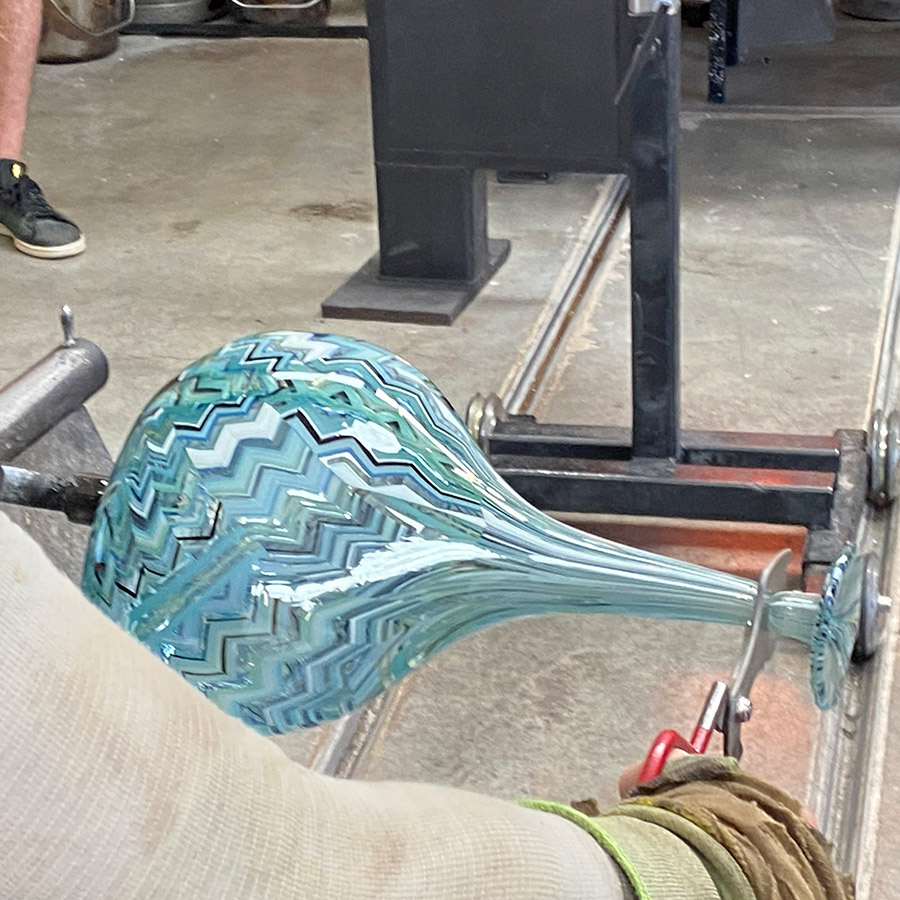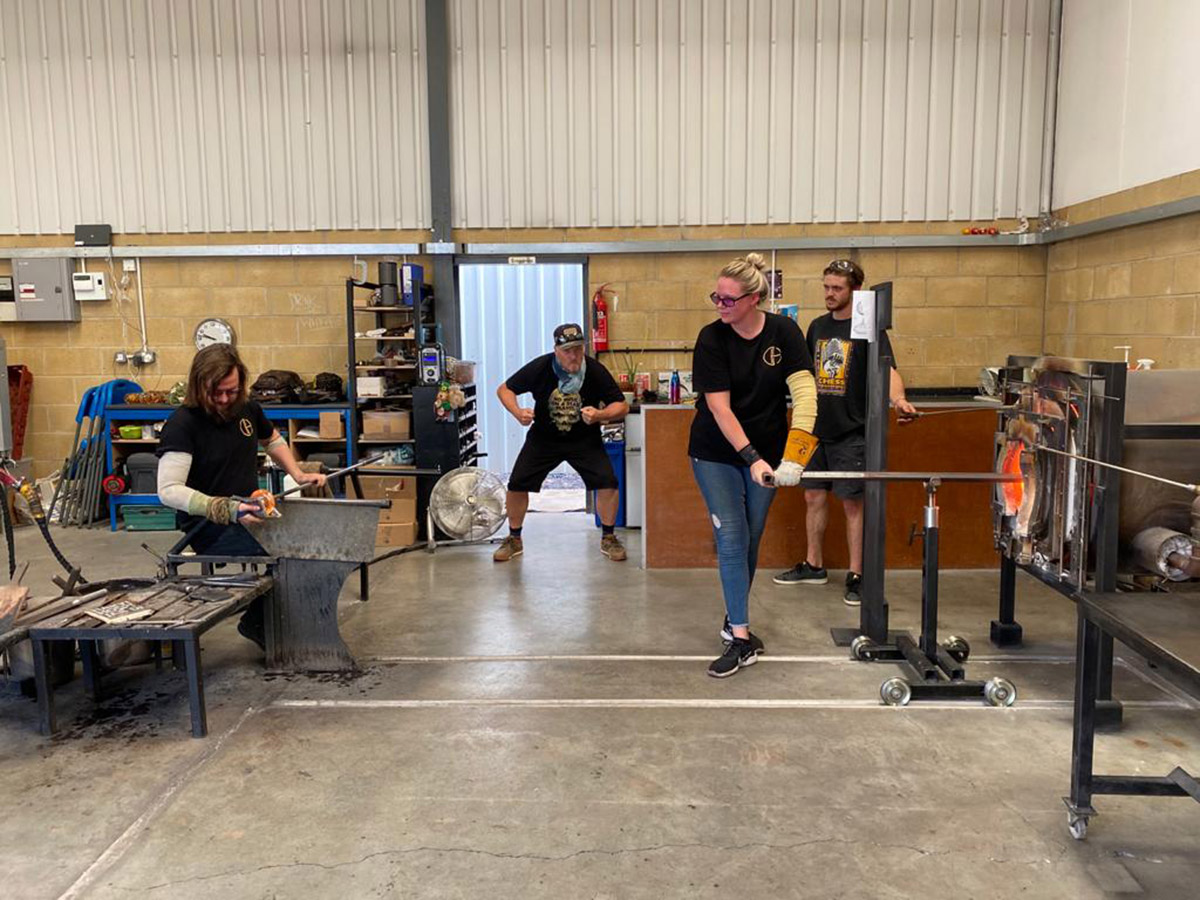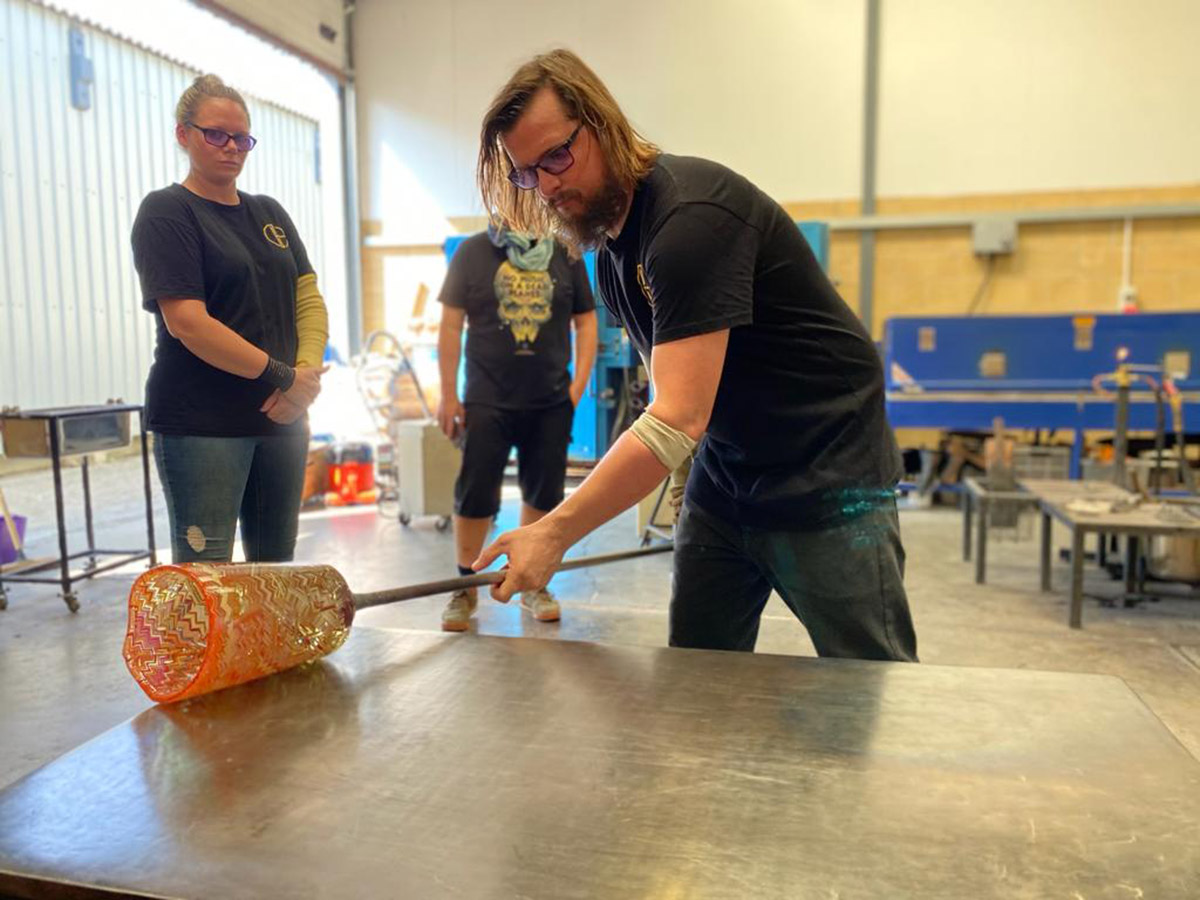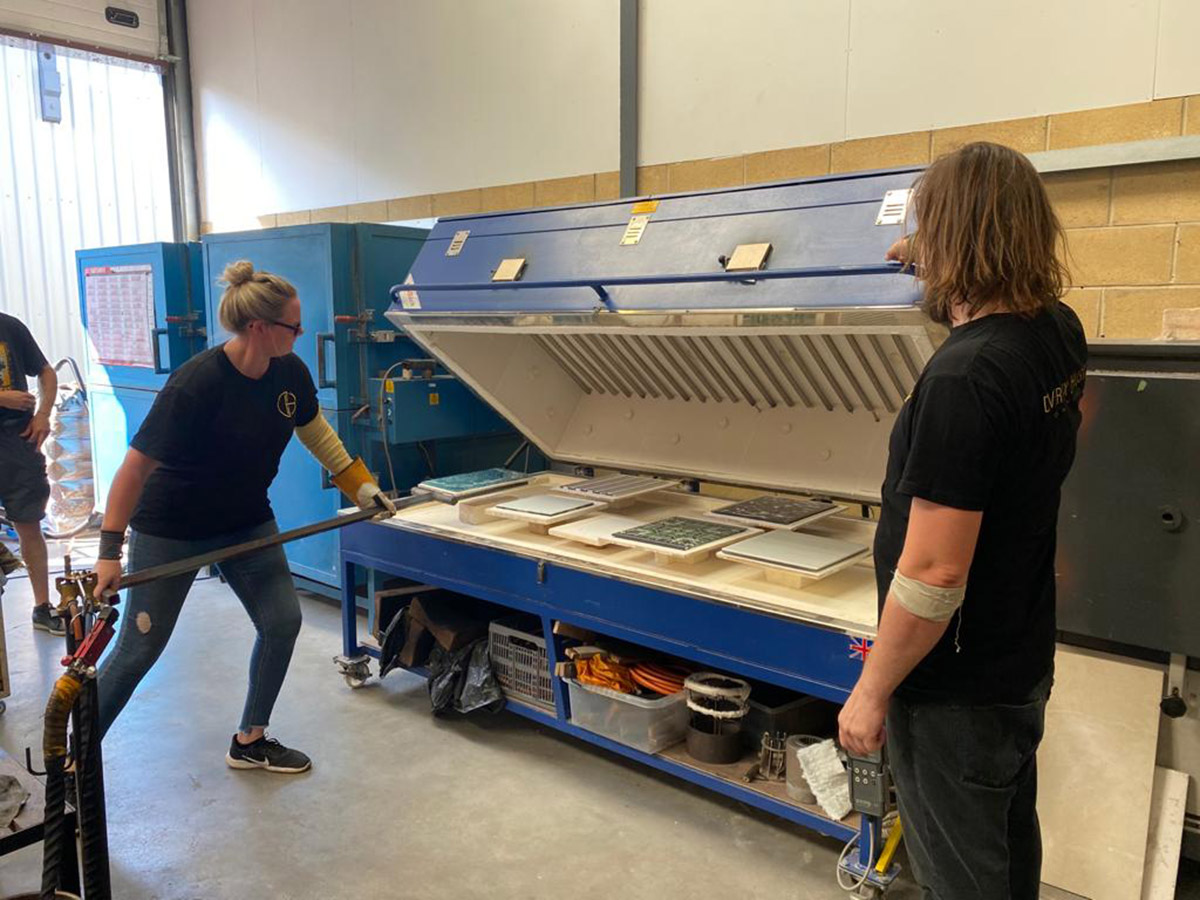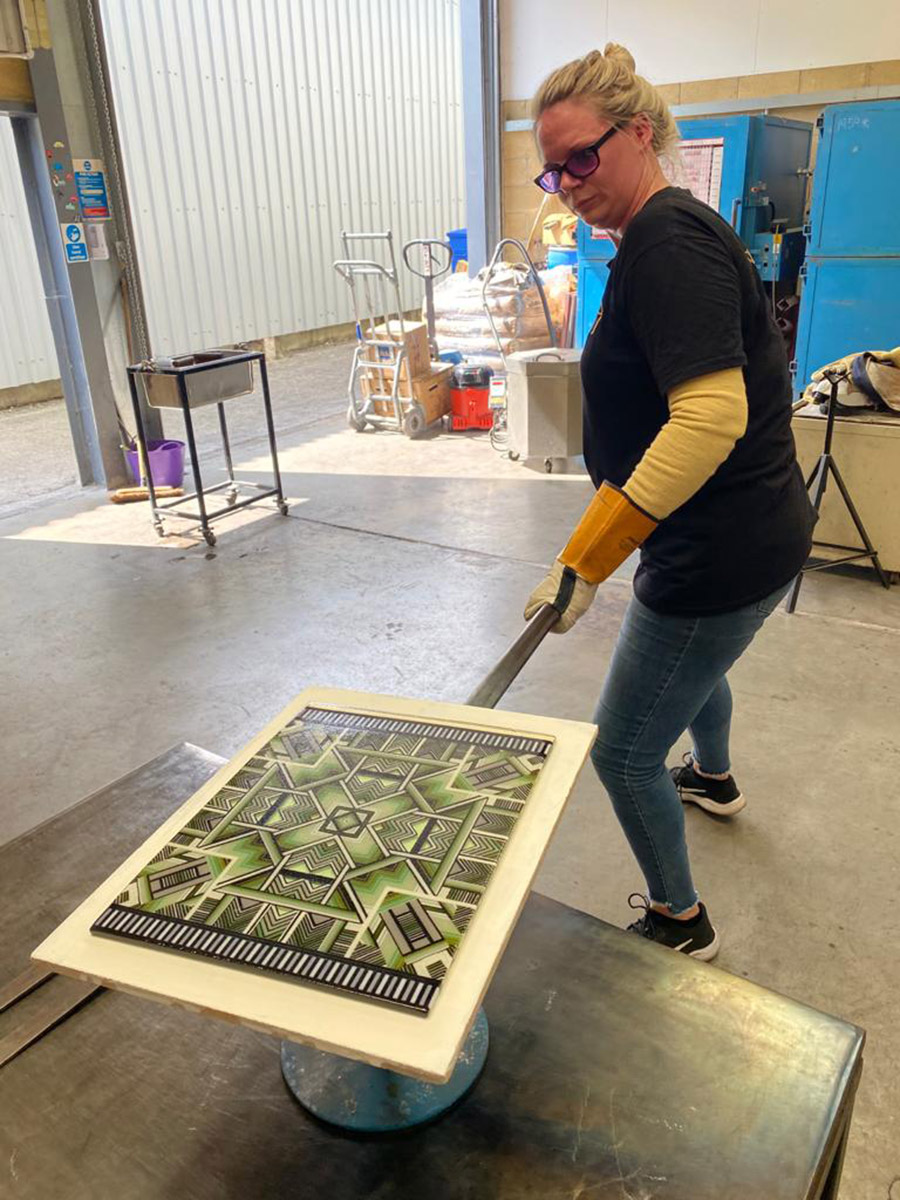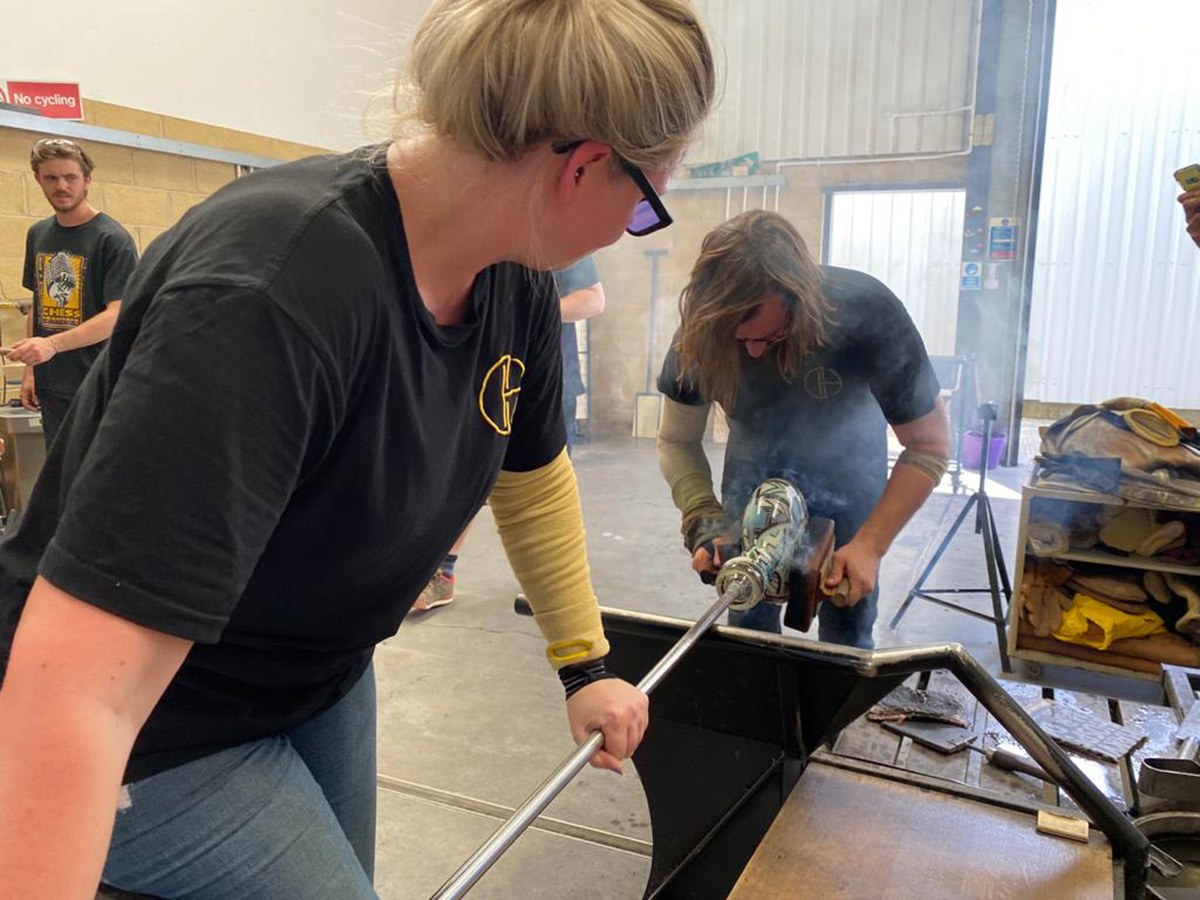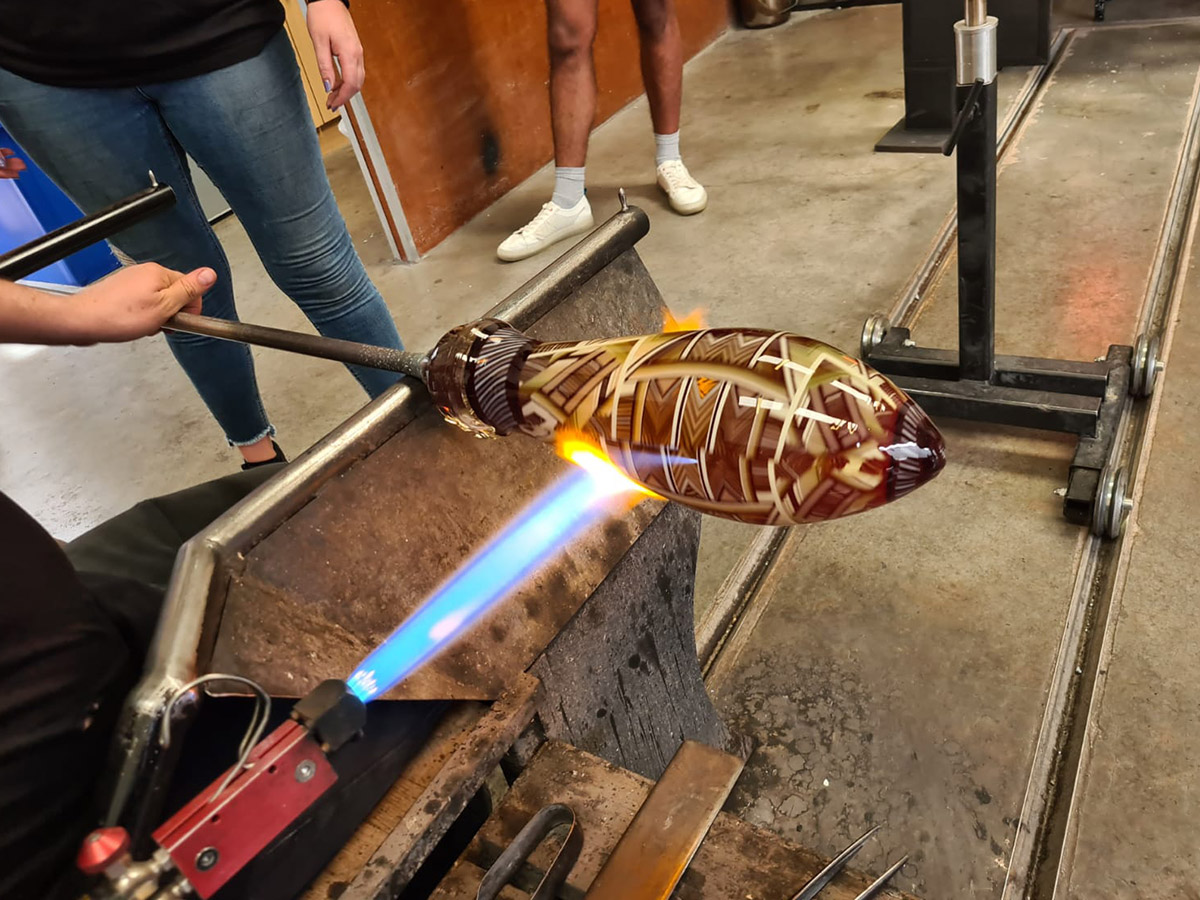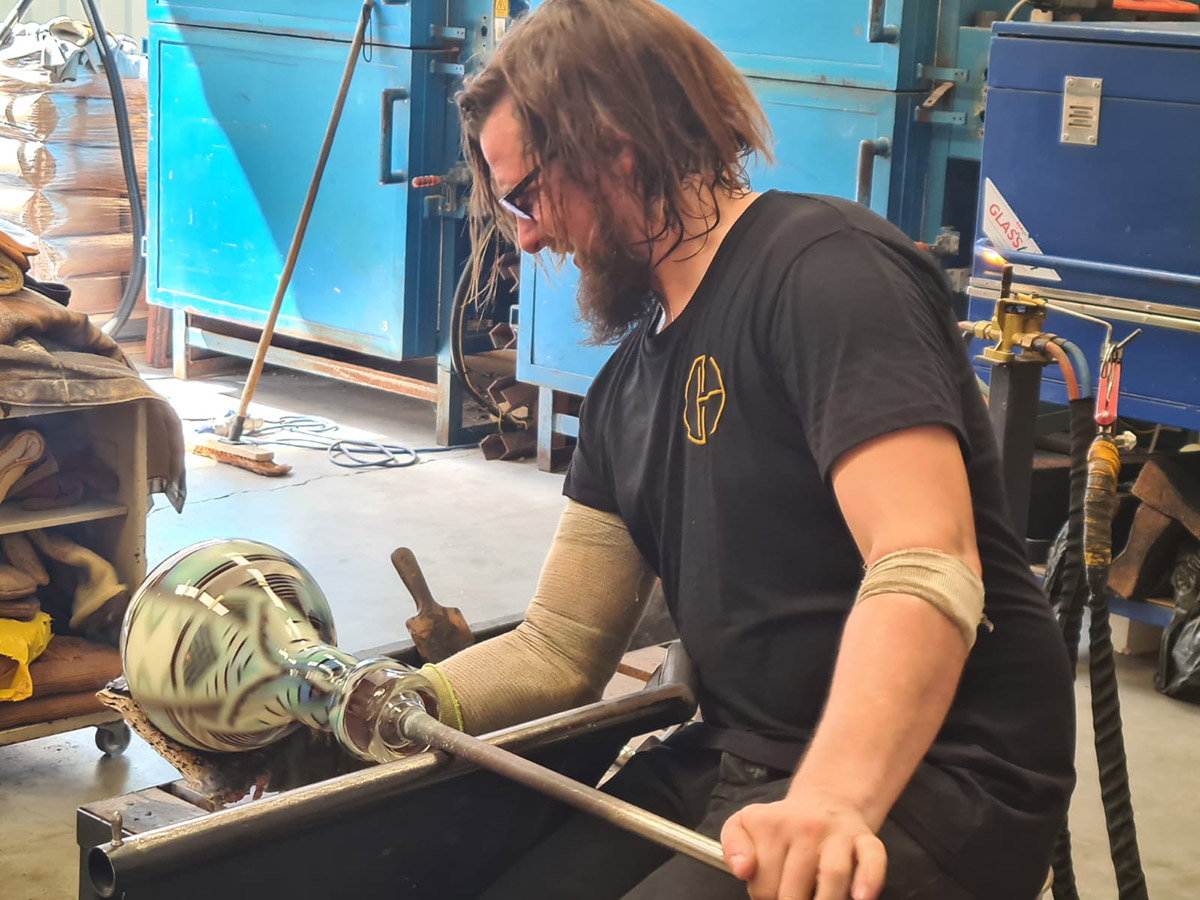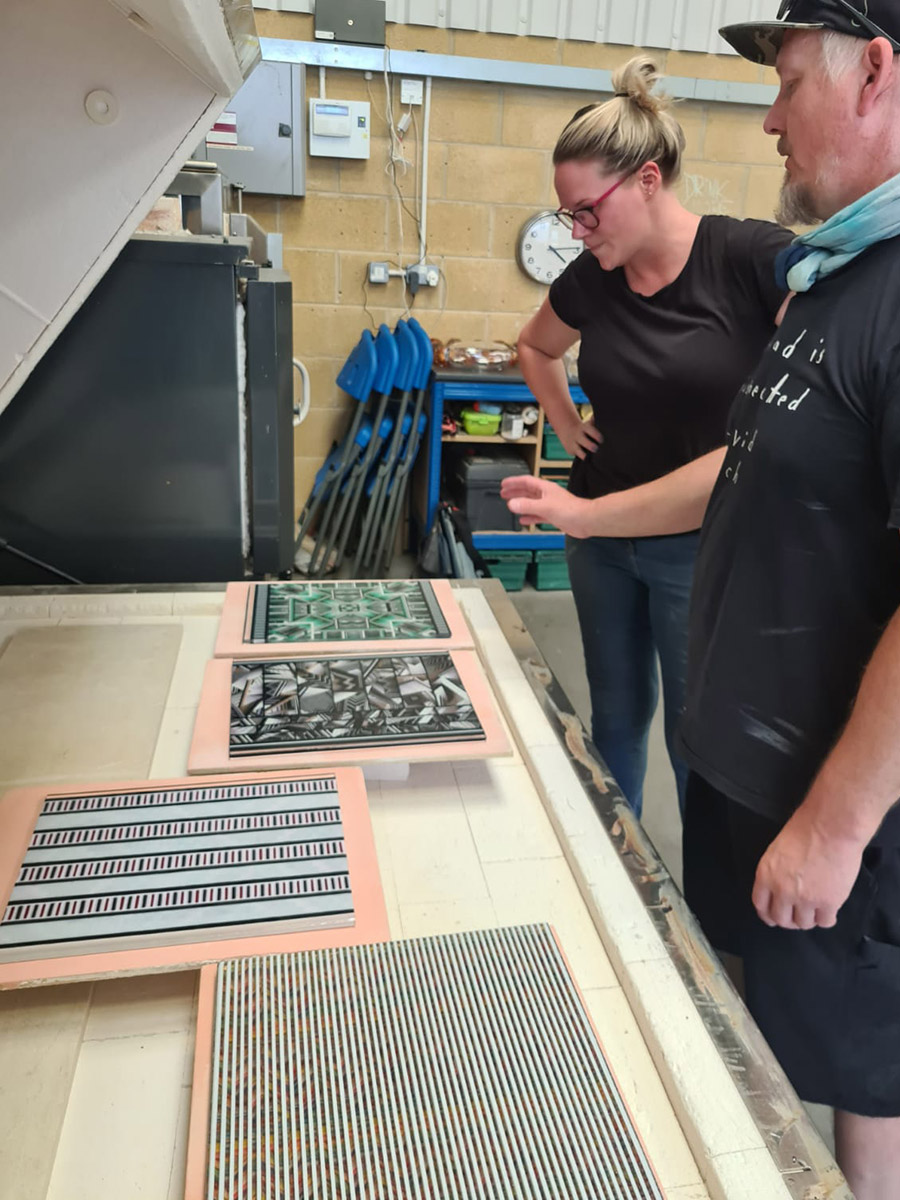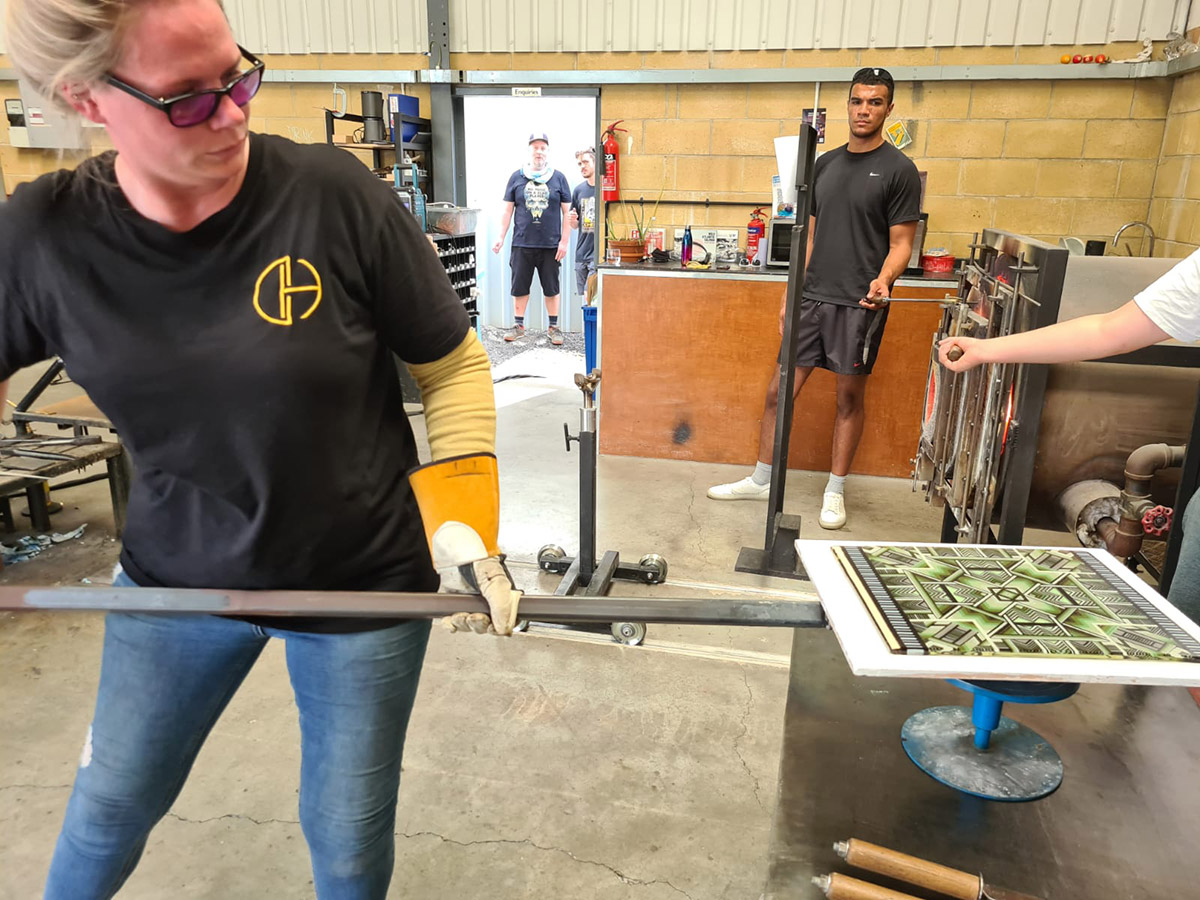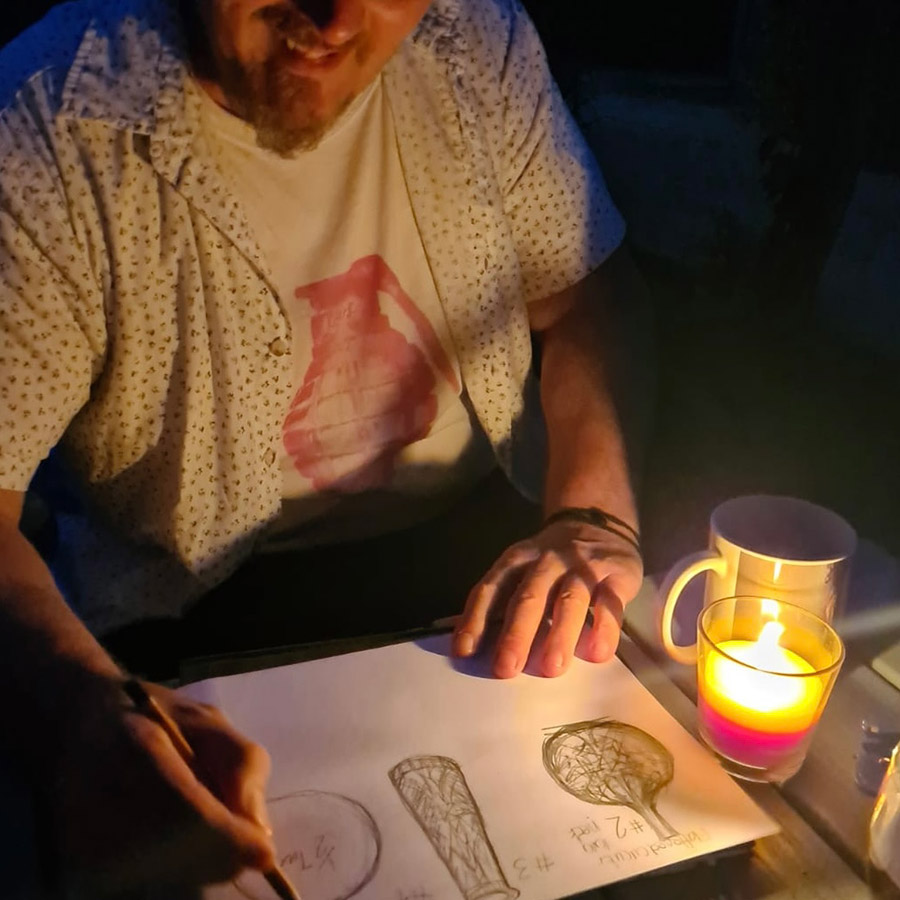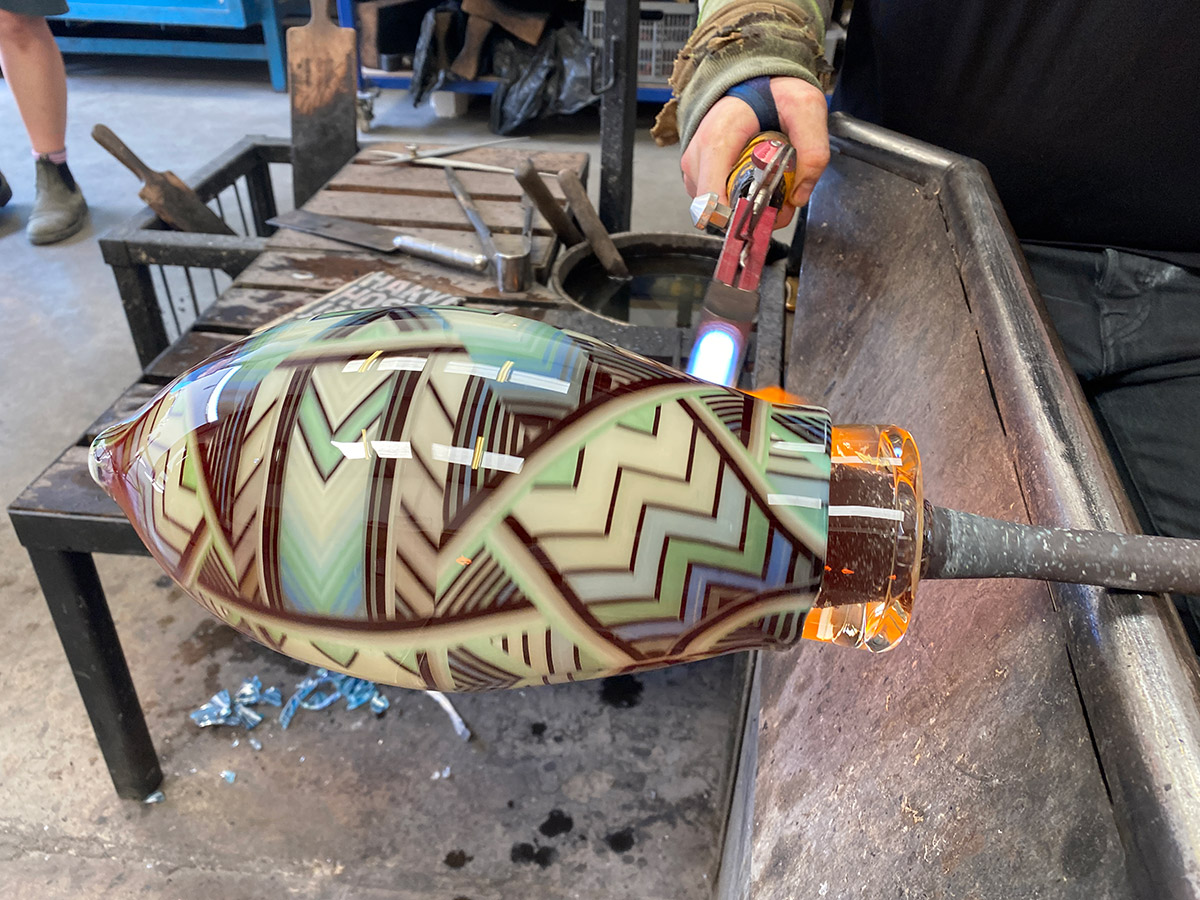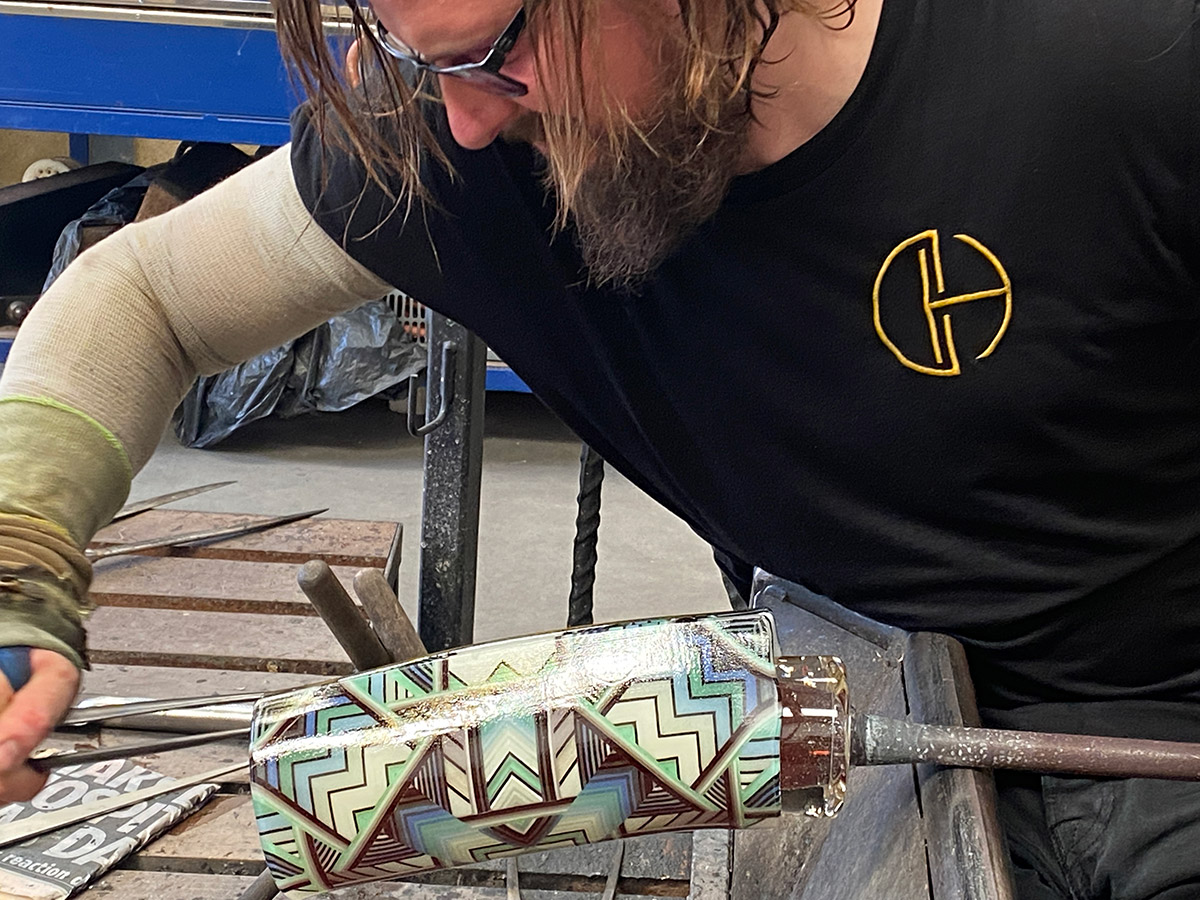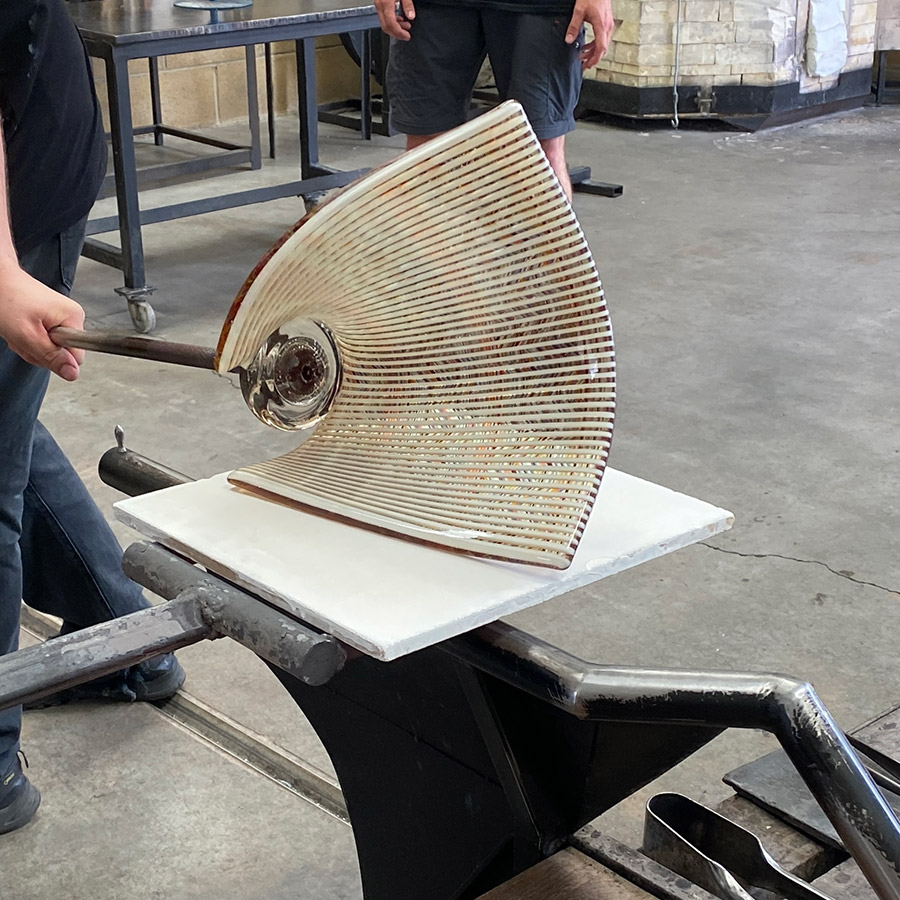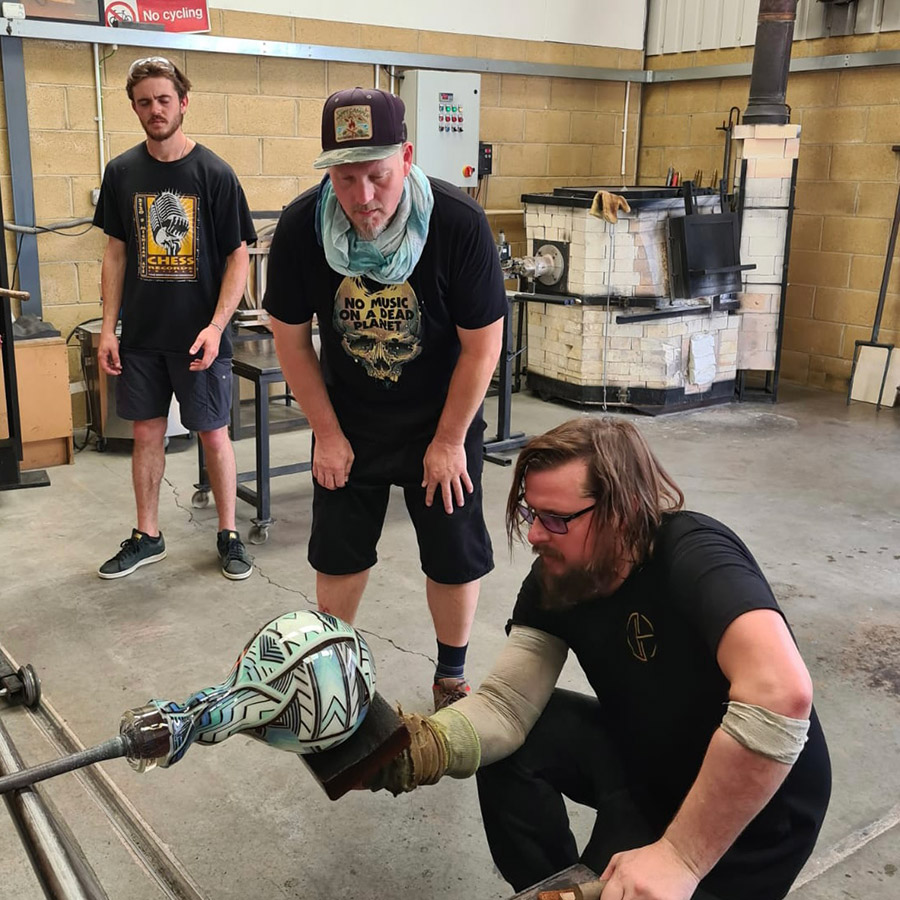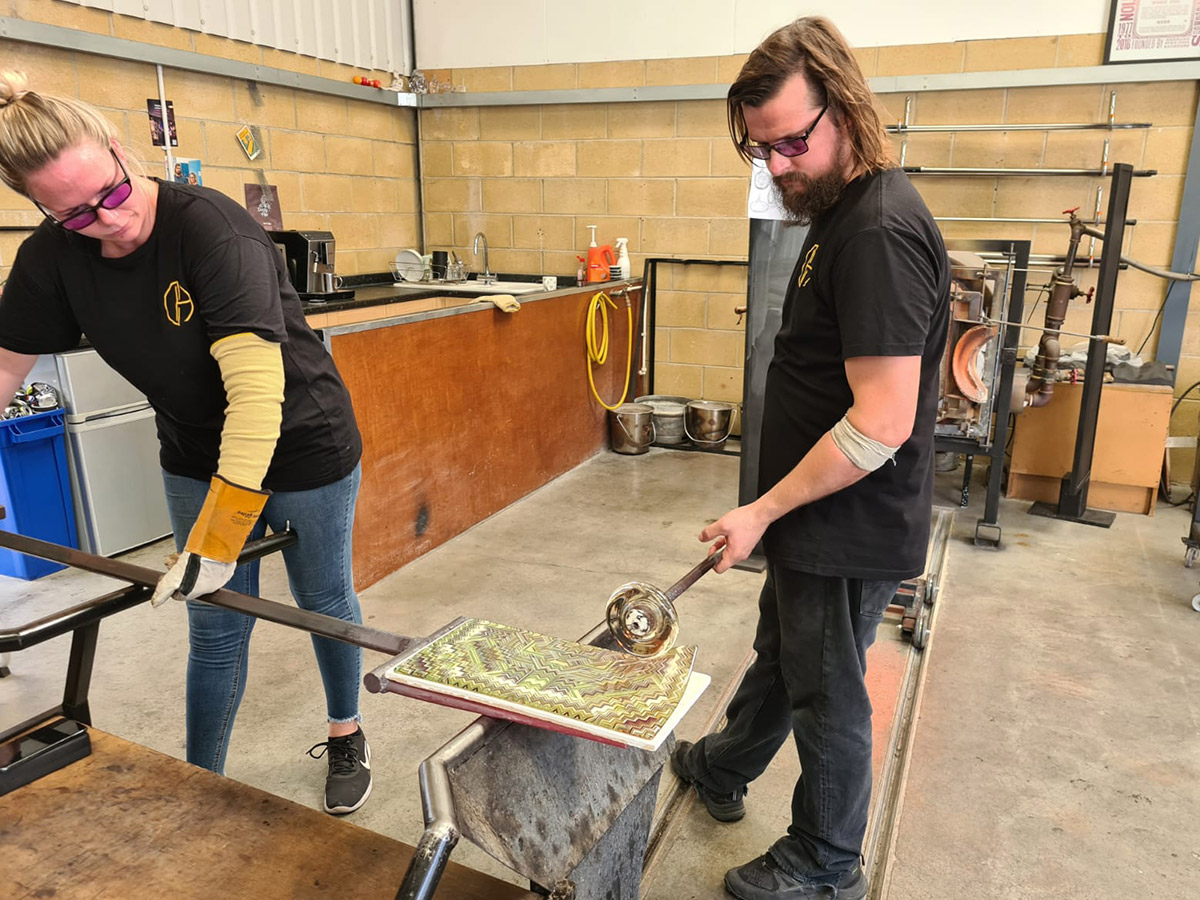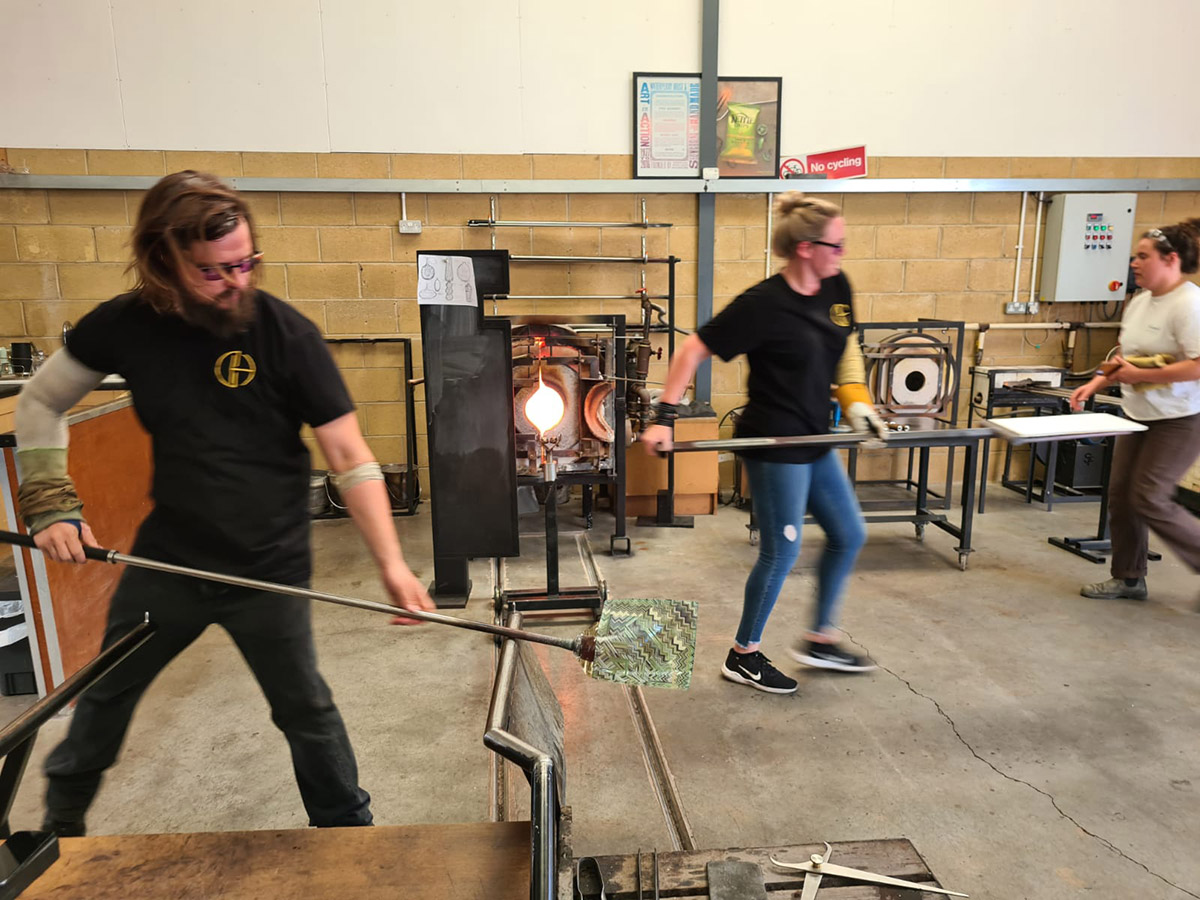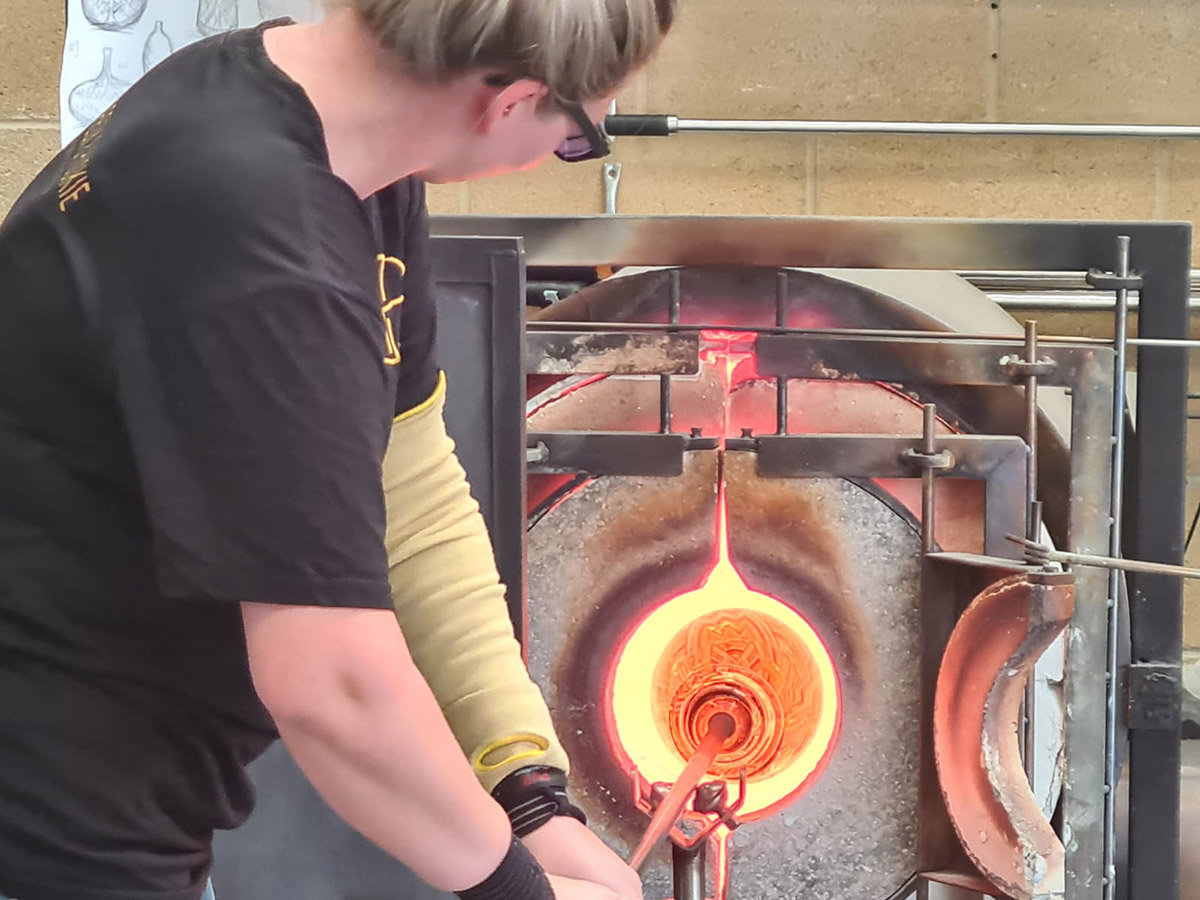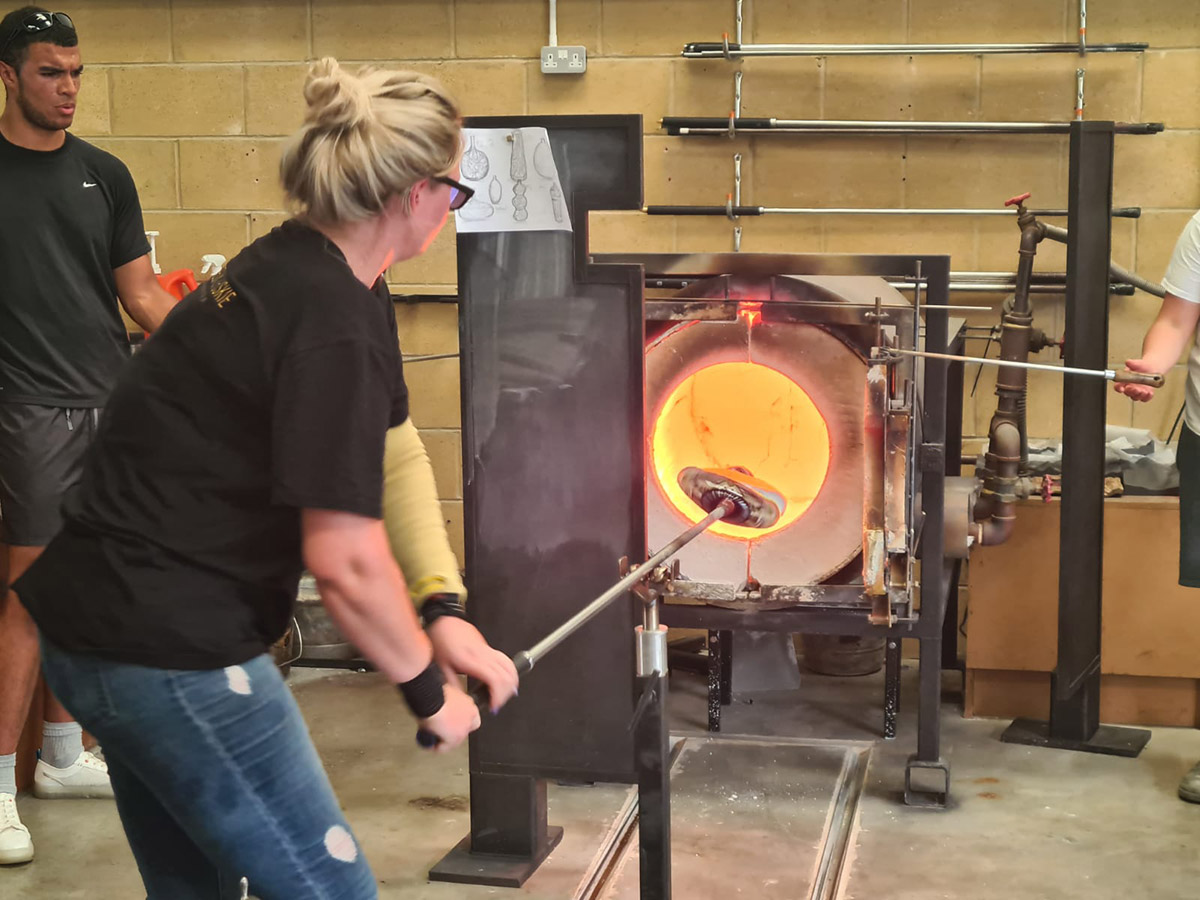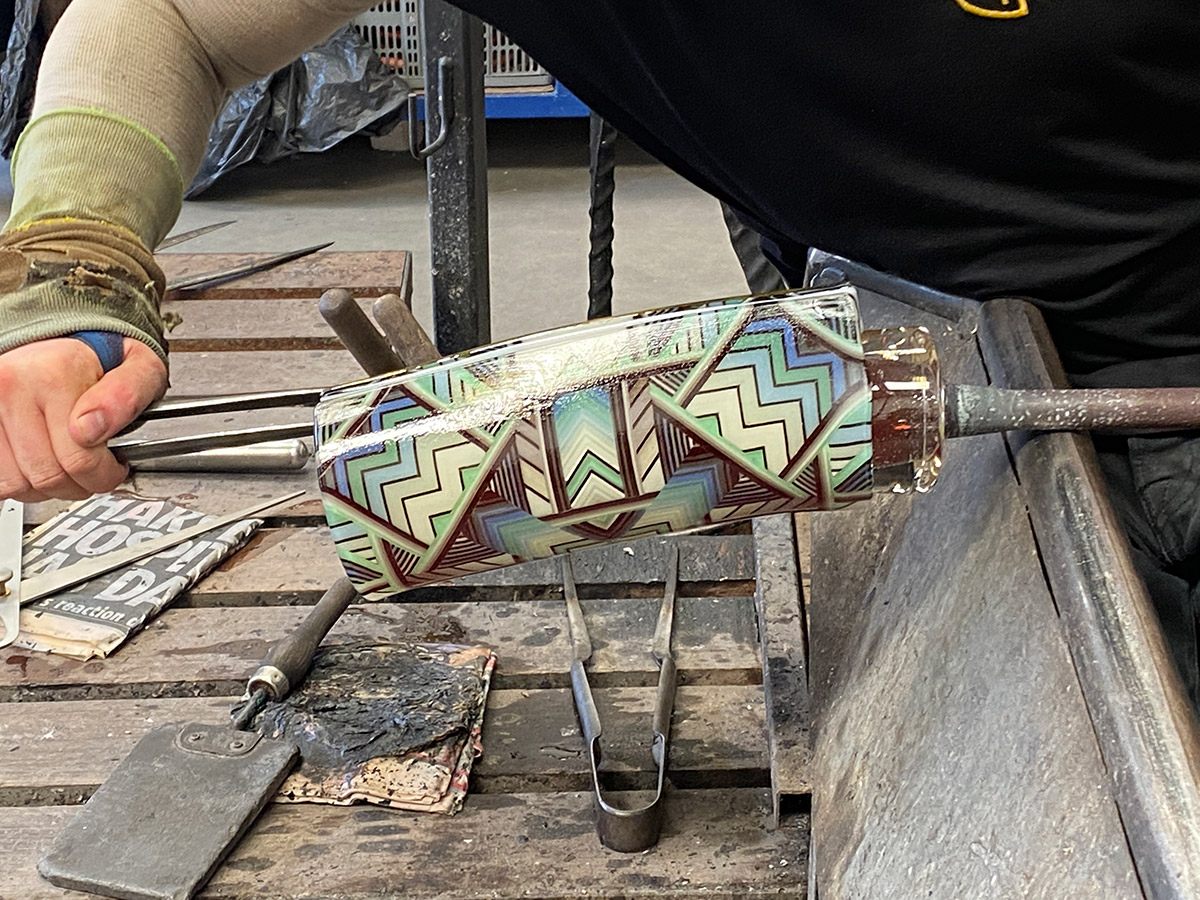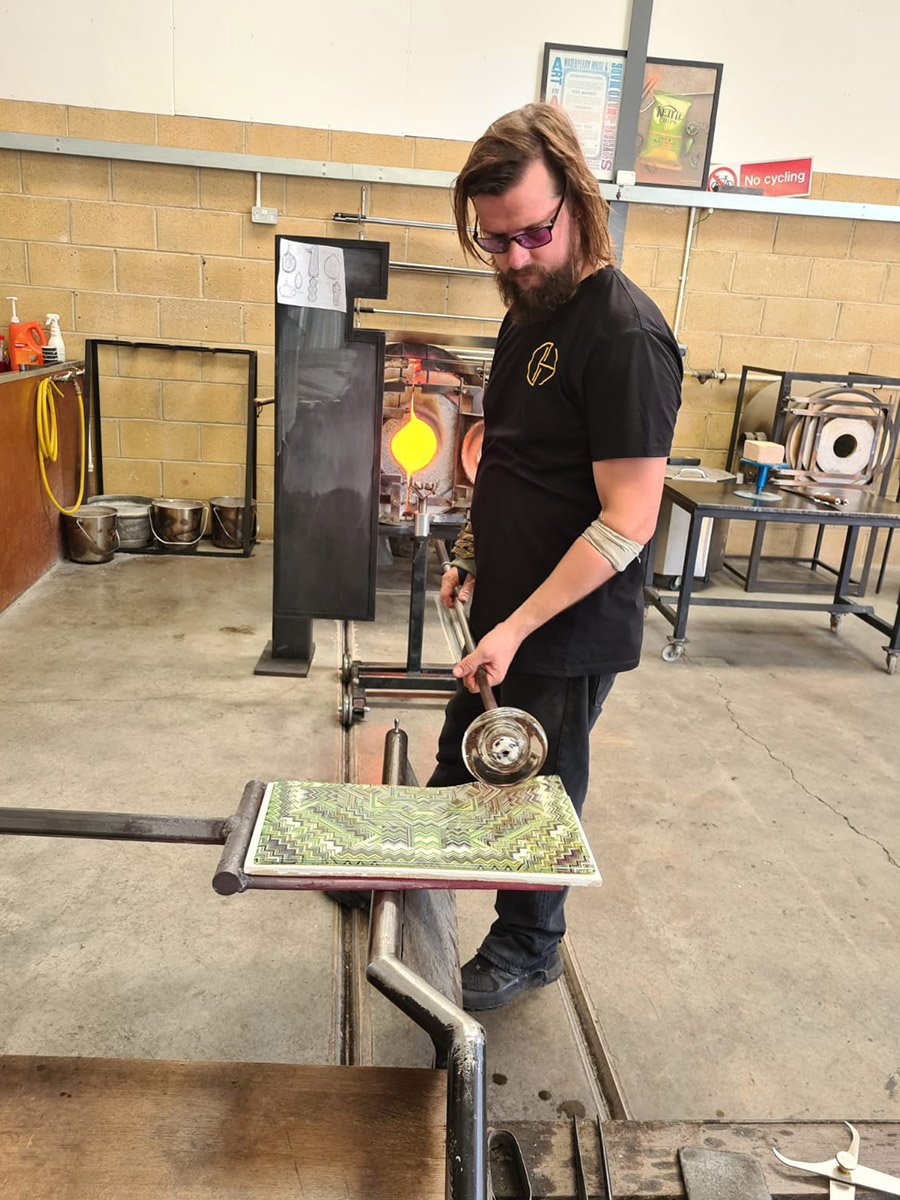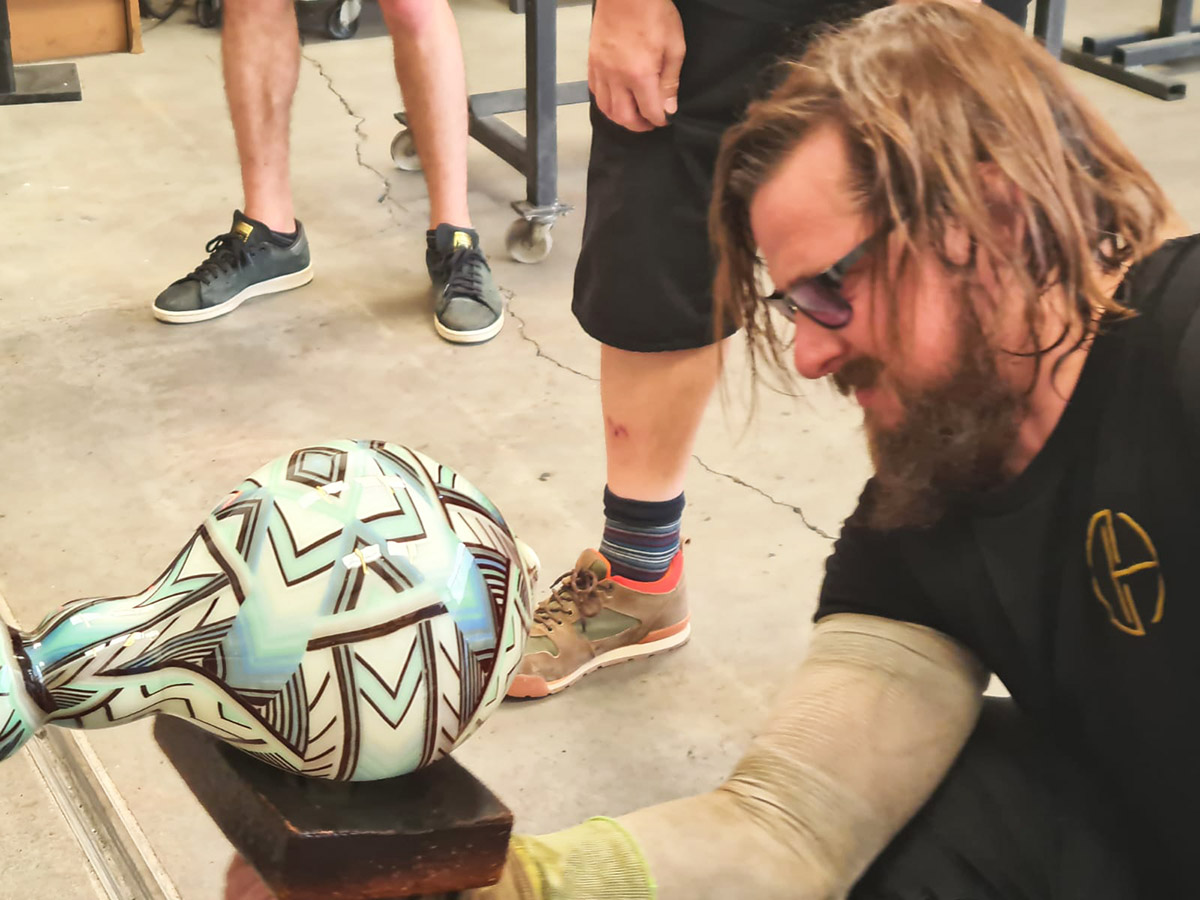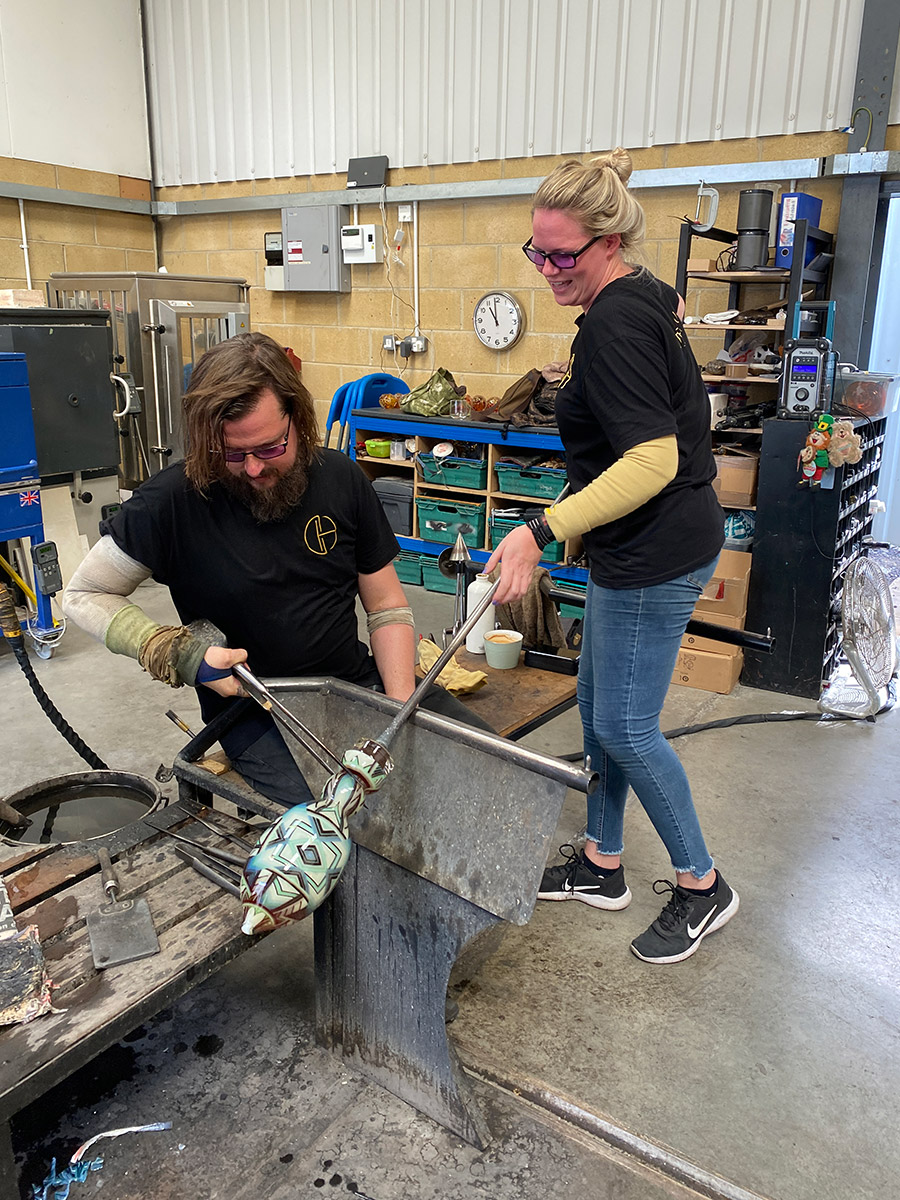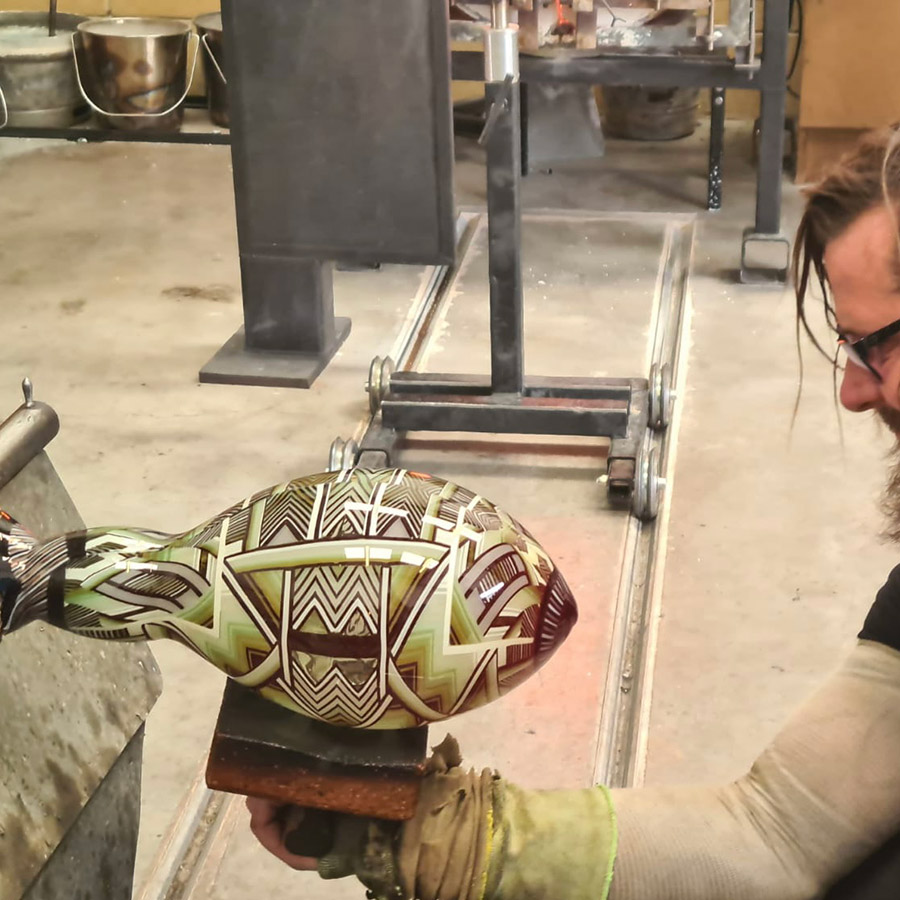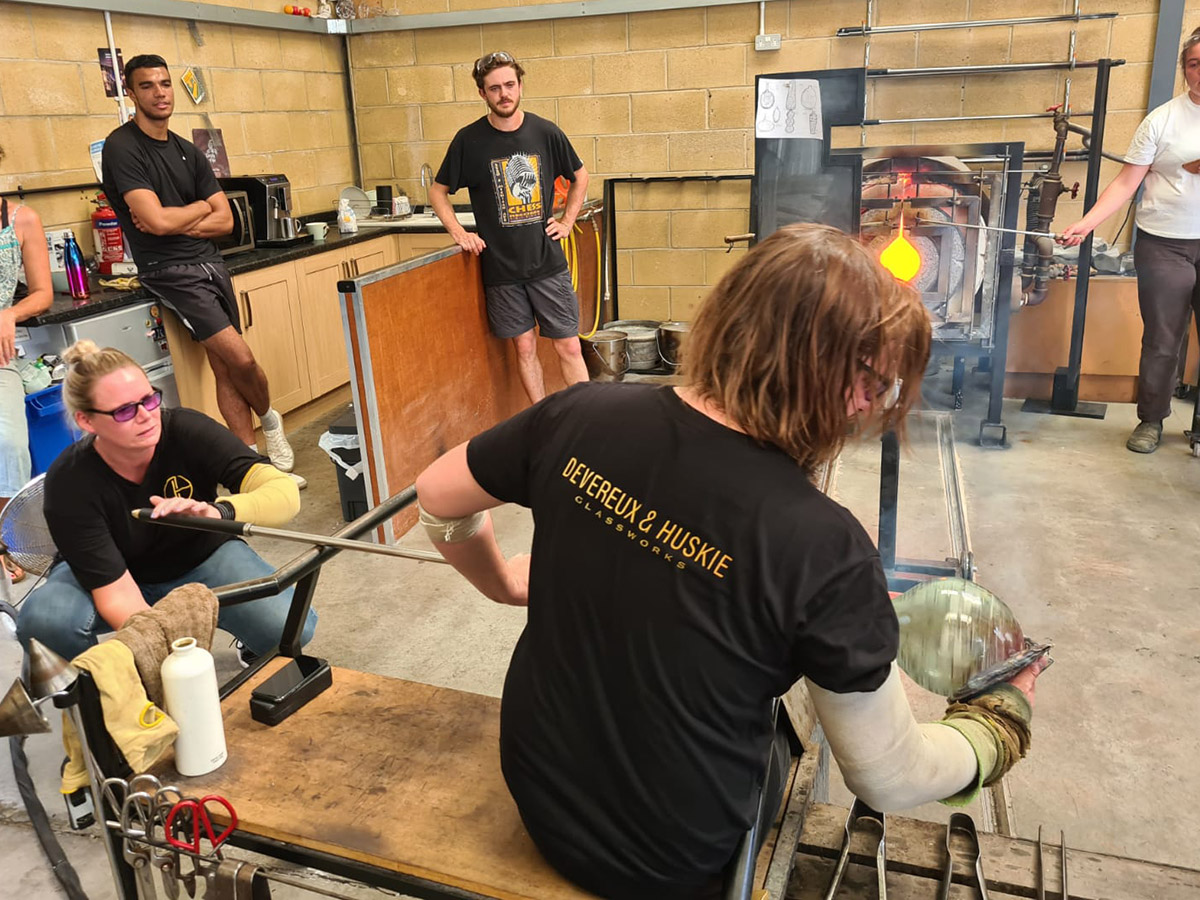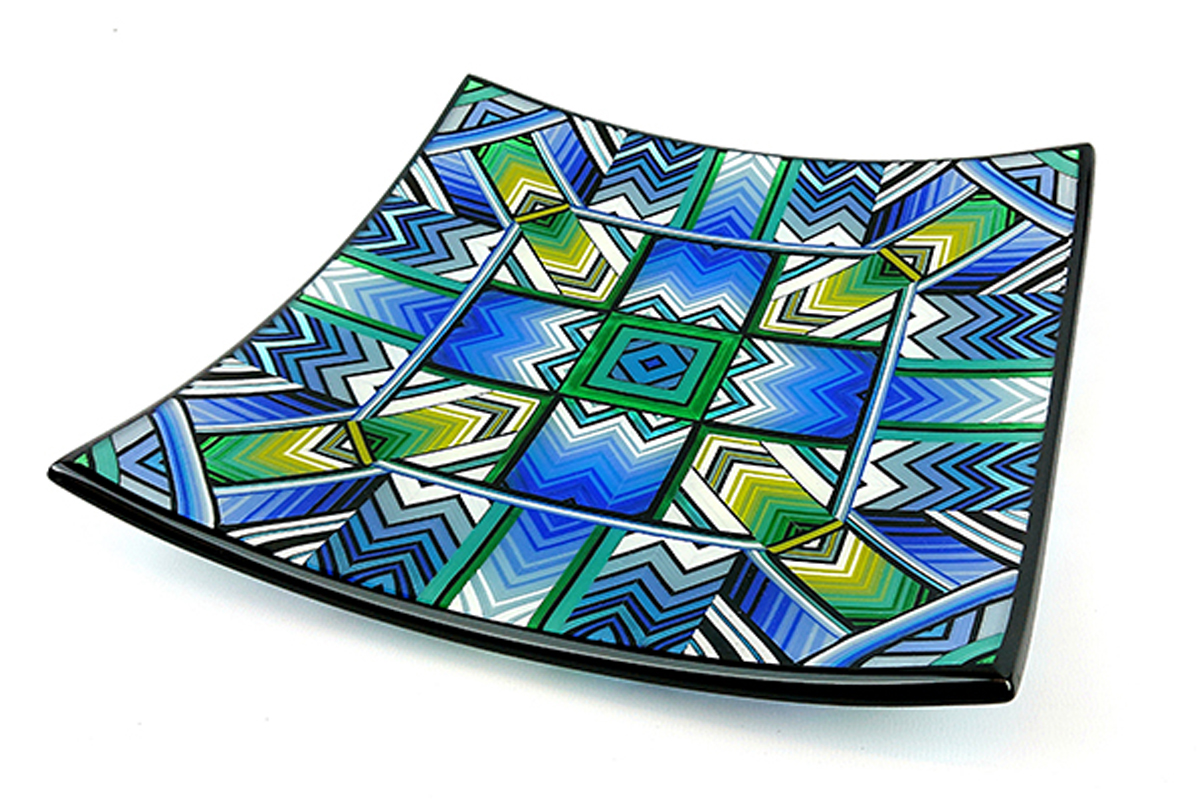 Advanced Pattern Making in Glass with Ian Chadwick
Over five days you will explore principles of advanced pattern forming in fused glass. Using pre-formed Bullseye glass stringer sheets, students will expand their knowledge and experience of kiln-forming and cold-working techniques to produce intricate patterns which utilise symmetry and geometry to create hypnotising mandala-like patterns.
Mon 6 December 2021 – Fri 10 December 2021