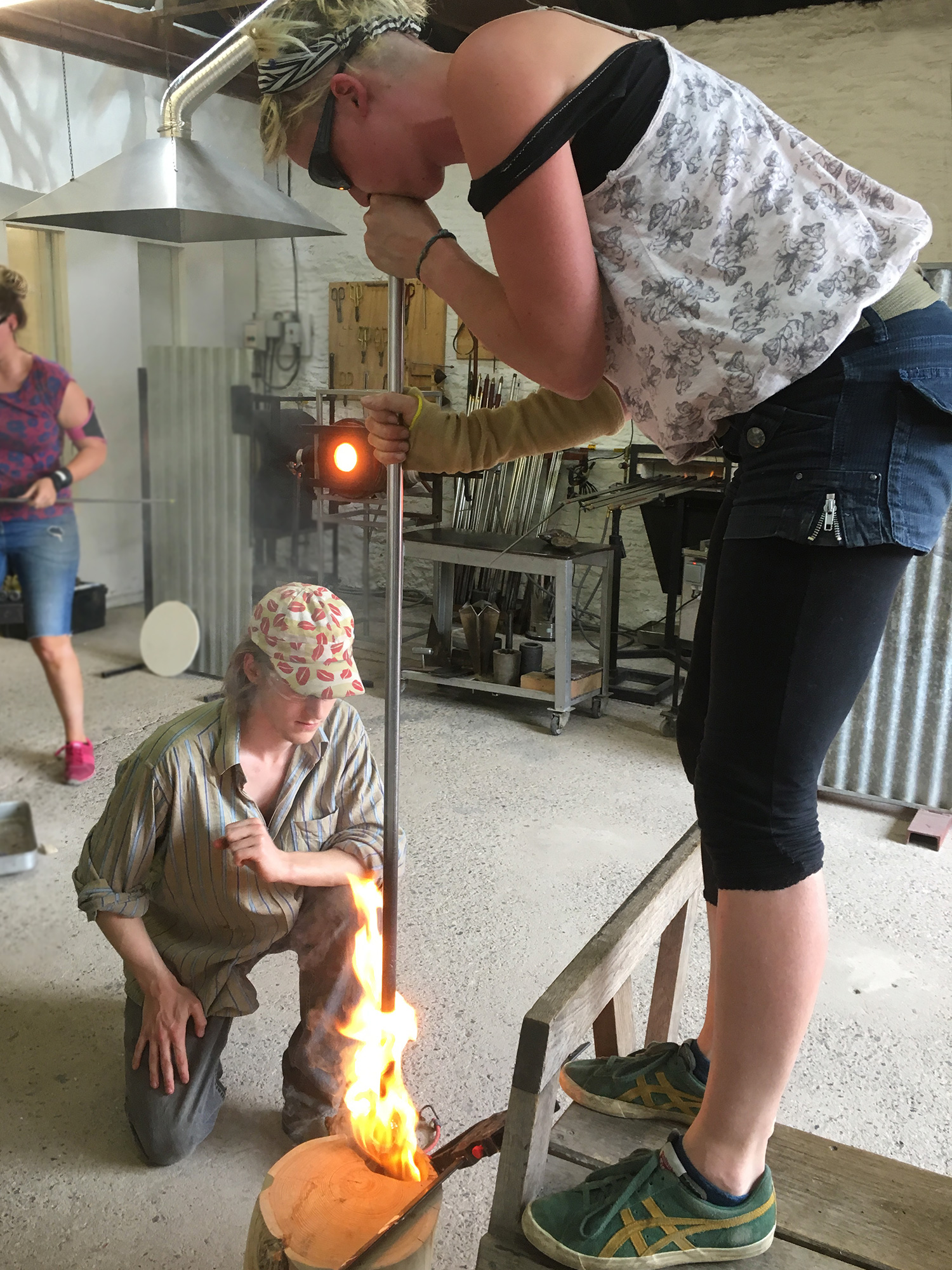 The Glass Hub Internship Programme is a great opportunity for graduates in glass or those interested in pursuing a career in glass to develop their skills in a supportive environment as part of a team.
Since the programme began in 2016, our interns have proved invaluable to the running of the glass school and have developed their skills and confidence in glassmaking. They have produced their own work, assisted and taught students on our glass courses and have gone on to produce their own work, teach or joined teams elsewhere as assistants or artists. We have had fantastic feedback from our course participants on their knowledge, care and patience.
Description
The Glass Hub Internship is an educational work placement opportunity suitable for individuals looking to gain experience in glassmaking and glass education, alongside developing their own work in a well-equipped glass studio. The successful applicants will experience a variety of roles that will include 'glass technician' and 'glass teaching assistant'. They will be trained in the operation and maintenance of glassmaking equipment as well as undertake real-world experience in the operation of a busy glass school. They should have a grounding in glass, interested in developing new glass techniques and skills, and they need to be motivated and interested in making their own work to supplement their income.
The applicant will be given studio time to practice and develop their own work (negotiable depending on hours in training). They will also have health and safety training and the opportunity to attend specialist glassmaking courses for personal creative development throughout their internship.
As part of their training, interns can expect to handle many day-to-day responsibilities such as equipment maintenance and cleaning. They will be dealing with the general public and are therefore expected to be enthusiastic about engaging with people.
Applicants should have a strong work ethic and are expected to be self-motivated both on and off the clock. Interns are encouraged to participate in classes either as teachers, teaching assistants or students depending on their interests and abilities.
This internship may be suited to students who have completed their undergraduate study in glass (BA) and are looking to gain professional studio experience while developing their own work.
Location: The Glass Hub
Stowford Manor Farm, Wingfield, Wilshire BA14 9LH
Website: www.theglasshub.com
Email: info@theglasshub.co.uk
Duration of Internship: September 2023 until July 2024
Hours: Hours vary week to week but interns could work up to a maximum of 30 hours in a week when we are running 5-day schools, and some weekends (especially weekends when courses are running) alongside their personal studio time.
Remuneration: £400 per calendar month (pro-rata at the statutory minimum wage), plus use of the glass studio and equipment for personal use (hours negotiable).
Accommodation: Accommodation is not included; however, assistance in finding suitable accommodation will be given if required.
Requirements:
• Glassmaking experience or a qualification in glassmaking (or related craft/Art) discipline.
• No formal qualifications are required but an interest in learning new skills and a passion for glass essential
• Fluent English speaking
• Be able to lift up to 25kg
• A full driving license and own car is essential as the school is in a rural location.
Applicants should:
Be able to work in both a hot glass OR kiln room environment
Be reliable and punctual
Be able to work as part of a team
Have a positive attitude and strong work ethic
Enjoy working with their hands
Take instruction well
Have good communication skills
Be able to work in a public facing environment
Future Prospects:
Potential for progression to further employment as glass technician/tutor for the right candidate
Exit interview and feedback from the employer to build on apprentice's CV
How to Apply:
INTERNSHIP APPLICATION FOR 2023 – 2024 IS NOW CLOSED
Enter your information online at: LINK EXPIRED THIS PAGE IS FOR INFORMATION ONLY.
You will then need to send your CV, Artist Statement and up to 6 images of your work by email info@theglasshub.co.uk You will receive a confirmation of your application or a request for further details within 72 hours.
Closing Date for Applications:
Applications are now closed for 2023/24
If you are interested in 2024-25 Internship please drop us an email.
info@theglasshub.co.uk