Masterclass: Advanced Pattern Making in Glass – Ian Chadwick
Mon 17 October- 10:00 am

-

Fri 21 October- 4:30 pm

£795.00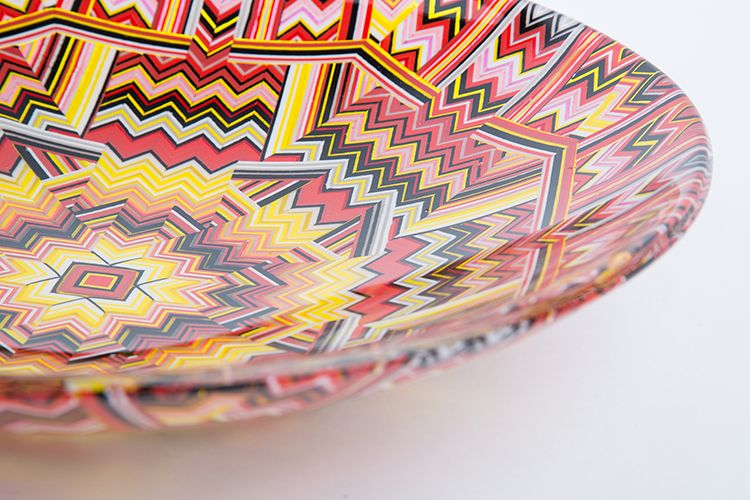 Course Outline
On this masterclass participants will explore principles of advanced pattern forming in fused glass. Using pre-formed Bullseye glass stringer sheets, students will expand their knowledge and experience of kiln-forming and cold-working techniques to produce intricate patterns which utilise symmetry and geometry to create hypnotising mandala-like patterns.
Participants will be guided through the creation of Bullseye glass stringer sheets which once fired will be deconstructed and reassembled. Participants will learn how the arrangement of tone and colour can enhance the optical properties of the pattern design and how to lay out the pattern using principles of four-fold and eight-fold symmetry. Students will utilise these concepts and techniques to create a glass tile of their own design.
Course Tutor - Ian Chadwick
"Wow, what a great course! Thank you Glass Hub, Ian, and all of you for being such a supportive group."
Ian Chadwick has a background in sculpture and stained-glass window design, disciplines which he applies to his constantly evolving range of kiln-formed glass art. Glass as a medium is inspirational due to its abilities to transform light. The glass Ian produces is all created within a kiln. The kiln-forming technique of working glass involves constructing and deconstructing of glass elements to produce the end result. It is a deliberate, laborious technique where the glass is worked in its cold state and the end product is achieved by applying precision and patience.
Ian's current range of work is deeply concerned with pattern building. Small pieces of coloured glass are arranged and melted in a kiln to produce a sheet of kaleidoscopic, coloured glass which is then formed to the desired shape. This work embodies Ian's interest in the esoteric art of sacred geometry, commonly found in the rose windows of cathedrals and the mandalas of eastern religious lore.
Details and Booking