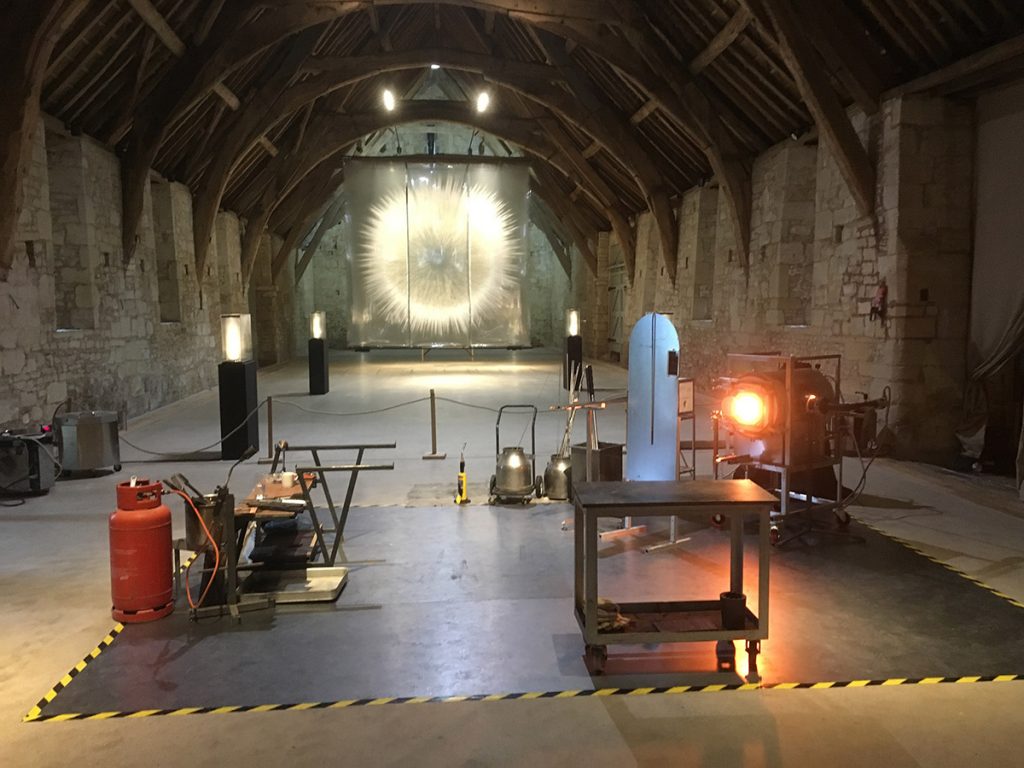 We were approached by Messums Wiltshire in November 2017, to take part in their "Glass Festival: Alchemy in Art" due to take place on 28th Jan 2018. The plan was to take our mobile Minimelt glassblowing studio to the event for demonstrations. Messums is a spectacular new fine art gallery in Tisbury, Wiltshire, showcasing fine art, and more recently, crafts. Glass 'art' has generally been segregated from the fine art world, and so this was a unique opportunity to showcase not only beautiful glass artworks and fine craftsmanship, but also the physical process …live in the gallery!
The concept of the day, evolved from simple participatory glass bauble blowing into a unique display of live master glassblowing demonstrations for the public to watch. Previous events at Messums have included operas …so why not?  Within twelve hours we had confirmed a schedule of great glassblowers and things were in full swing. The talented line-up consisted of: Dave Barry, James Devereux (featuring Cathryn Shilling), Katie Huskie, Elliot Walker and then a surprise guest from overseas – Dante Marioni.
Transporting the Glassblowing Studio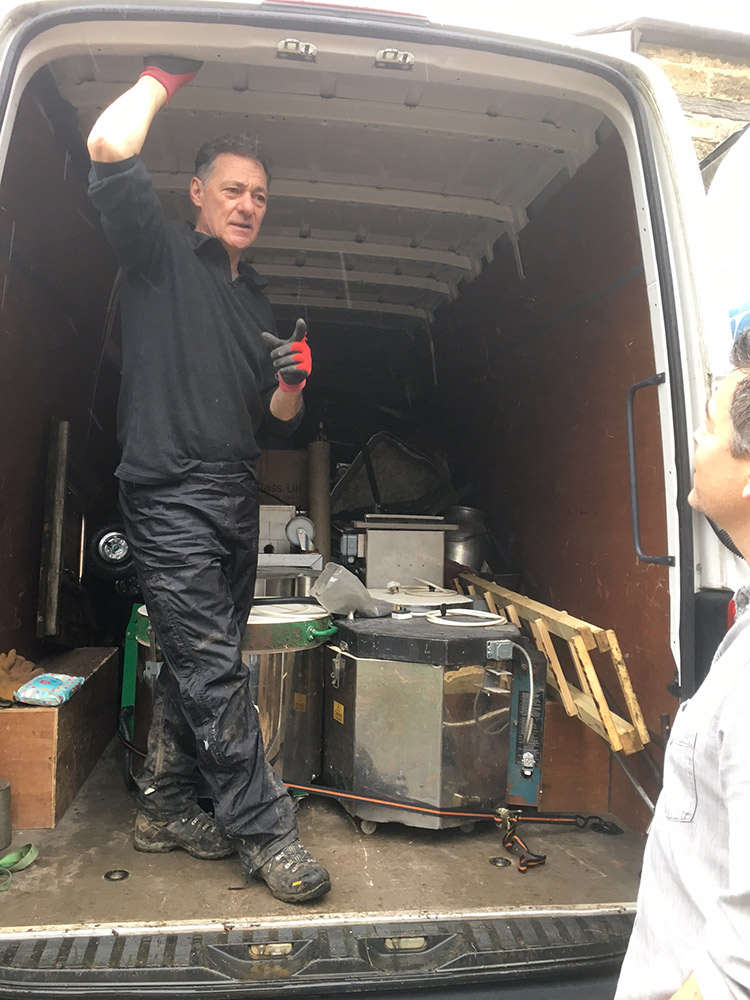 It's extraordinary how much "stuff" one needs to create a glassblowing studio at an event like this. Thankfully we've held many hot glass demonstrations out in the field including festivals as diverse as Glastonbury and The international Festival of Glass together with performances in cathedrals and workshops all around the country. While a full class was running at The Glass Hub, we packed up the Minimelt Mobile Glassblowing studio, including four mobile kilns. After a very steady forty minute drive we arrived at Messums beautiful tithe barn to set up the studio on a specially prepared stage of shiny new steel.
Glass Festival: Alchemy in Art – Sunday 28th January
We fired up at 7am, on the 28th. Kiln 1 was on and heating up Cathryn Shilling's fused tile (at a scarily rapid rate) and the MiniMelt furnace turned to full blast, preparing the glass for the first demonstration…
Demo 1.  David Barry assisted by Bliss Hill
With only a small amount of time to practice, check layout and set the stage, David Barry and Bliss Hill were the first demonstrators. They performed a beautifully perfected piece of choreography, as they moved together and connected with molten glass, to create a fine piece of English handblown stemware. Both work for the local company Bristol Blue, the fluidity of production glassblowing shining through. Dave then went on to create some sculptures. He crafted a stunning dagger with clear glass that had its handle dipped in the rib mould and twisted on the marver. The blade was then dropped on hot, cut with shears and perfectly stretched to a point.
Demo 2. James Devereux, featuring Cathryn Shilling, assisted by Katie Huskie
The kiln temperature was up, and a sigh of relief as the 6mm tile that we previously added and heated up rapidly was still in one piece. Cathryn Shilling took to the mic' while Katie and James prepared the tile ready to roll. Cathryn talked us through the history and process of the "roll-up" whilst the young master James Devereux, (himself a local Wiltshire lad) was glassblowing on the stage, assisted by the talented Katie Huskie. Cathryn and Devereux-Huskie performed their well-rehearsed technique, creating a blown vessel from a flat sheet of fused glass. As expected, they dealt smoothly with the new situation, location and audience as if they blew glass there every day. We feel so honoured to work just down the road from these guys Devereux and Huskie, and are privileged to have them demonstrate for us at The Glass Hub on many occasions.
Glass: Craft or Fine Art? Debate
After a lunch break we all took our seats in the barn again for a discussion about glass – "Craft or Fine Art?". A panel consisting of Cathryn Shilling, Emma Woffenden, James Devereux and Dante Marioni responded to a range of questions on glass in relation to the craft/art debate. For me, just the fact that we as makers and designers were there talking about it in a fine art gallery is progress.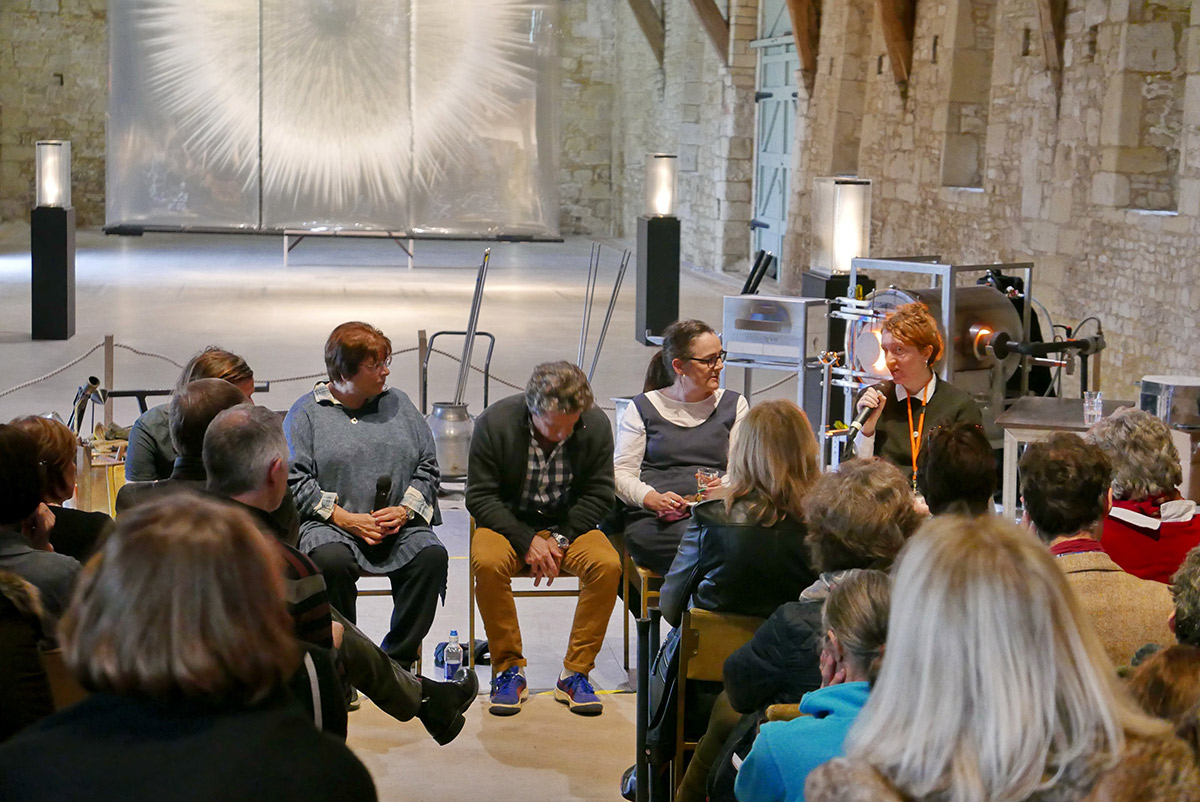 Demo 3. Katie Huskie
1.30pm and Katie Huskie was up next. Katie was assisted by James Devereux, together they performed a wonderful display of team, gathering and bit work as Emma Baker and Dave Barry were pulled in to assist. Katie blew up a coloured cylinder and added strands of hot glass by trailing and tweezing them into shape. There was a solid and retro quality to Katie Huskie's piece that we loved, it captured light beautifully and was awesome to watch …but no time to linger, It's time to get the next show on the road!
Demo 4. Elliot Walker
Elliot Walker is no stranger to the limelight of performance and doesn't like to stick to any kind of rehearsal or script, but loves to go with the flow. His aim was to make a "bird inside an egg" which was in fact, a solid bird, sitting in a nest, encased inside a clear blown egg. Like a magician, he talks with perfect ease to the rapidly increasing audience. His few years of working as "The Bandits of Glass" lending confidence and a natural agility. This ambitious piece of work was executed brilliantly and finally flew to rest in the lehr with no time to spare! His work is incredible.
Demo 5. Dante Marioni
And so the moment arrived and the audience extended all around the centre stage now. With about two minutes to go, I looked into the kiln to check on a pre-fired reticello cup that Dante had given me to heat up earlier. Phew! It hadn't smashed into pieces and Dante Marioni was ready for the off.  American born glass artist Dante Marioni has achieved international acclaim for his work. Having trained with such masters as Lino Tagliapietra, Benjamin Moore, and Richard Marquis, he is best known for his venetian style colourful free-blown vessels. I'm not sure that he was fully aware of the limitations of the mobile glassblowing set-up in the barn that day, but he seemed to be confident that he could go further than just a Reticello vessel, and would make one of his 'Acorns'.
The crowd hushed, and a serene silence filled the building. Dante admitted that he was more comfortable with American noise, music and stadium sound rather than this tranquil silence, but being truly British, we politely continued our stillness, in awe, watching a master of this calibre. He picked up the preformed Reticello cup, sealing it into a perfect object in itself, then gathered over and produced the most incredible piece of glass. Assisted expertly by James Devereux, he managed to deal with any equipment limitations to effortlessly create the most stunning Reticello Acorn.
Finale
A massive sigh of relief was released from the silent crowd as the final piece was tapped off into gloves and popped into the last space of the top loader kiln. We had five incredible pieces in. Not one had smashed on the floor; the equipment had lasted, but more than that, we had demonstrated to the audience at Messums that day the extraordinary skills and the beauty of glassmaking in action!
For our next event and other great exhibitions why not follow our blog or follow us on Facebook.