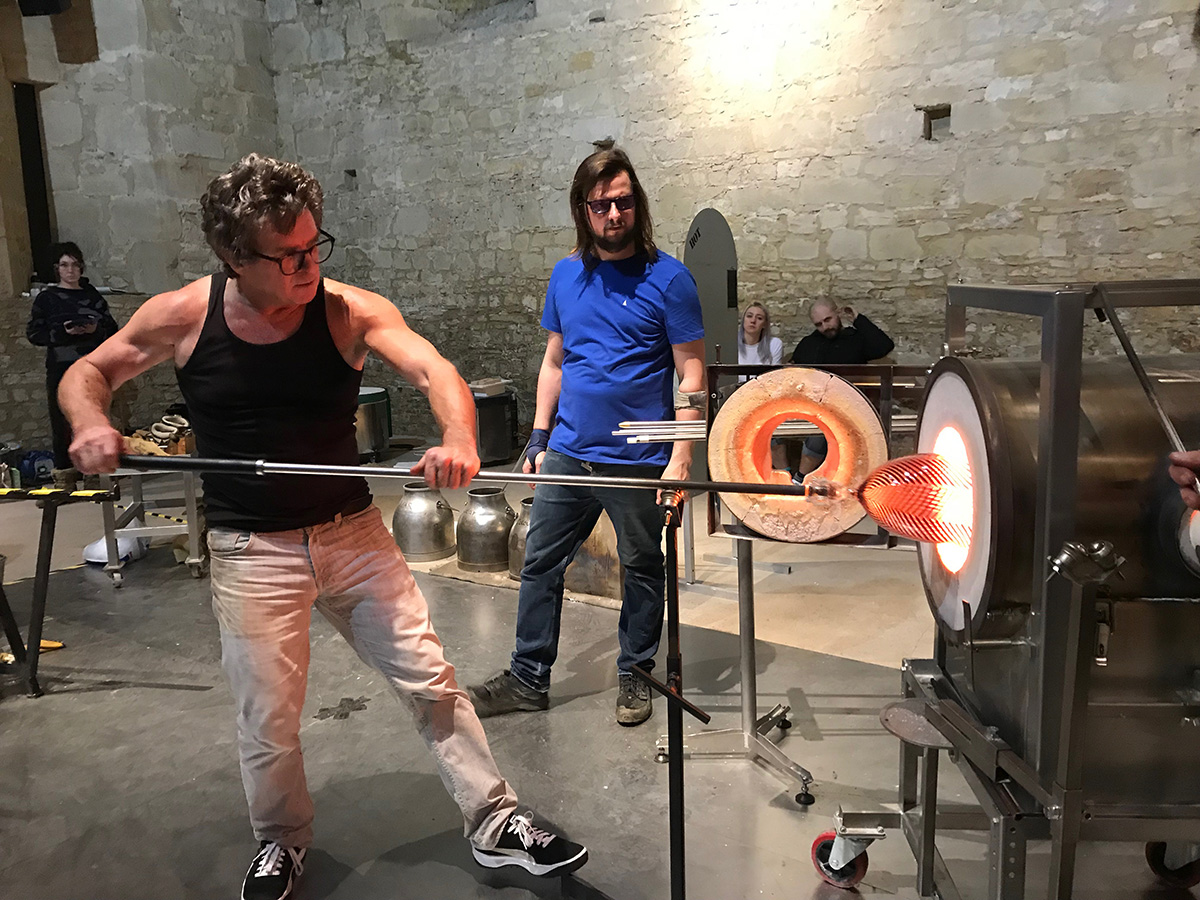 Off to the Glass Festival
What an absolute delight to return to Messums Wiltshire, to the stunning setting of the largest Tythe barn in Europe. Johnny Messum kindly invited us back to work with some of the finest glassblowers, demonstrating their skills at their 2019 Glass Festival, a finale to their Material: Light exhibition.
The exhibition had opened its doors on December 7th 2018.  This was the second instalment of Material: Light at the gallery and this year, glass legend Dante Marioni from Seattle and our own home grown Elliot Walker showcased their work, exquisitely presented in the two Messums barns. On the last weekend of January 2019, Messums hosted the Festival of Glass with glassblowing demonstrations from contemporary masters. We lined up a fantastic team of glass artists to demonstrate and thanks to the seamless organisation from Messums and Minimelt Glass – the tickets were sold and and the mobile glass studios were ready.
The portable Minimelt furnaces were perfect for the task and we were set up in the airy barn and ready to rock for the first show at 10am. The seating to one side of the studio area was tiered, so the audience had a great view of the artists' working. There were more than 120 people by the end of the first day, some travelling from the Highlands of Scotland (the Northlands Glass crew).
David Barry
First up was David Barry from Bristol Blue. He bravely took to the floor and effortlessly created a swan stemmed goblet in the Venetian style with the help of Tyler Sheppard, and our amazing assistant James Devereux (one of the country's leading glassblowers turned assistant for the day). Dave made this tricky three part assembly look easy and seamless and with a bit of time left over, we also got to see him work a small amphora – a flask/pourer with pincered decoration and a blown spout.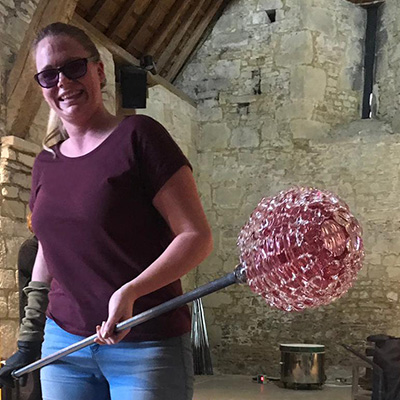 Katie Huskie
Next we welcomed one of the country's top female glassblowers, Katherine Huskie. Katie gathered over a ruby pink colour bubble, and blew it out to a desired spherical form, and then covered the vessel with hot, fluid glass trails of molten glass, pinching and forming the ribs on this sea urchin inspired form, another addition to her "Echinus" series. She showed to the crowd the perfection of teamwork and timing, and together with Emma Baker and business partner James Devereux, this Huskie/Devereux team showed us why they are producing the country's finest glassware from their Wiltshire studio. http://www.huskieglass.co.uk/ and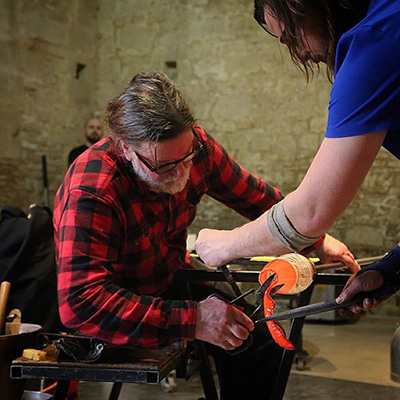 Scott Benefield
After lunch, Scott Benefield joined the illustrious company, travelling over from Northern Ireland, where he runs his studio Benefield Spencer Glass with partner Andrea Spencer. Scott blew out a colour bubble, cut it in two and then put it away in the kiln, to use later. Next, he took thin slices of 'Murrine' (small slices of square glass he had made at home) and squeezed them together into a long tile, using a long heating fork called a 'Pastorelli' or 'Pastorale'. The long tile was then heated in the furnace. With an ease that only comes from decades of experience and practice, he rolled this rectangular tile up into a cylinder, sealed off the end and blew it up. He then joined one of the colour sections from the kiln to this ('Incalmo'), then puntied and joined the second colour section. Scott, assisted by James Devereux worked in elegant synchronicity. They were joy to watch, relaxed and calm, as if rehearsed – they made an incredibly tricky piece look easy!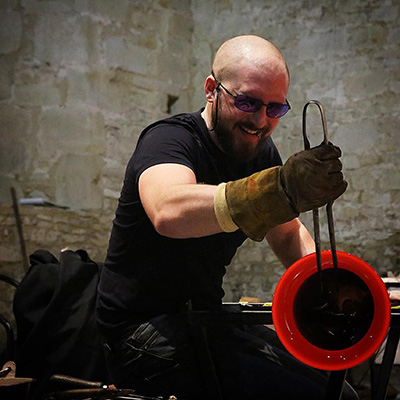 Elliot Walker
The crowd had steadily grown and many were standing as Elliot Walker took to the floor. Somewhat of a maverick in hot glass, and never one to repeat a piece –  Elliot asked the audience to choose the theme. They chose …a hat!  Elliot's hat was to have adornments so he sculpted a small flower in hot glass, followed by a feather, made with some iridescent colour. He placed both in the kiln for later. Now for the hat – Elliot with the assistance of his partner Bethany blew out a shiny black bubble and hand sculpted this quickly into a hat shape. The proto-hat was then puntied, opened up and the rim spun out. They added the feather and flower and hey presto – the challenge was met. It was a show stopping performance from Elliot, better than a magic show, and had us all on the edge of our seats. Well, he pulled it off, or should we say "put it on", as when it was finished (and still about 600 ⁰c) Elliot fitted the hat to the head of his most glamourous assistant Beth, who wore it for a good few seconds with the help of a kevlar beanie!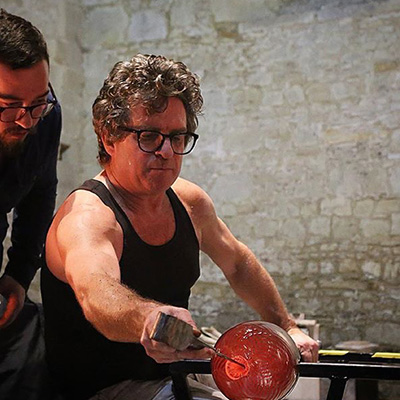 Dante Marioni
The final act was from one of the most internationally acclaimed glass artists on the globe. Dante Marioni from Seattle USA is a world class artist who creates blown forms of tremendous beauty and elegance. Dante pushes the limits, the technical possibilities of glass, not the least with the shear size of his latticino glass pieces. He so naturally moves the glass around, with a familiarity that to the observer looks as if he's known it forever – in fact, he has been working glass for a long time. I first watched Dante demonstrate at Pilchuck in 1991 and I still get the same kick as a spectator today.
Dante had pre-made some glass "cups" in his trademark 'leaf' pattern, a complex mosaic of cane (latticino style), that had been assembled and blown into a pointed egg form. Dante picked up the preheated cup and after careful marvering, gathered over it and blew it out into an acorn shape. The form, was too long and delicate for our mobile furnaces, so with sheer delight and hush in the room, we all watched this exceptional artist make a one-off 'leaf' patterned acorn into a rounder shape more suited to the small kilns we had brought. It was a supreme finish to an amazing day, and an experience I will never forget.
Sunday Round-up
The next day, Sunday brought yet another day of performance in glassblowing. The day opened with a premier performance from glassblower Emsie Sharp. She blew a beautiful decanter and wine glasses in front of a small crowd, displaying the skills she has developed over the years since setting up her studio in Dorset. Emsie trained at Farnham UCA, and for several years on the island of Murano.
https://www.sharpglass.co.uk/.
Then the public took to the stage and showed off their skills in glassblowing, as The Glass Hub team taught them to blow baubles.
And so it ended – another year, another success, and some fabulous glassblowing demonstrations. For the British public this was a unique opportunity to see some of the best glassmakers at work. Many thanks to all the artists who gave up their time, and to Messums Wiltshire, for giving this ancient, contemporary and treasured art form a magnificent platform to stand on.