Masterclass: Collage for Kiln Casting – Georgia Redpath
Tue 22 June- 10:00 am

-

Fri 25 June- 4:30 pm

£625.00
Course Outline
Explore collage and paper sculpting techniques to create original relief models focussing on form and texture. You will then move on to mould-making techniques, using rubbers, and finally making the investment moulds which will hold and shape glass in the kiln.
Glass is a seductive medium – craving our attention with its colour, sparkle and optical trickery. This class will shine more light on the model and mould-making parts of the casting process. Models and moulds should be seen as equal to the final piece of glass: without them, the glass simply wouldn't exist. Often, they are works of art themselves. What's more, models and moulds often open-up new ways of seeing work, and avenues for future exploration.
Casts will be kept relatively small, so we can experiment more (and allow time for annealing the glass). The aim is to fall in love with the process of casting and discover how it can feed and enrich your designs.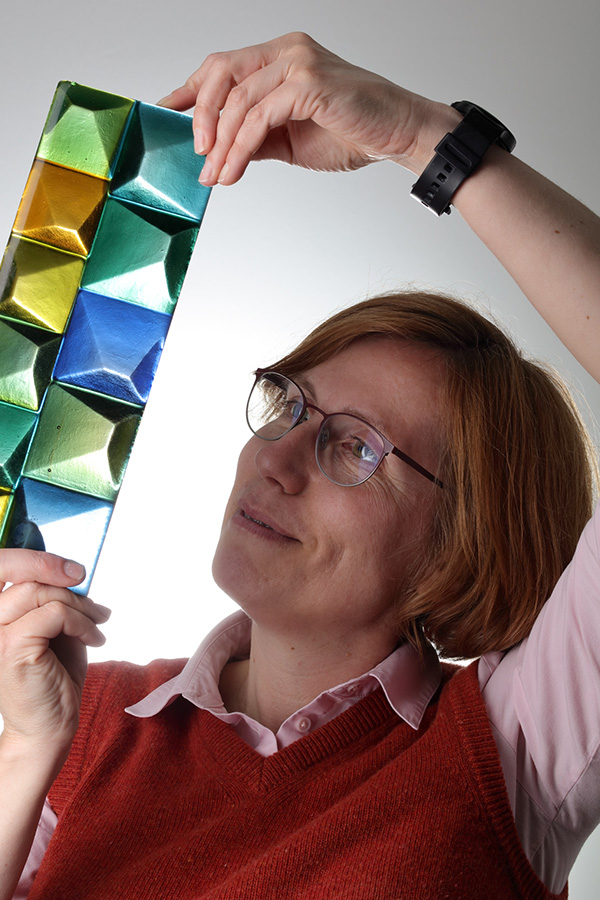 Georgia Redpath
Georgia Redpath`s work draws on the geometry underpinning structure, using repeating modular elements to produce pieces of complexity and scale. Georgia completed a BA in Contemporary Decorative Crafts in 2005, and then relocated to Stourbridge in the West Midlands – one of the major UK centres for glass. She currently has a studio at the Ruskin Glass Centre.
Geometry is the source of inspiration for everything she makes, using the casting processes to create work inspired by the patterns & geometry of life. Georgia developed her 'Collaglass' technique in response to this. It involves cast glass made from an original collage of cardboard (and occasionally a few other things) to create deep relief, the card acting as printing plates, leaving their crisp impression in a block of glass.'Geometry is at the heart of all pattern - and, as humans, we are programmed to recognise and respond to pattern. So geometry is a language spoken across borders: universally used and implicitly understood without us making any effort, or even being aware'.
Details and Booking